The 13 closed end fund (CEF) types on average were down 1.4% for the week ending 7/10/09. The S&P 500, as measured by the SPDR S&P 500 ETF (NYSEARCA:SPY), registered a decline of 2.1%. On an aggregate, unweighted basis, the weekly price decline for 640 CEFs was 1.0%. The weighted Claymore CEF Index registered a decline of 2.2% for the week. CEFs' aggregate, unweighted current distribution yield is 8.4% and is trading at a 6.9% discount.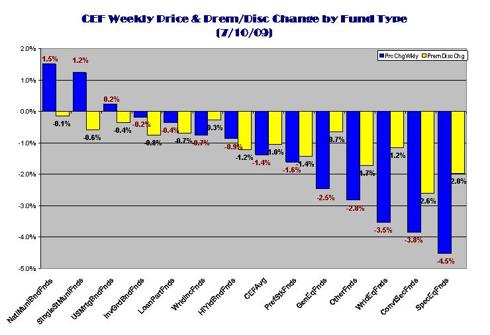 Click to enlarge
The Eqcome CEF Fear Index increased with price declining greater than NAV (-1.4% versus -0.4%, respectively). This is in consistent with the CBOE Volatility Index (VIX) which registered a rise of 3.8%. The rise in the VIX was accompanied by a 2.1% decrease in the S&P 500. (The VIX has a tendency to increase when the market falls, and visa versa.)
CEF Weekly Performance: As would be anticipated, a decline in the equity markets typical causes fixed income CEF fund types to outperform its equity cousins. In this case, the CEF average almost perfectly split the share price performance of fixed income and equity CEF fund types.
Both national and single state muni fund types registered the best relative performance despite the fact that 37 of 50 states are experiencing budget deficits. California has been reduced to issuing IOU's to pay its vendors.
All fund types experienced an increase in their average discount indicating a greater concomitant decline in share price.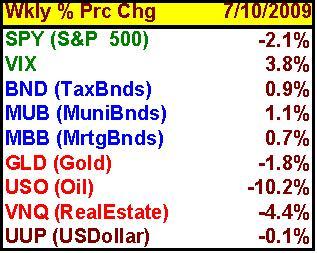 Weekly Comparisons: For sake of weekly comparison, the equity markets remain in a high state of anxiety as earnings season approaches with "less bad" no longer "good enough". With consumer confidence and employment flagging, the specter of "we're the government and we're here to help" in almost every aspect of commerce and finance, and the prospect of Congress passing an almost un-financeable health care and second stimulus packages is leaving investors wondering where the good news is coming from. (Click here for next week's economic calendar)
The debt segment (blue) of the ETF market posted slight gains as investors this week fled risk. Vanguard Total Bond (NYSEARCA:BND), iShares Muni fund (NYSEARCA:MUB) and iShares mortgage backed securities fund (NYSEARCA:MBB) registered positive price changes of 0.9%, 1.1% and 0.7%, respectively. This was generally consistent with their CEF counterparts.
The commodity segment (red) of the markets declined on prospects of a weak global economic recovery, inventories of oil and gas rising and the suspicion that China has finished restocking its commodities pantry. The US dollar (NYSEARCA:USD) opened the week strong, took a "header" on Thursday and ended the week essentially unchanged. Even Gold (NYSEARCA:GLD), a storehouse of value during uncertain times, was down 1.8%; oil, as measured by the US Oil ETF (NYSEARCA:USO), was the week's biggest casualty in the face higher inventories and a warning shot across the bow by Chevron for investors to expect poor profits from the energy sector.
Commercial real estate, as measured by Vanguard Real Estate Investment Trust ETF (NYSEARCA:VNQ), continued its price slide, down 4.4%. Softer than expected retail sales, a continuing slide in employment, higher vacancies and lower rents weighted down the retail and apartment sectors. Most investors feel commercial real estate will be the poster child for banking problems well into 2010. (Click here for detail chart of YTD ETF fund type performance.)
CEF High & Low: For the sake of data points, BlackRock New Jersey Investment Quality Muni Trust (AMEX: RNJ), a single state muni fund, was one of the best performing CEFs, up 10.5% for the week. RNJ increased its monthly distribution mid-year by almost 20%. Currently its yield is 5.9% and selling at a premium of 10.6%.
Given RNJ's small portfolio size, its leverage, and its higher expense ratio, an investor may want to consider swapping it out for Nuveen NJ Dividend Advantage Muni Fund (NYSE:NXJ). NXJ has a comparable yield, selling at a 9.1% discount; it is much larger with a lower expense ratio. It also modestly increased its dividend mid-year (7.2%).
One of the worse performers of the week was First Trust/Gallatin Specialty Finance and Financial Opportunities Fund (NYSE: FGB), a small, relatively new CEF that focuses on the financial sector; it was down 13.9%.
CEF Focus for the Week: Despite state budget woes, 153 single state muni bond funds were up 1.2% for the week. While the budget problems of California has forced it to issue IOU's as well as it to go back to its vendors seeking contract price reductions, the 23 California single state CEFs were up 1.8%.
One of the CA muni CEFs was off 2.3% last week in the face of the group's increase: Nuveen California Select Quality Muni Fund (NYSE:NVC). NVC's current distribution yield is 7.4% and it's selling at a 12.6% discount; the average CA muni discount is 8.5%. It's fairly large with almost one-half billion in net assets. Approximately 87% of the portfolio is rated "A" or better—for whatever that's worth. Approximately 24% of the portfolio is US government guaranteed. It has a reasonable expense ratio (1.2%). The fund is leveraged with auction rate preferred securities to the tune of 35% (the average for the group). It might be an interesting entry point for investors interested in riskier end of the muni spectrum.
Let me know your thinking on NVC.
Disclosures: Long SPY and GLD