Hanger, Inc. (HGR) has excellent growth prospects for the future. The company focuses on a good business model, low leverage and high working capital. In addition, the stock seems relatively cheap and was a good buffer during the recession. Long-term investors would do well to consider adding this stock to their portfolio.
Important Factors For Analysis:
Business Model
Hanger has a good business model. The company benefits from competitive advantages in marketing programs, and employee training programs. It also leverages its spare cash to make important acquisitions. Owing to the good performance of the company, it was listed in Forbes' "America's Best Small Companies" list.
Hanger provides orthotic and prosthetic patient care services, and distributes O&P devices and components. It is the largest owner and operator of orthotic and prosthetic patient care clinics in the country. The company is involved in creating products using newer technological advances. The company aims to provide superior patient care and to be the most cost-efficient distributor of O&P products.
Hanger enjoys several competitive advantages. The most compelling of those are the marketing programs run by the company. Hanger runs patient evauation clinics across the country that allow prosthetic users to be evaluated by a nationally recognized prosthetic-orthotic specialist, for free. The event includes a personal, one-on-one, 30 minute evaluation by a Specialist. Many of the people in attendance are prosthetic users who are not currently Hanger patients. The event allows them to interact with other prosthetic users. This allows the company to advertise its services and attract customers with relative ease. Since most companies in the industry are relatively small, they do not have the resources to conduct a national program such as this.
Another important competitive advantage with the business is its well trained staff. Hanger provides a series of training programs to improve the professional knowledge of the clinicians. For instance, it conducts an education fair attended by 750 clinicians. The fair includes lectures, seminars and business courses.
Hanger puts a lot of focus on making acquisitions to grow its business. In 2012, the company acquired 18 companies with a total revenue of $60 million. This is close to 7% of the company's 2011 revenue totals. The company considers acquisitions a key part of its growth strategy. By increasing its size, the company achieves economies of scale and will be able to ward off competition from smaller companies easily.
Cash Reserves:
The current ratio at the company is close to 3.5. The business has done a good job of maintaining its cash reserves. Also, the company does not pay a dividend and thus finds it easier to maintain a good amount of working capital.
The company has a long-term debt to equity ratio of close to 1. Although this ratio is a bit high, considering the fact that Hanger needs a good capital structure to be able make key acquisitions in the future, the ratio is not high enough to raise alarm.
Stock Price:
The PE ratio (ttm) is relatively low at 17. The earnings of the company have risen continually over the last 10 years. The company's earnings rose during the 2008 recession and consequently, the stock did not fall much.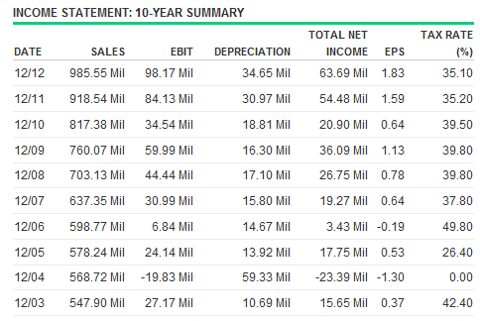 Click to enlarge
Major Risks:
Hanger must preserve and build upon its competitive advantages. The marketing program it runs must be sustained and employees must be provided good benefits. For instance, the company's compensation plan financially rewards clinicians for their efficient management and cooperation with other clinicians. Such systems must be emphasized and expanded. Any adverse change in the above two advantages could hurt the company's competitive position in the industry.
Conclusions:
Hanger, Inc. is a "BUY' for long term investors. The company offers several competitive advantages in its business model, along with a good balance sheet. It makes good use of its spare cash by making acquisitions and is set to grow for a long time.
Disclosure: I have no positions in any stocks mentioned, and no plans to initiate any positions within the next 72 hours. I wrote this article myself, and it expresses my own opinions. I am not receiving compensation for it (other than from Seeking Alpha). I have no business relationship with any company whose stock is mentioned in this article.