Fighting its way out of the economic depression, the semiconductor, equipment and materials industry in North America is exerting hard to uphold its market share, which has plummeted to 22% in 2012 compared to 30% in 2002. Nevertheless, growth is expected in the device market in 2013 which would push the semiconductor market upwards although the growth outlook for equipment is muddled.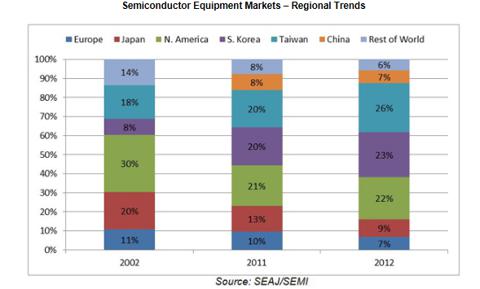 Click to enlarge
Industry Analysis
The North American Semiconductor Equipment Industry posted a book-to-bill ratio of 1.08 in April 2013. Although book-to-bill ratio is favorable when below/equal to 1, the industry seems to gradually lose momentum with the rising trend in book-to-bill ratio, as it began to revert to its ideal value in April 2013. The three-month average billings have also grew by 19% in absolute terms during the past six months.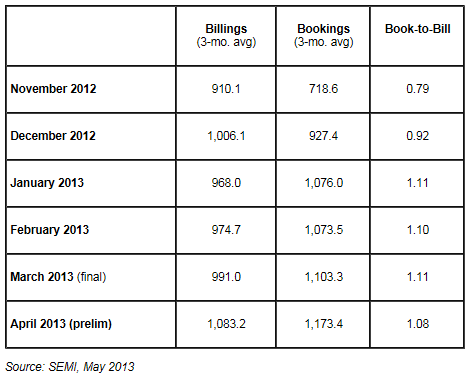 *All Billings and bookings figures are in millions of U.S. dollars.
Stock Price Performance
Ambarella, Inc. (NASDAQ:AMBA), a developer of low-power, HD video compression and image processing semiconductors, lately announced financials for its fiscal first quarter ended April 30, 2013. It actively competes with Applied Materials, Inc. (NASDAQ:AMAT) in the US stock market, where both are listed on the NASDAQ.

Click to enlarge
*Source: Morningstar
The stock price of Ambarella has taken on a rising oscillating trend and has consistently outclassed its peer, Applied Materials, and the NASDAQ market index. The share price continues to rise as Ambarella reported 31% annual revenue growth in the first quarter of FY14.
Financial Performance Analysis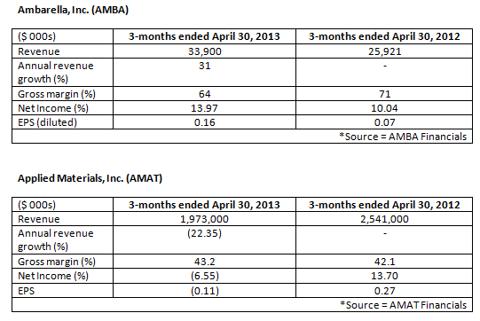 Click to enlarge
Ambarella posted high positive revenue growth in its recently announced first quarter report of FY14 owing to the successful addition of new customers in major markets. Throughout the quarter, progression was seen in the IP security camera market with new designs highly-favored by both professional and consumer IP-camera customers. Also, revenue growth proliferated in the wearable sports camera category, led by market leader GoPro. The business experienced revenue growth while fruitfully widening its customer base in the automotive camera after-market. As for Applied Materials, it reported hefty negative revenue growth in its second quarter of FY13 compared to the previous year.
Checking over the two companies' margins, Ambarella's variables revealed a sizable dive in its gross margin from 71% in Q1FY13 to 64% in Q1FY14 which could be explained by soaring costs. Conversely, the net income margin improved to 13.97% in Q1FY14 from 10.04% in Q1FY13, mainly attributable to the lower expense incurred on research and development and control measures being exercised in the area of selling, general and administrative expenses.
On the other hand, Applied Materials' overall has underperformed and has a very low gross profit margin of 43.2% in Q2FY13 weighted against Ambarella's gross margin of 64% in Q1FY14. The gross margin had improved by 1.1% on a horizontal basis. Based on Applied Materials' previous quarterly reported figures, net income margin has followed a razor-sharp declining momentum. It reported a net loss margin of 6.55% in Q2FY13 against 13.7% in Q2FY12 and 13.97% net profit margin of Ambarella. Along with a lower gross margin compared to Ambarella, the reason behind this fall is the expensing of outsized impairment charges reflecting further deterioration in the solar equipment market. On a year-over-year basis, research, development and engineering (RD&E) as a proportion of RD&E plus SG&A increased by 5 points to 59%, reflecting the impact of structural changes aimed at funding growth initiatives.
Ambarella's EPS more than doubled ($0.16) in Q1FY14 in contrast to its reported EPS of $0.07 in Q1FY13 and it surpassed its rival, Applied Materials, whose positive EPS of $0.27 in Q2FY12 turned into negative EPS of $0.11 in Q2FY13, for the same aforementioned reasons.
Comparable Analysis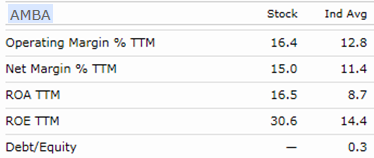 *Source = Morningstar
Holistically, the key statistics of Ambarella's are depicting it to be a cut above the industry. To begin with, operating margin and net margin for Ambarella of 16.4% and 15% matched against the industry's 12.8% and 11.4%, respectively, reinforces the fact that the corporation was able to generate greater income per dollar of sales. ROA of Ambarella's is nearly two-fold of the industry and ROE is twice over the industry, elucidating the fact that the company is utilizing its resources with additional efficacy. Ambarella is an all-equity financed company whilst the industry employs some leverage which could bring about tax savings in the form of higher free cash flows available to be further reinvested.
Future Prospects
The semiconductor, equipment and materials industry is projected to experience growth in the coming year. Within this industry, Ambarella has registered superior results in comparison to its opponent Applied Materials and exhibits greater growth potential compared to the industry as a whole. On the grounds of the above analysis, in my opinion, a long position ought to be considered for Ambarella.

Disclosure: I have no positions in any stocks mentioned, and no plans to initiate any positions within the next 72 hours. I wrote this article myself, and it expresses my own opinions. I am not receiving compensation for it (other than from Seeking Alpha). I have no business relationship with any company whose stock is mentioned in this article.