The purpose of this article is to highlight a major divergence in the prices of U.S. Stocks versus Emerging Markets Stocks so far this year in 2013. We also look at if this makes any sense, and how to position your portfolio.
First, here's what has happened so far this year. As measured by the SPY ETF, U.S. stocks are up 12.71%, rising from 145.11 on Jan 2, to 163.56 at the close on June 4. Over the same period, the Vanguard FTSE Emerging Markets ETF VWO is down from 45.13 to 41.72 for a loss of -7.65%.
As many people have observed, the U.S. stock market may be fully valued at current levels. Consider that the dividend yield on SPY is 2.03% while the dividend yield on the VWO is 2.40%. It seems that investors this year have been so risk-averse and yield seeking in searching for bond equivalent stocks, that they have driven down the yield on domestic stocks to levels that make no sense compared with stocks in emerging countries. If you believe this, you may want to look outside the U.S. to ETFs such as VWO or its competitor EEM for exposure to Stocks that are not at thier 52-week, or all-time highs. In fact if you look at a longer-term chart, you will see that VWO reached a high of 57.57 in late 2007.
Here's a chart of SPY and VWO for 2013:
-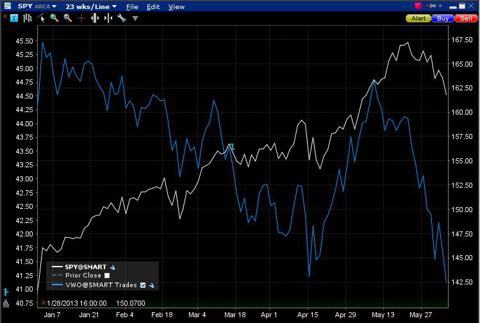 It is interesting that through April 15, the relationship was an inverse one. But after April 15, they appear to be highly correlated and VWO is also much more volatile. Note that in May VWO has fallen much more sharply than SPY did. At current prices, I'm inclined to rotate out of SPY and buy VWO as I believe the risk/reward tradeoff has shifted to VWO.
Disclosure: I am long SPY, VWO. I wrote this article myself, and it expresses my own opinions. I am not receiving compensation for it (other than from Seeking Alpha). I have no business relationship with any company whose stock is mentioned in this article.