ETF Spotlight on the iShares Intermediate Credit Bond Fund (NYSEARCA:CIU), part of an ongoing series.
Assets: $6.2 billion.
Objective: The iShares Barclays Intermediate Credit Bond Fund tries to reflect the performance of the Barclays U.S. Intermediate Credit Bond Index, which is comprised of investment grade corporate debt and sovereign, supranational, local authority and non-U.S. agency bonds with maturities between 1 and 10 years.
Holdings: Top holdings include BlackRock FDS 0.6%, European Investment Bank 4/15/2016 maturity 0.4%, KFW 1/17/2023 maturity 0.3%, Bank of America 1/11/2023 maturity 0.3%and Goldman Sachs Group 1/22/2018 maturity 0.3%.
What You Should Know:
BlackRock's iShares sponsors the fund.
CIU has a 0.20% expense ratio.
The fund has 2,777 holdings and the top ten make up 3.2% of the overall portfolio.
The ETF has an effective duration of 4.30 years - the effective duration is a measure of sensitivity to interest rate changes.
CIU has a 1.57% 30-day SEC yield.
Allocations include industrial 43.1%, financial institutions 27.1%, utilities 7.4%, supranational 6.7%, agencies 6.1%, sovereign 3.1%, financial 2.5% and local authorities 2.0%.
Credit quality breakdown includes AAA 10.0%, AA+ 3.1%, AA 3.5%, AA- 6.1%, A+ 9.3%, A 12.6%, A- 20.5%, BBB+ 15.4%, BBB- 7.1%, BB+ 1.2% and BB 0.1%.
The fund is down 1.3% over the past month, down 0.2% over the last three months and down 0.1% year-to-date.
"Tactical investors could employ this fund when they feel the corporate-bond market is underpriced versus Treasuries," according to Morningstar analyst Timothy Srauts.
"Unlike most other corporate-focused ETFs, CIU has a wider mandate that includes a 20% allocation to noncorporate entities," Strauts added. "This more diverse profile may be attractive to investors looking for additional diversification."
The Latest News:
CIU has attracted over $700 million in assets so far this Month and ranks among the top 10 best-selling ETFs over May.
Investment grade corporate bond prices have been falling alongside Treasuries as yields inch higher, reports Michael Aneiro for Barron's.
Benchmark 10-year Treasuries currently yield about 2.12%.
"It could be some scary times" in the investment-grade market, Dan Hannis, a corporate-bond trader at William Blair, said in aWall Street Journal article.
Hannis warns that prices could dip further if investors rush to sell investment-grade mutual funds after witnessing negative returns.
"We think a lot of retail investors will look at these numbers and increasingly allocate away from investment grade corporate bonds - especially higher rated industrials," Bank of America Merrill Lynch said, Barron's reports. "This especially if interest rates rise further, leading to more pronounced NAV losses in IG bond funds."
iShares Barclays Intermediate Credit Bond Fund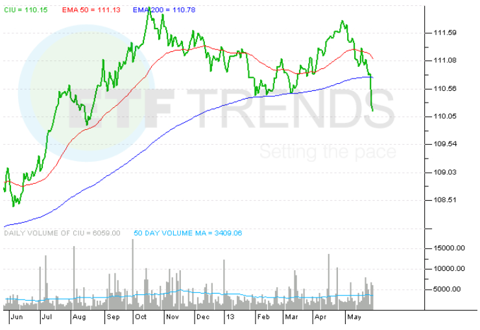 Max Chen contributed to this article.
Disclosure: I have no positions in any stocks mentioned, and no plans to initiate any positions within the next 72 hours. I wrote this article myself, and it expresses my own opinions. I am not receiving compensation for it. I have no business relationship with any company whose stock is mentioned in this article.