On June 5, Penn West (NYSE:PWE) announced several major changes to its leadership, capital spending plans and dividend policy. Penn West's CEO Murray Nunns is retiring and will be replaced by David Roberts, who was previously the COO of Marathon Petroleum (NYSE:MPC). Penn West is also planning to increase its efficiency, starting with a 10% reduction in its workforce and possible asset sales. In addition, Penn West has announced a change to its dividend policy. Starting with the Q3 2013 payment, Penn West's quarterly dividend will be lowered to $0.14 per share, which is a reduction of 48% from its previous level of $0.27 per share. Penn West's stock is currently flat on the news, though it was down as much as 4% in early trading. At the new dividend level of $0.14 per share per quarter, Penn West's dividend yield is about 5.35%.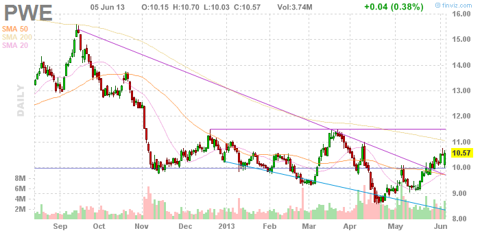 What probably caused some shock in the announcement today was the retirement of Penn West's President and Chief Executive Officer Murray Nunns and his replacement by former Marathon Petroleum's COO David Roberts. Mr. Nunns had been with Penn West for over 8 years and had guided the company through difficult times in the energy markets. Mr. Nunns joins a long list of other senior managers of Penn West who have been shown the door. Just last month, on May 5, Penn West announced the appointments of a new Chairman and Vice-Chairman of the Board. Also, back in November 2012, Penn West announced that 4 senior officers were leaving the company immediately. These included the COO, the top engineer and 3 other Vice Presidents.
When taken altogether, Penn West has basically removed its entire former executive suite. Since 2008, Penn West's share price has lost about 70% of its value while the broader S&P 500 has gained 18%. Penn West's new hires, such as new CEO Mr. Roberts, are industry veterans from much larger and successful E&P companies. Penn West has obviously suffered from severe mismanagement and a major shake-up was needed.
With a new CEO and board, it was no surprise that Penn West chose to adjust its dividend policy. In any event, that Penn West has lowered its dividend should not come as much of a shock to investors. I had earlier written about a possible dividend cut for Penn West. In that article, I made the case that Penn West's FFO was not enough to cover its large capital spending needs, much less the dividend payments. In the quarter, Penn West's capex was $427M while dividend payments totaled $129M. Combined, these totaled $556M, much higher than the $267M in FFO generated in the quarter. Penn West clearly was forced to take on debt to cover these payments. I also mentioned that Penn West was targeting to lower its debt-to-EBITDA ratio to below 2.5X. Another bad omen for the dividend was when, in my opinion, Penn West's CFO Todd Takeyasu telegraphed a cut when he was very noncommittal when asked by analysts about a dividend cut in the Q1 2013 conference call: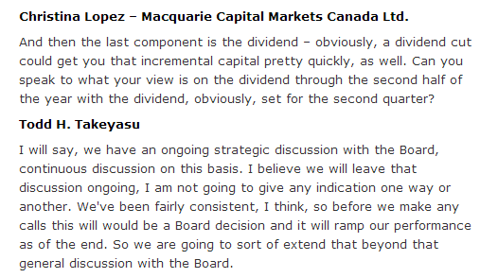 Though Penn West did lower its dividend, it has kept its capital spending guidance intact. However, this does not mean that Penn West is not looking at all its options. In the release, Penn West stated that it will form a special committee to explore strategic alternatives. The committee is to consider all alternatives with a target to increase Penn West's shareholder returns. Penn West is now considering selling assets, business combinations and possible joint ventures in order to secure its financing. Of these options, the one that seems the most likely to play out short-term are the asset sales. Penn West owns a massive amount of reserves in Western Canada. Penn West is also fortunate that these contain a large amount of light oil, which is in high demand. At current prices, Penn West stock is selling for about 80% of its NAV when backing out debt. With the dividend reduced, Penn West now has enough FFO to fund its capex for 2013 and can now wait for buyers instead of being forced to sell at unattractive prices.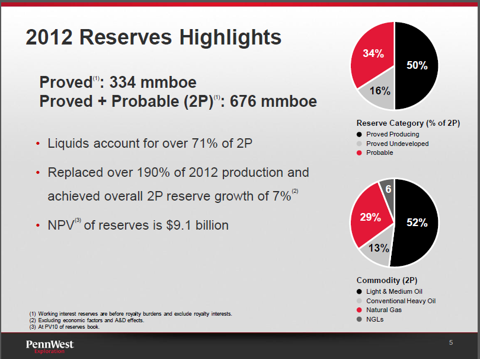 Also announced in the release was that Penn West was reducing its workforce by about 10%. While layoffs are always unfortunate, they are necessary to reduce costs. Penn West's base operations are currently unsustainable according to Barclays analyst Grant Hofer. Mr. Hofer also mentioned that "This makes Penn West an unattractive as a takeover target and joint venture partner."
Conclusion
I do not think Penn West's current situation can be explained better than in the following quote: "Penn West has many high-quality assets, but the company has yet to unlock their complete value," Penn West Chairman Rick George said in a release. Penn West does have valuable assets. However, those assets need a large amount of capex to become producing assets, which is something Penn West has struggled with. Competitors to Penn West, such as Pengrowth Energy (NYSE:PGH), have been moving away from Western Canadian light oil due to high costs and low realized prices, and unlike Enerplus (NYSE:ERF), Penn West's production is entirely in Western Canada, and trades at a massive discount to WTI. Penn West just bought itself some time with the dividend cut. However, it needs to sort out its operational issues before I would consider investing in it.
Disclaimer: The opinions in this article are for informational purposes only and should not be construed as a recommendation to buy or sell the stocks mentioned. Please do your own due diligence before making any investment decision.
Disclosure: I am long PGH. I wrote this article myself, and it expresses my own opinions. I am not receiving compensation for it (other than from Seeking Alpha). I have no business relationship with any company whose stock is mentioned in this article.