Although SUPERVALU Inc. (NYSE:SVU) failed to turn the corner in its multi-year turnaround project when Craig "The Wal-Mart (WMT) Guy" Herkert was leading the company, we were able to avoid taking a severe loss because we had sold our original position at a small profit in 2011. We then reentered it one year later when it had declined by more than 50% versus when we sold it. Because of its 8% dividend yield, its 40% free cash flow yield and its progress towards paying down its debt relating to its deal-from-hell acquisition of Albertsons, we were confident that all it had to do was meet its FY 2013 expectations in order to realize the value that we saw in the company. Although SVU regressed terribly in FY 2013 because SVU's leadership team was caught with its pants down with regards to pricing moves made by its competition, we are still up by 40% on our new position in SVU. We attribute this to SVU's willingness to sell the remaining stores it acquired from Albertsons to Cerberus and SVU was able to shed $3.2B of debt and capital leases once it said good riddance to its legacy Albertsons properties (aka New Albertsons Inc). While SVU has not quite caught up to Wal-Mart, Kroger (NYSE:KR) or Safeway (NYSE:SWY), we can see that at least it isn't Roundy's (NYSE:RNDY).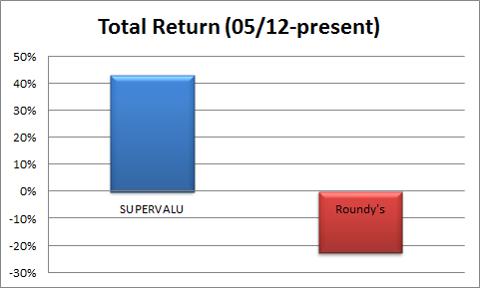 Source: Morningstar Direct
We considered investing in Roundy's in April 2012 when we found that David Einhorn of Greenlight Capital took a 1.2% stake in the company in CQ1 2012. We were attracted to its 8% dividend yield, the potential economic recovery in Wisconsin thanks to the well-publicized fiscal reforms signed into law by Governor Walker and the fact that one of the most recognized investment managers took a well-publicized stake in the company. We ended up passing it up as the price had popped in the wake of its April addition to the Russell 2000 and we were hoping to get it cheaper. It was a good thing that we did because Roundy's share price has suffered a terrible beating since it went public in February and especially since its all-time high price of $12.50 in May. Although the share price of both companies has recovered from its respective 52-week lows, we still prefer SVU because of its new leadership team, because it was able to shed $3.2B in debt and it is making necessary moves to improve SVU's price competitiveness.
Both companies made well publicized dividend cuts in 2012. SVU cuts its dividend by 50% in 2010 and it eliminated the rest of its dividend after releasing its soft FQ1 2013 results in July 2012. Roundy's announced a sharp 36% decline in its net income for its FQ3 2012 period even though it had the benefit of an 8% reduction in its depreciation and amortization expenses and a 33% reduction in its interest expenses during this time period. Roundy's joined SVU in reducing its dividend in the wake of soft sales results due to pricing promotion initiatives by its competition. Roundy's reduced its dividend by 48% beginning with its FQ4 2012 payment. Roundy's still yields 6.3% based on its new $.48/share dividend payment and its $7.58 share price as of May 31st. SVU's free cash flow yield is now 13.7% based on FY 2013 FCFs and current market price and RNDY sports an FCF yield of 12.5%.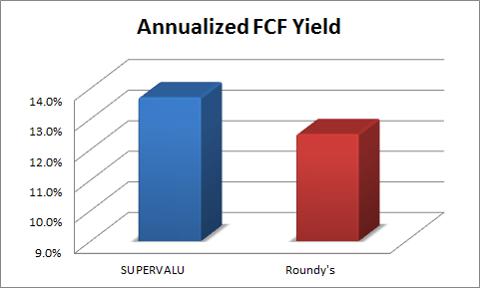 Source: Morningstar Direct
Although RNDY's has a slightly different financial reporting schedule than SVU, we'll compare the performance of SVU's MRQ to RNDY's FQ4 2012 and FQ1 2013 periods. We were surprised that Roundy's has been opening new stores when we consider that RNDY's owes nearly $700M in outstanding debt and only has $775M in tangible assets. RNDY's Q1 2013 revenue grew by 4.8% benefited from the timing difference of the Easter Holiday and the New Year's in the FQ1 2013 period versus FQ1 2012 as well new stores opened in the last twelve months. However, its adjusted comparable store sales growth declined by 0.8% in FQ1 2013 and its operating expenses grew by 5.4%. This resulted in operating income declining by 13%.
In FQ4 2012, Roundy's adjusted pre-tax income actually increased by 13.7% however this was due to lower interest rates on its outstanding debt. RNDY's operating income declined by 12.2% as its 1.36% revenue growth was more than offset by the combined impact of 1% COGS growth and 4.13% operating expense growth. SVU's revenue declined by 2.25% year-over-year in its MRQ and its adjusted operating income from continuing operations declined by $35M year-over-year. SVU had a 1.3% sales decline from its independent wholesale distribution business and negative comps of 4.1% in its traditional retail food store operations and 1.5% from its Save-A-Lot division.
Although SUPERVALU had to part with much of the retail food real estate that it owned when it sold off the New Albertsons Inc stores, it still owns more of its stores than Roundy's. SUPERVALU owns about 16% of its traditional grocery locations, down from about 40% before the sale of the New Albertsons Inc operations to Cerberus. While substantially all of the company's owned and ground-leased real estate will be subject to mortgages, it can always decide to sell the stores to another grocery chain and use the proceeds to pay down or pay off the loan. We've had a series of discussions with other investment firms in comparing SUPERVALU versus Roundy's and one thing we agreed on was that the real estate SVU owns gives it a better chance to survive and turnaround than Roundy's. SVU owns 9% of its corporate owned Save-A-Lot square footage and 95% of its Independent Business distribution center square footage. SVU also owns 74.5% of the distribution centers that serve its retail stores and its Save-A-Lot operations. SVU owns slightly more than 50% of the square footage that services its operations while Roundy's only owns two of its 160+ stores and one distribution center.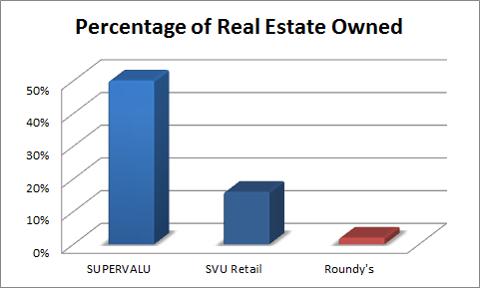 Click to enlarge
Source: Most Recent Annual Reports for SUPERVALU and Roundy's
Notable Roundy's shareholders include Willis Stein (41%), Brandywine (1.96%) and Heartland Advisors (1.34%). However it should be noted that John Willis and Avy Stein have been pulling their hair out trying to find a way to sell off their firm's position in Roundy's.
SVU has a number of notable bondholders and stockholders. Notable bondholders include the Four Star Bronze Rated Franklin Income Fund ($160M), the Four Star J.P. Morgan High Yield Bond Composite ($70M) and the Five Star Frost Total Return Bond Institutional ($10M). Dan Fuss at Loomis Sayles also owns New Albertsons Inc bonds for his well-regarded multisector funds ($137.5M in Loomis Strategic Income and ~$190M in Loomis Sayles Bond).
Notable SVU stockholders include Cerberus Capital Management's affiliate Symphony Investors (21%), Jana Partners (5.5%), LSV Asset Management (3.7%), Brigade Capital Management (2.8%), Omega Advisors (2.67%) and SAC Capital Advisors (1.86%).
In conclusion, we are of no illusions as to the challenging competitive environment both grocery retailers face. Both companies are facing strong and significant industry headwinds as well as operational issues that have negatively impacted the performance of those firms. We were disappointed that SVU has yet another CEO and management team. However, we believe that SUPERVALU has begun to make more progress in its turnaround situation than Roundy's and we believe that SVU will recover more for its investors than Roundy's. To recap, here are the reasons why we prefer still prefer SVU over Roundy's:
SVU owns more of its real estate and can monetize it.
SVU still has a higher free cash flow yield than Roundy's.
SVU has a stronger institutional shareholder base.
Disclosure: I am long SVU. I wrote this article myself, and it expresses my own opinions. I am not receiving compensation for it (other than from Seeking Alpha). I have no business relationship with any company whose stock is mentioned in this article.
Additional disclosure: This article was written by an analyst at Saibus Research. Saibus Research has not received compensation directly or indirectly for expressing the recommendation in this article. We have no business relationship with any company whose stock is mentioned in this article. Under no circumstances must this report be considered an offer to buy, sell, subscribe for or trade securities or other instruments.