Apple, Inc.(NASDAQ:AAPL) has scheduled its annual World Wide Developers Conference for Monday. Here are a few things we can expect to learn during the event, and the implications for the company's share price:
iPhone 5S May finally look different
First, it seems that the 5S will look almost identical to the existing iPhone 5. Last month, Moumantai, a Japanese vendor, released pictures of an iPhone 5S component, which reveals that the handset will have the same dimensions as the company's previous model. However, an analyst at Topeka has stated that he believes that the iPhone 5S will be offered in either two or three different sizes- something smartphone users have been waiting for, as current consumers are trending toward larger screens. Also, there are reports surfacing that claim the iPhone 5S will be offered in two new colors- gold and grey. These rumors are based on a recent picture online of external iPhone components that are grey and gold, respectively. While the offering of new colors may seem interesting, it also appears that it may not be so likely.
Camera
The iPhone 5S will likely feature numerous camera upgrades. First, it is likely that the rear-facing camera will have a 12-megapixel lens, a change from the current 8-megapixel camera that the iPhone 5 features. There has been some speculation that this rear-facing camera will also have 3D video recording capabilities, but this seems to be an upgrade that will not materialize until the iPhone 6 is launched. Full 1080p HD support will still be included in the newest version of the smartphone. As for the front-facing camera, the newest iPhone will likely include a 2-megapixel sensor- a significant jump from the previous 720-pixel lens. Also, the iPhone 5S will likely include dual-shot capabilities- that is, the ability to record videos or take pictures on the front and rear cameras simultaneously. This feature is also likely to include FaceTime compatibility.
iOS 7
Apple is also poised to debut its newest version of its iOS operating system in the iPhone 5S. One of the new features in iOS could possibly be widgets- finally. It seems that these widgets will be contained in the pull-down notification bar that currently exists in iPhones. Users would be able to customize this screen's layout and contents, allowing them to possibly stream information or provide an application's functionality from one screen, without opening apps. For example, stock tickers, weather information, calendar events, and more will all be accessible and viewable on this screen. Another feature that will probably appear in the newest iOS release is pull-down icon menus. For instance, say you use Gmail for your emailing services. As you begin receiving emails, the icon will show a number in the corner to advise you of your unread emails. These pull-down menus will allow users to simply press down on the Gmail icon to reveal a list of unread emails. Next, some accessibility features will provide users with a quicker way to switch between different modes such as airplane mode and WIFI from the home screen- without opening the system preferences app.
Fingerprint Sensor
There has been a ton of speculation recently regarding the inclusion of a fingerprint scanner on the iPhone 5S handset. This will allow users to ensure that nobody else will be able gain access to their phone or the information within it.
iRadio
Morgan Stanley analyst, Katy Hubert, has claimed that Apple's newest smartphone will include a new music streaming application called iRadio. This will be a Spotify or Pandora-esque (NYSE:P) application enabling iPhone users to stream internet radio stations from their handset or computer. It is believed that this feature will also include Siri activation and controls. It is also expected that this service will be offered for free, with advertisements and a limited number of songs that users can listen to. However, for a paid subscription fee, users can remove the ads and other restrictions- similar to Pandora. It will be interesting to learn how Apple plans to differentiate its radio platform, as it is a model that, in the past, has struggled to produce profit. It can be seen in the chart below that, even with accelerating revenues, Pandora has failed to produce a profit in five of the past six quarters.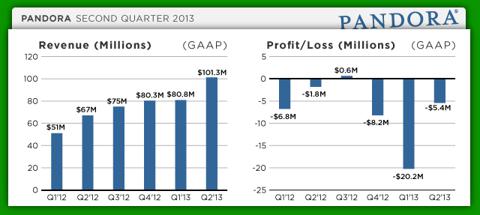 (techcruch.com)
The high content costs associated with an internet-radio platform have proven burdensome for Pandora, and it seems that Apple will need a fresh approach to this model if the company plans for it to be profitable. However, while Pandora currently has about 200 million registered users, Apple has the potential to reach 400 million current iTunes users. If we apply these potential 400 million users to Pandora's revenue figures, and predict a similar content cost structure, iRadio could bring in roughly $850 million in revenues annually. While $850 million dollars for a single product seems fantastic, we have to consider that Apple generated $156 billion in revenues last year. Therefore, the potential iRadio revenue stream would only generate a 0.5% spike in revenues. Bottom line- this is a value-adding process to draw users back to iTunes- it will not have a substantial effect on Apple's stock price.
Rumored Low-Cost iPhone Could Actually Boost Profit Margins
Although seemingly counterintuitive, a lower-cost iPhone actually carries the potential to increase Apple's gross margin. In a recent note to her clients, Morgan Stanley Analyst Katy Huberty outlined her projections for the costs associated with producing the new iPhone model and the subsequent impacts on the company's bottom line. Based on her projections of $244/unit in COGS (16GB base-model) and a retail price of $399, the gross margin for the new handset would fall directly in line with the company's current margins, and models with a larger capacity could pull in a margin of up to 44.9%. This low-cost iPhone may be unveiled at the WWDC on Monday.
Conclusion
Apple's Word Wide Developers Conference will certainly be exciting. It seems that the company is ready to roll out a few new products and give existing ones a much-needed refresh. Lately, Apple has been a "buy on the rumor, sell on the news" trade, so watch for trading volume to pick up in the coming trading days. The significant news will come in the form of an iPhone update and a new version of iOS, as these are the real revenue driving segments expected to be unveiled at the conference.
In the most recent quarter, rival Samsung's (OTC:SSNLF) global smartphone market share rose to 32.7%, while Apple's subsequently fell to 17.3%. With strong competition, Apple needs to impress the masses with this new iPhone. It would also be nice to see Apple's design guru, Jonathan Ive take the stage. Bottom line is, this is a make or break event for Apple. If the aforementioned rumored upgrades actually do come to fruition, shares of Apple should spike higher. Let's not forget, Apple's all-time high of $705.07 came the day after last year's WWDC (but let's not get carried away).
Disclosure: I have no positions in any stocks mentioned, and no plans to initiate any positions within the next 72 hours. I wrote this article myself, and it expresses my own opinions. I am not receiving compensation for it (other than from Seeking Alpha). I have no business relationship with any company whose stock is mentioned in this article.