The stock of Target (NYSE:TGT) has returned 20.1% year-to-date. At $70.17, it is trading near the 52-week high and offers a 2.0% dividend yield. After the notable price run-up, the stock's risk-reward profile has become less favorable and potential buyers should stay cautious. There 3 reasons supporting my view:
1. The year-to-date price appreciation was not supported by any significantly positive corporate developments, and thus the valuation has become increasingly frothy. Over the past 6 months, the stock's forward P/E multiple has expanded by 12.0% from 13.3x to 14.9x (see chart below).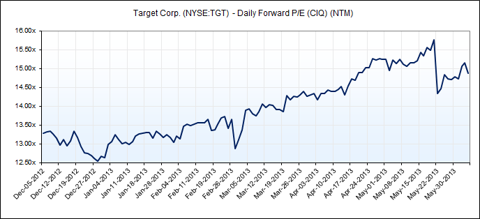 Nevertheless, Target's consensus revenue, EBITDA, and EPS estimates have experienced multiple downward revisions over the period, and their current levels are notably below the historical figures 6 months ago. In addition, Target's consensus 5-year earnings growth estimate has also been lowered from 12.1% to 10.9% over the same period (see charts below).




2. From a historical standpoint, Target's current valuation also seems to be rich. The stock's trailing P/E multiple has just reached its 3-year high and is 21% above the 3-year historical average (see chart below).

However, throughout the period, the company's capital return and margin performance has only trended steadily. Target's consensus revenue, EBITDA, and EPS estimates for the next 3 quarters are only showing a somewhat stable trend rather than a marked improvement (see charts below).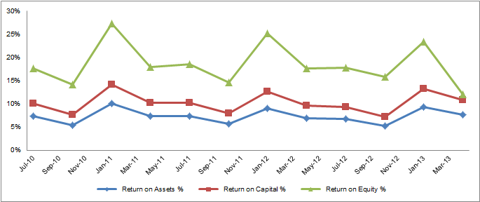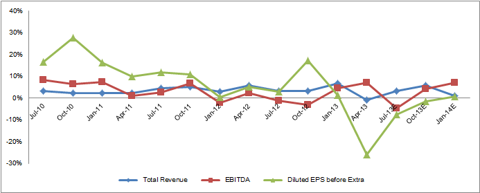 3. Target's recent quarterly release was a disappointment as the company missed consensus on same-store sales growth and EPS. In addition to that, management also lowered the revenue and EPS guidance for the current fiscal year and provided a downbeat commentary on increased price competition and weakness in the discretionary category, which I believe would likely weigh on the valuation upside.
Despite the above negativity, there are still some reasons to continue holding the stock:
1) Compared to Wal-Mart (NYSE:WMT), Target's valuation appears to be reasonable and more attractive on a relative basis. According to the table shown below, Target's consensus growth estimates are generally better than those of Wal-Mart due to the strong EPS growth potential. The company's various profitability margins are also notably above Wal-Mart's levels, but its capital return metrics are lower. Both companies' leverage is fairly in line. In terms of liquidity, Target's free cash flow margin is notably higher, and both their current and quick ratios are relatively on par.

Despite Target's better growth potential, superior profitability, and healthy liquidity position, the stock's forward EBITDA multiple is 5% below Wal-Mart's. Although Target has a higher P/E multiple, after accounting for the 5-year earnings growth estimate, its PEG ratio is 9% below that of Wal-Mart (see chart above).
2) Target's forward P/E ratio is now trading in line with the same multiple of S&P 500 Index (see chart below).

This relative valuation level is supported by the facts that 1) the stock's P/E ratio has been tracking closely with the market level; 2) Target's consensus 5-year earnings growth estimate at 10.9% is above the average estimate of 8.2% for the S&P 500 companies; and 3) the stock's 2.0% dividend yield is consistent with the S&P 500 average.
3) Given that the home decoration category accounts for approximately 20% of Target's total sales, the on-going US housing recovery should continue benefiting the company to the upside.
Bottom line, I would encourage potential buyers to either wait for a pullback or utilize an average-cost strategy to contain the risk.
All charts are created by the author except for the consensus estimate tables, which are sourced from S&P Capital IQ, and all financial data used in the article and the charts is sourced from S&P Capital IQ unless otherwise specified.
Disclosure: I am long TGT. I wrote this article myself, and it expresses my own opinions. I am not receiving compensation for it (other than from Seeking Alpha). I have no business relationship with any company whose stock is mentioned in this article.