Chesapeake Energy (NYSE:CHK) has a new sheriff in town. On May 20, 2013 Chesapeake announced the hiring of Anadarko's (NYSE:APC) Doug Lawler as Chesapeake's new Chief Executive Officer.
Lawler will replace the controversial (and entertaining) Aubrey McClendon who co-founded Chesapeake and was the only CEO the company had ever had.
Last year about this time Chesapeake shareholders demanded change and got it. McClendon who at the time was both Chairman and CEO, lost his Chairman duties. The rest of the Board of Directors was also reconstituted with representatives of lead shareholder Southeastern Asset Management and Carl Icahn. These Directors were named to take the place of long serving friends of McClendon.
During the shakeup last year, Southeastern while ready for change, made it clear that it still wanted McClendon to stay on as CEO. Southeastern gave McClendon several public votes of approval.
I was very curious as to what changed subsequently to that support for McClendon to result in McClendon leaving Chesapeake entirely earlier this year.
The recently released transcript from the Southeastern annual investor meeting provided some detail:
Question: How have your dealings with McClendon and now Dell changed the way you evaluate people or think about the people part of your process?

Mason Hawkins First of all, on Dell and Chesapeake, we have confidentiality agreements signed and we have to be careful about what we do say.

But as it relates to the history of Aubrey McClendon and Chesapeake, it was very evident that he had created a very valuable company. He founded it and 22 years later, it had the largest oil and gas acreage position in the U.S., some of the most cherished oil and gas lease acres as well as proven and unproven reserves.

So he definitely checked the box as an owner-operator that was vested.

It somewhat went off the rails in the third quarter of 2012 when he spent over 3 billion dollars in a quarter and really pushed it to the wall on the balance sheet. That was a point when we said, stop, and it was a point where the company became over-geared, over-leveraged, and somewhat put the creditors in charge of a position that could have been at the expense of the shareholders. So it was a situation where the founder, the creator of the company with substantial economic worth, did some things on the capital allocation front, that we've alluded to in the book The Outsiders, that jeopardized the shareholders' position. So as we said in my talk, it's never a given that people will continue to behave rationally or prudently.
Mason Hawkins provides a specific event that triggered Southeastern's loss of confidence in McClendon. That specific event was McClendon pushing the balance sheet of Chesapeake too far.
It also didn't help that last year there was the warm winter induced collapse in natural gas prices and the fact that Chesapeake went into 2012 without hedges on its production.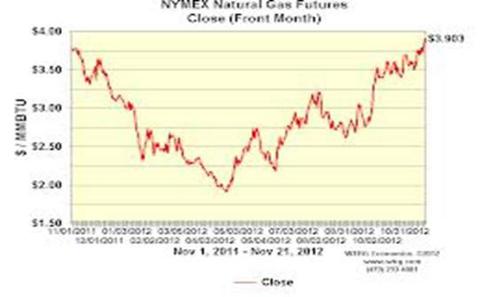 Click to enlarge
What Is The Plan Going Forward?
All of that business with McClendon is history now though. What matters is the future.
And there are investment implications that stem from the reason for McClendon's departure. Those implications are that Longleaf and the new Board of Directors are serious about fixing Chesapeake's long wobbly balance sheet.
To which long suffering Chesapeake shareholders must be saying FINALLY.
This means that the Chesapeake of the future will likely be considerably different from the Chesapeake of the McClendon era.
For the new Chesapeake the future could be very bright if we get a decent natural gas price. We certainly have much more conservative stewards in place at the helm of Chesapeake to exploit Chesapeake's fantastic asset base.
The specific strategy for 2013 for Chesapeake was discussed at the Southeastern annual investor meeting:
Question: When is Chesapeake's next phase moving into harvesting versus selling assets?

Ross Glotzbach: I think that that depends largely on the price they're getting for these assets.

We are 100 percent in favor of them selling things when they get full value for them, especially when they're not producing cash flow today. When you can bring that value forward, reduce debt, strengthen your company, and still have plenty more good things to drill, we want them to keep selling things.

I will say, though, that probably this time next year, they will have, HBP'd, held by production, a lot of their acreage that they want to, so it will turn into more of a, of a harvest mode, as you say.

Mason Hawkins: The gross figures are for them to sell between 5 and 7 billion dollars of assets, and their announced plans are to sell those things that are not strategic to them that might be more valuable to others. If you take maps of these various basins, you can see the checkerboard acreage that might line up with others' core positions, pipelines, etcetera, and so they're methodically going about paring their less strategic assets, keeping their good ones.

If they sell 5 to 7 billion dollars of assets, they produce 5 billion or so dollars of operating cash flow, and they only spend about 5 billion on cap X, that means that their debt could come down by 5 to 7 billion dollars and they could end the year with an investment grade balance sheet with a lot of flexibility.

At that stage, we should be in that harvest mode for certain and have a lot of optionality. Optionality on gas prices going back to more of an economic equivalent with oil. Number two, we could actually be buying a lot of ourshares in because we clearly have an appraisal that's substantially greater than the current stock price. We, as long-term investors with a terrific board of directors looking after your and our interest, are very sanguine about where we'll be in a year.
What Hawkins lays out for 2013 is clearly quite a change of pace for Chesapeake shareholders. Capital spending is going to be fully funded by operating cash flow. That is quite a change from years gone by where billions of dollars were spent beyond what Chesapeake was generating from production.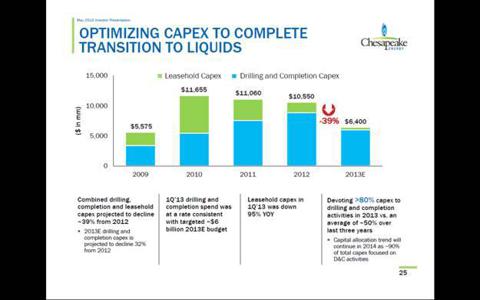 Click to enlarge
The cash from asset sales in 2013 will go directly to debt reduction which should mean that by the end of the year Chesapeake is going to have its balance sheet where it needs to be relative to cash flow.
During the McClendon era there were lots of asset sales, but that cash was continuously used to buy more and more acreage.
By 2014 with all desired debt reduction behind it, Chesapeake is going to be a fully self-sustaining oil and gas production company where all the cash it needs to grow will be funded from production. And more importantly there will be no need to sell assets to reduce debt or to buy new acreage.
Being in a position where you constantly have to sell is not dealing from a position of strength.
This new self-sustaining Chesapeake should attract a whole new group of investors who in prior years found the company to be far too aggressively levered, and this should result in a much better share price.
Disclosure: I have no positions in any stocks mentioned, and no plans to initiate any positions within the next 72 hours. I wrote this article myself, and it expresses my own opinions. I am not receiving compensation for it (other than from Seeking Alpha). I have no business relationship with any company whose stock is mentioned in this article.