SolarCity Corp. (NASDAQ:SCTY) shares caught a bid Wednesday, up about 4% on heavier than normal volume, recovering from the recent correction to the sharp six-fold rally since the company's IPO in December last year. The company, a leading provider of clean energy services, including solar power, energy efficiency and electric vehicle services, launched yesterday a zero-down financing for homebuilders.
Under the program, homebuilders in six states, four in the western U.S. and two in the eastern U.S., can now offer solar power in their new residential communities without incurring any upfront costs. The company has already made solar power more accessible through its solar lease and power purchase agreements (PPAs) that it has been offering since 2006, and via its partnership with select homebuilders. The current program promises to increase solar adoption even more by making it easier for homebuilders to incorporate solar energy savings into their new home construction projects.
For those unfamiliar with SCTY, the company is led by legendary billionaire Elon Musk, rated in the latest issue of Forbes at 181st richest in the U.S. with a net worth of $2.7 billion. He is the chairman of SCTY, and owns about 28% of the company. If his name sounds familiar, he is also well known for his founding of SpaceX, a space transport company, and for co-founding electric car manufacturer Tesla Motors (NASDAQ:TSLA) and payment processor PayPal, and could easily rank among today's leading technology innovators. After all, how many people can you think of that have built and/or led three billion-dollar technology companies?
While the press release does not specifically discuss Musk's involvement in the program, it is very easy to see how it fits into his long-term vision of promoting sustainable transport and sustainable energy production. Musk's doubters have paid very dearly, as is evident in the meteoric rise of both TSLA and SCTY this year, up 173% and 221%, respectively year-to-date. So, are you with the Musk trade? Even mighty Goldman Sachs has joined in, announcing in mid-May a lease financing agreement with SCTY to fund more than $500 million in solar projects.
The stock has been under accumulation by legendary or guru fund managers, with our database of 79 gurus with outstanding long-term market returns collectively or in consensus adding 106,268 shares in the latest available Q1/2013 to the 81,100 share position they initiated after the company's IPO in December. The stock has 4.6 GuruRank based on our proprietary and relative ranking system that numerically represents on a scale of 1 to 5 the attractiveness of the stock to guru fund managers, based on their holdings, change in holdings, percent of outstanding shares and number of guru funds in the stock, as compared to the rest of the 5,200+ stocks in our database.
SCTY revenues have been rising, up to $30.0 million in the latest Q1/2013 from $24.8 million in the prior year March quarter, and are projected to keep rising to $139.4 million this year and $224.6 million in FY 2014. However, SCTY missed on earnings in the latest quarter, reporting a 41c loss, ten cents worse than consensus estimates, while revenues came slightly ahead at $30.0 million v/s the $28.9 million estimate. Despite the recent correction from May's $52 high, we would wait to accumulate the shares, as the stock is likely to dip lower in the coming weeks, possibly towards its 50-day moving average near $30, retracing approximately half of its post-IPO gains to its $52-high in May. The catalyst is the 61.6 million shares that have been under trading restrictions will be eligible to be sold after June 10th, accounting for over 80% of its outstanding shares. If even a small fraction of these shares are sold, it will continue to push shares lower in the short-term.
Overall, the 79 guru fund managers included in our database are bullish on solar stocks, adding $4.1 million in Q1/2013 to their $223.8 million prior quarter position in the group. Also, guru funds accumulated solar energy company shares in the prior Q4/2012, before the sharp rise this year, adding $20.2 million to their $203.6 million prior quarter position in the group (based on Wednesday's prices).
Besides SCTY, guru fund managers also were bullish on the following solar energy stocks in Q1/2013 (see table below):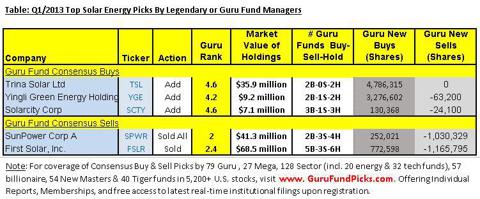 Trina Solar Ltd. (NYSE:TSL), that is a vertically-integrated Chinese manufacturer of mono-crystalline ingots, wafers and cells to the assembly of high quality solar modules, in which guru fund managers collectively or in consensus added a net 4.79 million shares in Q1/2013 to their 1.43 million share prior quarter position.

Yingli Green Energy (NYSE:YGE), that is a Chinese manufacturer engaged in the design, development, marketing, manufacture, installation, and sale of photovoltaic products, including PV cells, PV modules, and integrated PV systems, as well as poly-silicon ingots, blocks, and wafers, in which guru fund managers collectively or in consensus added a net 3.21 million shares in Q1/2013 to their 0.11 million share prior quarter position.
Guru fund managers together sold the following solar energy stocks in Q1/2013:
Sunpower Corp. (NASDAQ:SPWR), that is an integrated solar products and services company that designs, manufactures, and delivers solar electric systems for residential, commercial, and utility-scale power plant customers worldwide, in which guru fund managers collectively or in consensus cut a net 0.78 million shares in Q1/2013 from their 3.02 million share prior position.

First Solar Inc. (NASDAQ:FSLR), that manufactures and sells solar modules using a thin-film semiconductor technology for residential and commercial markets in the U.S., Europe and Asia, in which guru fund managers collectively or in consensus cut a net 0.39 million shares in Q1/2013 from their 1.74 million share prior quarter position.
We wrote in our earlier article last quarter on guru fund manager picks in alternative energy, including solar, that the sector seemed prime to break out, a scenario that has already played out. With the market in bullish mode, some solar stocks could continue to ride higher while others may be at risk, and it is important to make the right picks in the group.
We believe that knowledge of how the best minds in the investment community, in the form of guru fund managers, are collectively positioning themselves can inform our investment decision-making. SCTY is not unique, as we have observed similar predictive power in the moves of leading fund managers, as reported in their quarterly 13-F and periodic 13-D/G filings, some of which are documented in our earlier articles on Q4/2012 small-cap biotech picks and Q1/2013 small-cap biotech top picks.
Disclosure: I have no positions in any stocks mentioned, and no plans to initiate any positions within the next 72 hours.
Business relationship disclosure: Business Relationship Disclosure: The article has been written by the Hedge and Mutual Fund Analyst at GuruFundPicks.com. GuruFundPicks.com is not receiving compensation for it (other than from Seeking Alpha). GuruFundPicks.com has no business relationship with any company whose stock is mentioned in this article.
Disclaimer: Material presented here is for informational purposes only. Nothing in this article should be taken as a solicitation to purchase or sell securities. Before buying or selling any stock you should do your own research and reach your own conclusion. Further, these are our 'opinions' and we may be wrong. We may have positions in securities mentioned in this article. You should take this into consideration before acting on any advice given in this article. If this makes you uncomfortable, then do not listen to our thoughts and opinions. The contents of this article do not take into consideration your individual investment objectives so consult with your own financial adviser before making an investment decision. Investing includes certain risks including loss of principal.
Credit: Fundamental data in this article were based on SEC filings, Zacks Investment Research, Thomson Reuters and Briefing.com. The information and data is believed to be accurate, but no guarantees or representations are made.
General Methodology and Background Information: The latest available institutional 13-F filings of 79 legendary or guru hedge fund and mutual fund managers, such as Warren Buffet, George Soros, Carl Icahn, Steven Cohen and Mario Gabelli, were analyzed to determine their capital allocation from among different industry groupings, and to determine their favorite picks and pans in each group. The hedge fund and mutual fund managers included in this select group include only high profile names who by virtue of their long-term market-beating returns have earned their standing in the investment community and are worthy of our attention. They include well-known names such as those mentioned above, as well as perhaps relatively lesser-known names that also have a stellar long-term history of beating the markets, such as Seth Klarman, John Griffin, Prem Watsa, Robert Karr and Lee Ainslie. Each guru has been carefully selected based on their long-term performance and standing in the investment community.