ITC Corp. (ITC) is the largest electric transmission company in the US and is about to get even bigger. While there are larger utility companies with substantial transmission assets, ITC is solely transmission oriented. For example, American Electric Power (NYSE:AEP) has a transmission group as an operating segment. According to AEP's most recent investor presentation, transmission EPS contribution in 2012 was $0.09 out of a total EPS of $3.09. After a project investment binge of $2.1 billion between now and 2015, AEP's transmission contribution will rise to an estimate $0.39 a share or about 11% of earnings.
Since going public mid-2005, ITC has substantially outperformed both the S&P 500 (NYSEARCA:SPY) and the utility sector. Below are total return charts for the past 5 years and since mid-2005: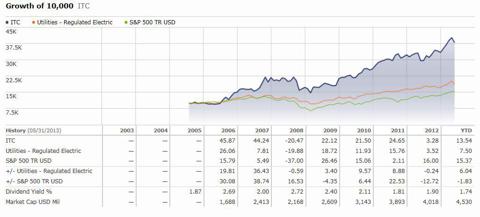 Source: Morningstar.com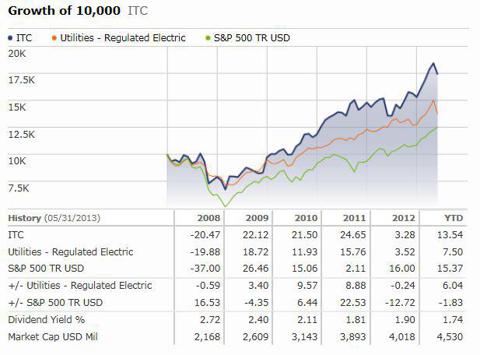 Source: Morningstar.com
As described in a previous SA article from Feb., ITC is in the process of merging the transmission assets of Entergy (NYSE:ETR) with its own. This will increase the firm's reach and regulated assets, driving earnings higher over time. It is anticipated the merger will take place over the next few months.
The following map from the May investor's presentation (link provided below) outlines the service territory of ITC post-merger: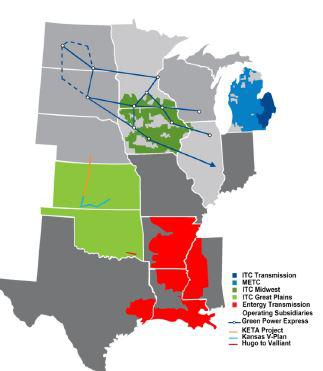 All electric utility investors should review the basics of transmission investing. Not only is ITC a niche player, it has the potential to grow earnings well above the 4% to 6% anticipated for the electric utility segment. Anticipated earnings growth range from 15% to 17% annually over the next five years, driven by both an aggressive capital expenditure program and generous FERC-allowed returns.
Management has announced expansion plans of about $2.5 billion over the next 4 years. Funded by a combination of additional debt and some equity raising, this should drive earnings higher. The FERC (Federal Energy Regulatory Commission) regulates high-voltage transmission networks and has encouraged investment by allowing a higher return. ITC's rates are established on a cost-of-service basis, allowing for the recovery of expenses and a return on invested capital. The rate mechanism approved by the FERC allows its subsidiaries ITC Transmission to earn a return of 13.88%, METC to earn 13.38%, ITC Midwest to earn 12.38%, and ITC Great Plains to earn 12.16% return on equity.
This is higher than the "typical" state PUC allowed return of 10.23% for the most recent quarter. The chart below offers a recap of the average state PUC allowed returns for rate cases settled, as reported by the Edison Electric Institute here (pdf) and here: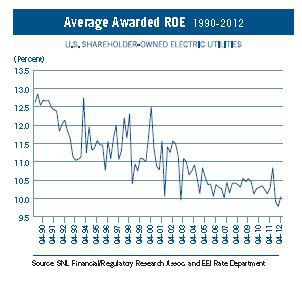 Source eei.com
According to a Feb. 2013 study (pdf) by Akim Gump LLC, recent FERC rate cases have been decided with a 10.81% allowed ROE and an "incentive adder for risks and challenges" of an additional 1.5%, for a total of 12.32% overall allowed ROE. The incentive adder is in response to the Energy Policy Act passed by Congress in 2005 to encourage higher investments in energy transmission infrastructure.
However, not all is rosy with the FERC. In New England, state attorneys generals have filed suit against the FERC over the incentive rate awards and are seeking a roll-back to a total of 9.5% maximum ROE.
From the Akim Gump study:
The Commission is currently hearing a hotly contested ROE proceeding involving the ISO New England Inc. ("ISO-NE"). At issue is the appropriate base ROE for the ISO-NE transmission owners. The complainants, which include various state attorneys general, regulatory commissions, and ratepayer advocates, contend that the current base ROE (which in some cases is supplemented with adders for specific transmission owners or projects) should be reduced by at least 194 basis points, to no more than 9.2%. The complainants' argue in their direct case for an ROE of 9.0%. The respondent ISO-NE transmission owners argue that the ROE should remain at 11.14%, consisting of "10.4 percent with an upward adjustment of 74 basis points to account for changes in capital market conditions." The Commission Trial Staff's witness disagreed with the calculations of both the complainants and respondents and offered her own recommendation of a 9.66% return on equity for the ISO-NE transmission owners. Although a recommendation from FERC staff is not binding on the Commission, it is a first glimpse of thinking inside FERC on this issue. The Coakley proceeding is unusual in that the ROE was established to reflect particular market conditions, which have subsequently changed. However, this proceeding bears close watching, as it is likely to provide strong insight into where the Commission believes the zone of reasonableness for ROE lies in today's capital market conditions.
Electric utility investors, and ITC shareholders in particular, should monitor this case as it will impact future capital expenditure plans and future profitability. In addition, there are concerns the state regulatory bodies in Arkansas, Louisiana, Mississippi and Texas may demand excessive concessions that could de-rail the merger.
The Energy Policy Act of 2005 and rate decisions by the FERC have been very successful in driving new investments into the electric grid. While the courts may turn back allowed ROE levels, it is my belief that the will of Congress to create preferred investment returns in needed transmission projects will prevail. As a pure transmission company, ITC should remain the firm that benefits the most from the higher ROE. It is the higher allowed ROE that will drive future earnings growth in excess of industry averages.
As usual, higher earnings growth drives higher dividend growth. Over the past 5-years, ITC has grown its dividend by an average of 5%. Management has committed to expanding the growth rate to upwards of 10% annually, as demonstrated by the 7% growth over the trailing twelve months. While ITC offers a sub-par current dividend yield, its growth rate should far outpace its peers.
Public policy of expanding wind and solar electric generation will continue to drive transmission opportunities. The preferred sites for these are in remote areas of the Midwest where there are few transmission assets to move the power onto the urban-based power grid. For example, ITC has been working on plans to build a 3,000-mile transmission project across the upper Midwest to connect new renewable power generation sources with load centers in the East. These projects are located in Iowa, North Dakota, Kansas, Oklahoma and Michigan.
On April 23, management announced 1st quarter earnings of $1.12 per share, up from $0.93 a year earlier. This represents a 20% EPS growth rate and supports a current high PE of 18. ITC has a return on invested capital of 5.7% for both TTM and a 5-yr average. ITC has a beta of 0.57 versus an industry average of 0.77.
Current and potential investors should read the latest May investor presentation found here (pdf). It provides details of both ITC currently and the effect of the proposed merger.
During the merger process with ETR, ITC will pay a one-time special dividend of $13.50 a share to pre-merger shareholders. As with many special dividends, investors should anticipate a drop in share prices corresponding to this amount. This would equate to share prices falling from the current $86 a share to around $74 a share. While not an accountant, current or new investors may want to consider a trade that doubles the share position right after the special dividend and corresponding price drop, waiting 31 days for wash-sale rule considerations and then selling the pre-merger, higher cost shares. This will generate an offsetting short-term loss to the dividend income and dividend tax.
Utility investors looking for higher growth opportunities should review ITC as its winning ways should continue for the foreseeable future.
Author's Note: Please review important disclaimer in author's profile.
Disclosure: I am long ITC. I wrote this article myself, and it expresses my own opinions. I am not receiving compensation for it (other than from Seeking Alpha). I have no business relationship with any company whose stock is mentioned in this article.