When most investors think of the telecom sector and wireless providers, Verizon [(NYSE:VZ): 28.62, -0.02 (-0.07%)] and AT&T [(NYSE:T): 23.44, +0.06 (+0.26%)] come to mind first. These two companies form a duopoly of the domestic market. Market penetration is nearing 90% in the US, so growth is limited, as these two companies are forced to compete for existing clients to survive as well as continue to steal market share from Sprint-Nextel [(NYSE:S): 4.36, -0.10 (-2.24%)] and T-Mobile.
They are also attempting to jump into uniq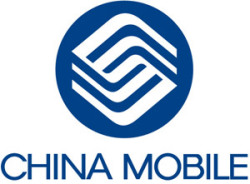 ue markets every day in hopes of adding revenue and improving margins. For instance, VZ and T have been rolling out fiber optic backbones for even faster internet speeds and enhanced TV picture quality. While this appears to be the new generation and face of telecom, there is one company that continues to dominate its traditional market. China Mobile [(NYSE:CHL): 47.60, -0.35 (-0.73%)] has exerted itself as the largest provider in the world, and has dominated its local Chinese market as well as surrounding regions. This company has proven to be best of breed with a solid fundamental business core, but has great growth potential as its 3G network is still in its initial stage.
Strong Core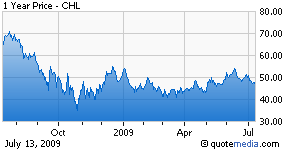 China Mobile is truly a monster with a market cap of over $212 billion. They have dominated their domestic markets, controlling roughly 70% market share in mainland China. China Mobile has the world's largest mobile network in addition to boasting the largest mobile subscriber base with roughly 415 million subscribers in 2008. In addition to all the typical phone features that a network offers, CHL also offers Mobile TV, Mobile search, Mobile mailbox, Mobile map, Mobile advertising, and Mobile payment. China Life boasts a very strong sustainable income, and has dedicated itself to expanding in the future.
They have posted tremendous historical growth numbers, with most major CAGR categories in the mid 20's. Their annual revenue growth has been 25.4% per year; total asset growth has been 20.6% per year. Annual E.P.S. growth has been 27.2% per year with an equity growth of 22.0% per year. While it may not be possible for China Mobile to continue posting these types of numbers, they still have projections in the upper teens in its outlook. CHL is able to obtain these strong numbers due to their dedication to always improving existing markets and vast growth opportunities.
Potential Growth
It is extremely difficult to find a telecom company, or any company for that matter, that has this large of market share already, and yet is capable of such growth. Usually when you see a company that has strength in size, you see a large company that holds a ton of cash and has little upside. These types of companies will lag the markets, but not CHL. They have dedicated themselves to 3G growth and reducing weaknesses through acquisitions.
Their 3G market is relatively young due to the fact that they just received their license from the government to use and expand the 3G network in early '09. They have their own TD-SCMA 3G standard, and it is currently being tested so it can be broadly implemented soon. Their plan is to have this capability in 238 cities by the end of '09.
Currently, only 720 million people are 3G subscribers, but by 2013, that number is expected to grow by 29% annually to 2.5 billion 3G subscribers, 1 billion of which in Asia. CHL is also ready to launch its new smart phones as they have recently signed a $311 million contract with local manufacturer ZTE. There is even a rumor that China Mobile will launch its new Android-based smartphone, the Ophone, in the 4th quarter of 2009.
On top of this, in April CHL joined into an alliance with Softbank and Vodafone to create an innovations lab that will provide a further technology boost in both mobile technologies and applications. This gives them a huge competitive advantage in the area of mobile Internet, an area which they want to expand.
Also, the areas of weakness are both their rural untapped markets and their lack of broadband market. They have had a fantastic history of growing through mergers, as this is how they obtained such a global presence. They have made dozens of mergers since 2000, grabbing many regional networks. While CHL claims the largest wireless subscriber base of 415 million subscribers as of 2008, more than the US population, the market penetration in China is still only 50%. This massive national population gives great growth potential, especially now as the Chinese government is investing roughly $41 billion in a stimulus plan to expand into rural areas and increase the 3G network.
CHL also had gained international exposure in 2007 when it acquired an 88.86% stake in Paktel, a Pakistan mobile telecommunications provider. Recently this broadband industry hit 20 billion and I could envision CHL gaining exposure to this large industry through a key acquisition.
Looking Forward
While it cannot be ignored that Verizon is a very solid company with strong dividends and is exposing itself to a unique market, they may hit a tough spot in finding new business. They are also focused on beating direct competitor AT&T domestically, rather than worrying about foreign markets. Meanwhile, China Mobile has focused on spreading its influence because of its seemingly endless market potential.
The Chinese mobile market has room to grow in one of the world's most booming economies and this company has a promising future. Investors still have time to enter into this international sector with strong macro trends; if you're trying to expand your portfolio to both international and telecom exposure, then it's a simple and smart choice.
Disclosure: The mutual fund the author is associated with is long VZ.