Cimarex Energy Co. (NYSE:XEC) is a mid-cap independent oil and gas exploration and production company with principal operations in the Mid-Continent and Permian Basin. Deutsche Bank recently announced its top-10 list of oil and gas companies and XEC made the cut. The energy research team at Deutsche Bank has a $99 price target on the stock which is significantly higher than the First Call consensus of $85.
Is the $99 target realistic? In a word, no, I don't believe it is. I will explain why below. That said, I am comfortable with the consensus estimate of $85. And that represents a 16.7% increase from Wednesday's close.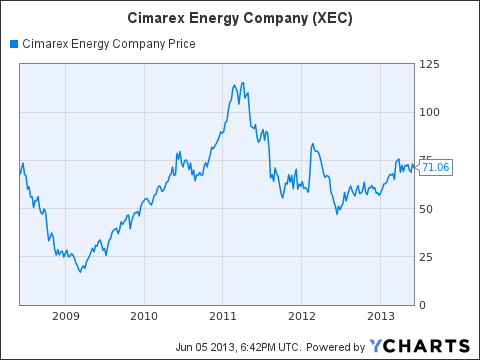 XEC = $71.06
Mkt Cap = $6.14 billion
EPS ((ttm)) = $3.89
P/E ((ttm)) = 18.18
Div (Yield) = $0.56 (0.80%)
(Data by Yahoo Finance)
Fellow Seeking Alpha contributor Richard Zeits wrote a two-part series on Cimarex Energy last September (Part I & Part II) and did his usual excellent job of analyzing the company's assets in the Woodford Cana and Permian Basin. Today I will give a brief high-level overview of the company and focus more on the operational and financial results released so far in 2013. I will also review the company's 2013 guidance.
Company Overview
Cimarex Energy operates principally in two core areas: the Mid-Continent ("Mid-con") and the Permian Basin. Year end 2012 total reserves were 2.3Tcfe.
Production is roughly split between the two regions. Mid-con is primarily gassy and the Permian is primarily liquids.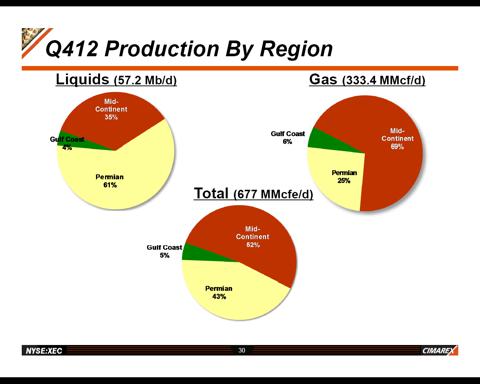 As a result, the company is focusing on its liquids rich Permian assets. For 2013, cap-ex is 2:1 in favor of the Permian over Mid-con with twice as many net wells being drilling in the Permian.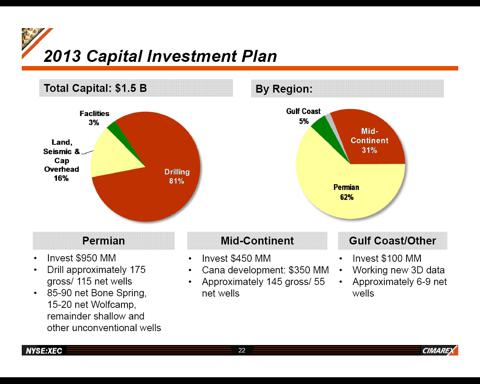 2012 Q4 & Year End Results
Q4 and full year 2012 results were released on February 19th. It was a very solid quarter for the company. XEC beat the street consensus on both top and bottom lines. Highlights included:
Full year 2012 net income of $353.8 million or $4.07/share
Production grew 6% to 677 Mcfe/day
Oil production jumped 17% for the year
Permian oil production grew 42% to 27,091 barrels/day
Adjusted cash flow of $1.13 billion
Q4 production was 51% oil and NGLs versus 49% gas
Debt to total capital at year end was 18% with no bank debt
Proved Reserves: RRR = 330%
For 2012, reserves added from extensions and discoveries totaled 757 billion cubic feet equivalent (Bcfe), replacing 330% of production. Reserve additions were comprised of 51% oil and natural gas liquids (liquids) and 49% gas. Year-end 2012 proved reserves grew 10% to 2.3 trillion cubic feet equivalent (Tcfe). 80% of proved reserves are developed.
All and all, 2012 was a very solid year for the company.
Q1 2013 Results
Cimarex released Q1 2012 earnings on May 7th. While production grew 9% year-over-year, earnings fell 15% as lower oil and NGLs prices continued to pressure the bottom line.
Oil prices decreased 13% to $86.31 per barrel. Gas prices climbed 16%, while prices for NGLs dropped 20%.
For the quarter, Cimarex reported a profit of $89.9 million, or $1.04 a share, down from $106.1 million or $1.23 a share a year earlier. Operating margin fell to 33.9% from 39%.
Natural Gas Liquids - A Challenging Environment
So 2013 got off to a good start production-wise, and a bad start price wise. In particular, NGLs production rose 22% in the quarter, but prices fell 20% to $29.31 from $36.66 a year earlier. This is likely a result of both increased NGL production across Texas as well as transport infrastructure issues.
2013 Guidance
The company presented its latest 2013 guidance during the Q1 earnings conference call: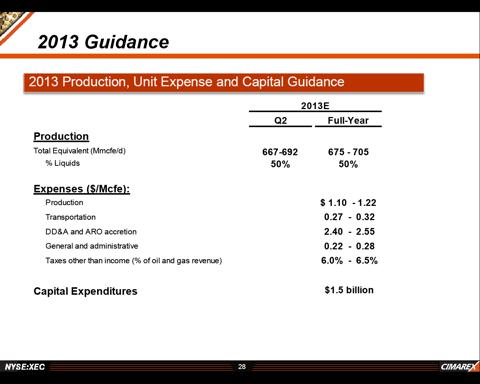 Full year 2013 production is expected to average 675-705 MMcfe/day. This compares to 677 MMcfe/day for Q4 2012. Obviously the company is working to insure a greater percentage of 2013 will be liquids. However, it needs to be grow oil production faster than NGLs. From that perspective, Q1 results were nothing to crow about.
Summary & Conclusion
Cimarex Energy is a solidly profitable and well performing company. It is focused on growing liquids production in the Permian Basin. It is continuing it Cana production and growing reserves there. XEC has a 10-year reserve life, 80% of which are proved developed. The company is growing reserves nicely: the 2012 RRR ratio was 330%. Its balance sheet is strong; the debt-to-capital ratio is 20%.
However, I don't see how the energy team at Deutsche Bank came up with its $99 price target in light of Q1's earnings report. Specifically, the realized price pressure on NGLs was significant. Since overall production isn't going to grow much year-over-year (according to company guidance), the earnings growth to substantiate a $99 stock has to come from a greater percentage of liquids and firm or rising realized prices for its oil and NGLs. We didn't see that in Q1 and as a result earnings were down 15% year-over-year and margins were down 5%. The slide below summarizes my concerns.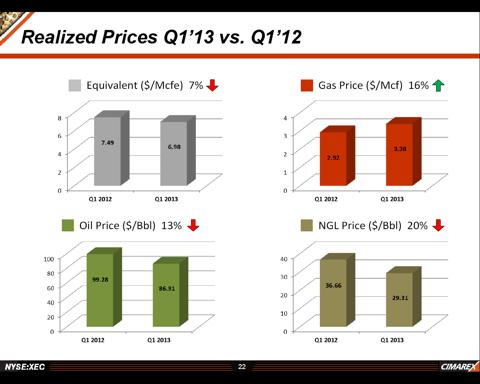 Now it could be the that team at Deutsche Bank knows something I don't know with respect to future realized prices for Permian oil and NGLs. It could be Q1 was a one-off occurrence. Perhaps there is some additional NGL pipeline infrastructure and changes in the supply/demand equation for Permian Basin liquids that I am not aware of. But I'd like to see another quarter's earnings before I buy into the $99 price target.
Occidental Petroleum (NYSE:OXY) and Permian Basin Royalty Trust (NYSE:PBT) would be two companies to track as proxies for XEC's future performance. OXY is the largest producer in the Permian Basin and PBT issues monthly results and trust distributions. Part of PBT's monthly report is the Trust's realized prices for oil and gas. The May report, prices, and a discussion on PBT can be found here.
So what is a realistic target for this company? Conveniently, XEC has a link on its website to First Call estimates which you can view here. The median price target is $85. Consensus full year 2013 earnings are estimated to be around $5/share. If the company maintains its current P/E of 18, that works out to $90. I see no catalyst or event to second guess this estimate. That said, I want to see another quarterly earnings report before recommending investing in Cimarex Energy.
Disclosure: I am long PBT. I wrote this article myself, and it expresses my own opinions. I am not receiving compensation for it (other than from Seeking Alpha). I have no business relationship with any company whose stock is mentioned in this article.
Additional disclosure: I am an engineer, not a CFA. The information and data presented in this article was obtained from company documents and/or sources believed to be reliable, but has not been independently verified. Therefore, the author cannot guarantee its accuracy. Please do your own research and contact a qualified investment advisor. I am not responsible for investment decisions you make. Thanks for reading and good luck!