In a relatively mature industry like recreation, it is very challenging to register +20% annual growth in revenues with higher net margins and Return on Equity. This is especially commendable when the industry has grown by around 5% p.a. during the same period. Polaris Industries (NYSE:PII) is one such company that doubled its revenues to $ 3.2 billion in 2012 from only $1.56 billion in 2009. Despite an enviable 0.19x long-term capitalization ratio, the ROE continued to be higher at 52.5% in 2012 from 49.4% in 2009. A few key points are discussed in this article outlining the case for a significant potential upside in the stock price with an opportunity to buy at dips which could result due to a test of $100 psychological barrier.
Polaris is a Minnesota based manufacturer of Side by Side Vehicles, All-Terrain Vehicles for recreational and utility use, Victory Motorcycles, Indian Motorcycle, Snowmobiles, GEM Electric Motorcars, Recreational Apparel (helmets, jackets, bibs and pants, leathers, and hats), Recreational automotive parts and accessories and Defense related utility vehicles. Some of the Polaris products are Ranger, Ranger RZR, Ranger Crew, Victory Vision, Victory Cross Roads, Indian, Polaris Rush, and Cross Country sold through a global network of more than 2700 dealers and distributors. Off-road vehicles make up about 69% of the total revenues while parts, accessories and apparel constitute approximately 14% and snowmobiles around 9%.
Financial Strength
The total assets grew at a phenomenal rate of 25% per annum for the last three years amply supported by 50% annual growth in book value which reached $690m in 2012 from only $205m in 2009. Current Ratio has consistently averaged well above 1.4x during 2009-2012 while total debt-to-equity is at 1.15x.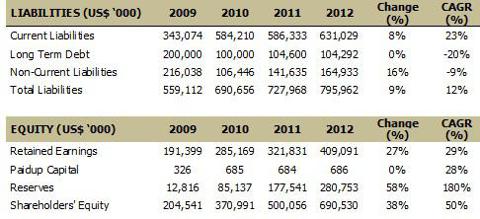 Total revenues increased by 27% per annum during the last three years on the back of strong sales in the off-road vehicles segment which comprised 69% of the total sales. PII crossed $3.2 billion revenue mark in 2012 and is confident of reaching $5 billion by 2018 along with a net margin target at +10% (PII has already improved its net margins to 9.7% from 6.5% in 2009 and crossed 10% in 1Q-FY2013).

Overall the company has been managing its growth reasonably well and has ample financial strength to accelerate the pace as most of the important ratios paint a healthy picture for the company.



Valuation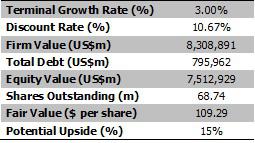 Assuming the current price as fair value, the implied annual free cashflow growth during 2013-2018 is at an average 16.8% which might be considered a bit challenging to sustain on a long-term basis. From a historic perspective, PII registered free cashflow CAGR at 16% p.a. during2007-2012 despite the global financial crisis, US unemployment and limited geographic & product diversification.
In the context of a strong balance sheet, the current push towards international expansion and product diversification on the back of better global economic prospects is more than likely to result in a higher free cashflow growth compared to last 3-4 years. Given below is a valuation sensitivity table with free cashflow growth and discount rate as the key parameters.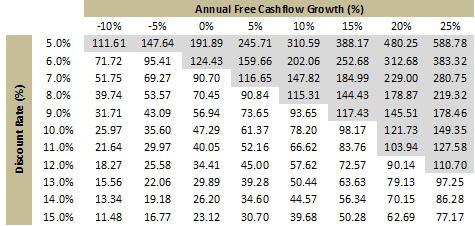 In the base case scenario in which PII improves its free cashflow growth to 20% and the current discount rate is assumed at 10.67%, the fair value is estimated at $109.28, generating an upside of approx. 15% from the last close. However, the company has enough potential to lower its cost of capital through an optimally levered balance sheet as the current long-term debt to capitalization ratio stands at only 0.19x. Any reasonable acquisitions funded with debt in the current lower interest rate scenario should accelerate the free cashflow growth subsequently improving the price outlook significantly.
For example, if PII management decided to acquire an entity with $50m in free cashflow by adding $500m to PII long-term debt then with a reduction of even 50bps in the cost of capital, the PII fair value jumps to $129 assuming everything else stays constant. If PII manages an acquisition at a free cashflow multiple lower than 10x, the valuation benefits could be substantial. However, one must question the rationale behind the assumption of growth above the historic rates.
Growth Catalysts
The company recently acquired A.M. Holding, a French manufacturer of enclosed on-road quadricycles and light duty commercial vehicles. It was bought at a very reasonable sub 5x EBITDA multiple and any value addition through R&D and logistics integration with the main distribution network bodes well for the long-term outlook for Aixam as well as PII. It also diversifies PII's recreational vehicle portfolio into on-road segment while giving it a foothold in the EMEA region. The following key factors outline the investment thesis and rationale behind a positive price outlook.
Inorganic Growth
The acquisition of A.M. Holding is a step towards geographic and product diversification of revenues. It should give PII a strong foothold in the EMEA region for its existing products while allowing it to increase the revenues through infrastructure (R&D and Logistics) support to the Aixam Mega on-road products in the US. The Aixam revenues in 2012 were $110 million but this acquisition hints at further acquisitions as the company's balance sheet is quite strong and can be levered more to fuel inorganic growth.
International Expansion
Recently PII also received regulatory permission to establish operations in Poland with an annual capacity to produce 250,000 vehicles. This plant would manufacture all-terrain vehicles, Ranger and RZR side by side vehicles to be marketed in the EMEA region and is expected to be operational by 2015. PII could benefit substantially from the improving demographics in the Middle East and other Emerging & Frontier markets neighboring Europe.
Limited Float
Only 68.74 million shares are in issuance of which approximately 73% is held by the institutions. The improved profitability and positive price outlook are bound to attract further institutional interest and as a result more of the free-float would dry up pushing PII price even higher.
Positive Guidance 2013
The management expects the sales to increase by 12-15% and EPS by 15-18% in 2013 and the company guidance places 2013 EPS at $5.05-5.20 which is 11% higher at midpoint ($5.125) compared to 2012 EPS at $4.62. However, the consensus earnings estimates stand at $5.23 and the company has a history of consistently reporting earnings above estimates. With EPS estimates for FY2013E at $5.23, the 12-month forward P/E multiple is 18.24x at last close and any upside earnings surprise could trigger a rally above $100.
Downside Risks
- Delay in realizing the planned synergy between its existing operations and Aixam Mega.
- Higher than expected number of accidents/injuries related to PII products.
- Significant slowdown in US recreation spending.
- Severe economic turmoil in EMEA region (although that would affect the companies across the board).
Disclaimer: The opinion in this document is for informational purposes only and should not be considered as a recommendation to buy or sell the stocks mentioned or to solicit transactions or clients. I do not recommend that anyone act upon any investment information without first consulting an investment professional as to the suitability of such investments for his or her specific situation.
Disclosure: I have no positions in any stocks mentioned, and no plans to initiate any positions within the next 72 hours. I wrote this article myself, and it expresses my own opinions. I am not receiving compensation for it (other than from Seeking Alpha). I have no business relationship with any company whose stock is mentioned in this article.