Overview
Starbucks (NASDAQ:SBUX) is still a domestic company. However, that will not remain true for long. The company has expressed interest in many new opportunities worldwide, including China, India, and Indonesia. With such a successful track record, it is very easy to believe that Starbucks' goal of becoming an international powerhouse will indeed become successful. Shares of SBUX are extremely expensive right now, but I think that the Kraft lawsuit or any dip in SBUX shares provides a rare but amazing opportunity to initiate a new long or add to existing positions.
The entire lawsuit has been on many investors' minds recently, and with the decision fast-approaching by the end of FY2013, we should examine the opportunity that it provides. Starbucks, at a price of just over $62, is slightly overvalued. Therefore, one must be cautious in adding to a long position or initiating new ones. Nonetheless, Starbucks remains one of the best companies to invest in, and pullbacks should be bought with both hands. Therefore, any correction in the stock will provide a good opportunity for entry. Currently, SBUX is more or less a market perform stock; its expansion of stores and programs in North America and internationally will be one of the main drivers of its stock price, but will most likely not be realized in fiscal 2013 or even 2014. Thus, an immediate catalyst for upside and most likely downside is the lawsuit decision with Kraft Foods Group (KRFT) or potential market corrections.
Kraft Lawsuit
With a forward P/E of 25.5, SBUX shares are by no means cheap; in fact some may even call it expensive, which leads us to believe that the stock's price may be much more sensitive to any harmful news as opposed to favorable events. The $2.9 billion Kraft lawsuit is a good example of this, and many analysts are expecting SBUX to pay at least $1 billion in addition to any legal fees to Kraft for damages. Although these expectations are general knowledge to the public, SBUX shares are hitting all-time highs, indicating that it has not been reflected in the valuation. In addition, with roughly only $1.67Bn in available cash, it is safe to assume that SBUX will tap into debt options in order to finance the settlement and keep on-going operations. The new debt plus the payment for the settlement will almost definitely harm the company's bottom line. If we combine this with the fact that the stock is more sensitive to downside news, SBUX may take a dip after the lawsuit ruling. I am hoping that the market will overreact to this news, and then purchase shares aggressively after a misinterpreted drop.
Valuation
SBUX has traded at a 5-year average NTM EV/EBITDA of 9.87x, and NTM P/E of 20.53x. Currently, it is trading above those levels as shown below: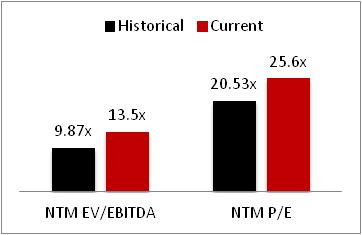 It is clear that with the recent 6-month rally, SBUX has become an expensive stock. Today, you would be paying 25.6 times forward earnings. At these multiples, I do not think that anyone should be initiating any positions in SBUX.
Below is a relative comparables table:

SBUX does seem to be priced a little higher than its competitors, but from a historical standpoint, it is shown that investors have always paid a small premium for SBUX shares, as the historical EV/EBITDA, and P/E ratios vs. comps charts shown below:
Finally, the following DCF valuation shows the fair value of SBUX:

With the DCF valuation and price multiples, I believe that a fair price for SBUX is anywhere from $48 - 52. Specific multiples used to calculate this were P/E and EV/EBITDA.
Potential
Guidance provided in 2012 for the next 2 - 5 years highlights the following selected facts:
10%+ revenue growth, analysts are seeing 12% or more
More than 20,000 retail stores on 6 continents by FY2014, doubling its international footprint
1,500 stores in 70 cities by 2015 in China
100 new stores in Indonesia over the next 3 years
100 stores in the Philippines over the next 4 years
Starbucks is on the path to becoming a large international powerhouse. Furthermore, the company has stated that it expects China to easily outpace the Canadian business revenues within the next couple of years. Most of these growth plans are set to impact EPS in FY2014, FY2015, which explains the current valuation; investors are paying a premium for the future's potential. We also cannot forget the continued success of SBUX's loyalty cards, channel development, and food sales growth. Much of the growth's future success depends on the competencies of management, but we have no reason to doubt Mr. Schultz and his ability to grow a company aggressively.
Investment Opportunity
Last summer, SBUX took a 29% plunge from highs of $61.67 due to general market volatility and poor earnings calls. Of course, by no means can we assume an identical decline if SBUX loses the lawsuit, but for discussion's sake, let's examine a similar decline after the lawsuit decision or another potential market correction. With 15% from today's share price of $62.46, the price will be $53.01. Furthermore, forward P/E will become 21.7. At these hypothetical valuation levels, Starbucks will be more than attractive because you will be buying the future's growth with a fair or even cheap valuation.
Conclusion
To conclude, I believe that Starbucks shares are currently overvalued in anticipation of the future's growth. The growth strategies, with special reference to Asia, channel development, loyalty programs, and store expansions are all on track to providing shareholder value. It is hard to argue that the company will not succeed in their plans because we have seen successes before, thus, it would be foolish to bet against such a successful franchise and its leaders, namely Mr. Schultz. However, such strategies will only derive their value in the upcoming years, and it presents a problem for investors: buy shares expensively now or wait and risk missing the rally? My opinion is that the Kraft lawsuit will indeed drop the share price, and/or that an imminent market correction will help as well, and therefore providing a great opportunity to purchase a stake in SBUX.
Disclaimer: I am long SBUX since $36.54 and plan to add more at any price between $45-55.
Disclosure: I am long SBUX. I wrote this article myself, and it expresses my own opinions. I am not receiving compensation for it (other than from Seeking Alpha). I have no business relationship with any company whose stock is mentioned in this article.