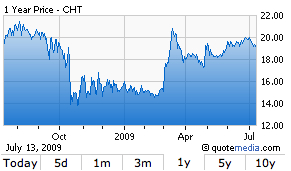 Chunghwa Telecom (NYSE:CHT) (Analyst Report), the largest integrated telecom operator in Taiwan, recently gave a snapshot of its financial results for the second quarter of 2009. Quarterly revenue from the parent company fell 3% year-over-year to NT$45.2 billion and net income was NT$11.54 billion, down 7.8% from the year-ago quarter.
Chunghwa's second-quarter revenue was also below our expectations of NT$49 billion. This was primarily due to lower phone calls and utilization of internet data services by consumers as a result of the general economic downturn together with lower call tariffs imposed by the Taiwanese Government.
However, the company's net earning was above our estimates of NT$10.9 billion. This is despite the fact that Chunghwa has undertaken significant expenses to upgrade its wireless network to support high-speed voice and data communications.
Taiwanese telecom market is quickly approaching maturity and has become extremely competitive following telecom regulatory changes. Chunghwa competes in a tough environment with two other major service providers - Taiwan Mobile Co. and Far EasTone Telecommunications Co. Ltd.
The market size is comparably smaller than other regional country markets, with approximately 23 million potential customers. Therefore, advanced technology deployment is critical for Chunghwa's operations to retain a leading edge. We expect fierce competition going forward as Chinese giant China Mobile (NYSE:CHL) (Analyst Report) has purchased a 12% stake in Far EasTone Telecommunications.
Chunghwa collaborated with Nokia (NYSE:NOK) (Snapshot Report) to expand its 3G wireless networks of WCDMA and HSDPA. The 3G services are expected to facilitate the company's continued leadership by offering a wider array of advanced features and higher speeds. Ongoing network transformation initiatives to a single, IP-based converged network will be completed by 2013.
The company is building large-scale fiber-to-the-home (FTTH) and fiber-to-the-building (FTTB) access infrastructure and is aiming to provide both of these facilities to 75% of Taiwan's population by 2011. Chunghwa will also launch Apple's (NASDAQ:AAPL) (Analyst Report) latest iPhone 3GS in August 2009. We reaffirm Buy rating for Chunghwa Telecom.