Union Pacific Corp. (NYSE:UNP) through its subsidiary, Union Pacific Railroad Company, provides rail transportation services in North America. Most of these are freight services. As Warren Buffett has informed everyone, the US railroad companies are virtual monopolies. They cannot be easily replaced or duplicated. The cost of transporting large tonnages of goods by rail is about one tenth the cost of transporting them by truck (see example table below) over long distances.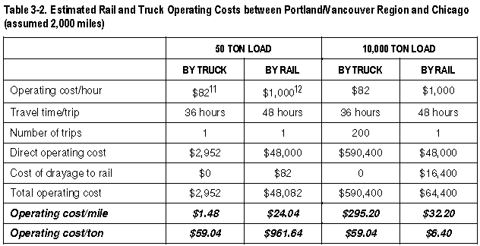 Click to enlarge
The table shows that the cost/ton of shipping a 10,000 ton load from Portland to Chicago or vice versa is about $6.40/ton by train and about $59.04/ton by truck (2011 study). If you want to run your business economically, there is no choice at all. As energy prices eventually go up over time, the rail price advantage will only expand for large tonnage shipments. This price advantage is so great that one of the big growth areas for trains has been intermodal transport. This involves loading truck trailers or just truck containers onto train railcars for the longer part of their journey. Then a semi will pick each up at the far end of their journey for the short trip to their final destination. This process consumes more time; but at one tenth of the price, companies cannot afford to overlook it. For UNP intermodal transport volumes were up +4% in 2013 so far. The long term expectation is for a huge amount of growth in this area. UNP should benefit.
The chart below gives a summary of UNP's growth or shrinkage in its various transport categories for Q1 2013.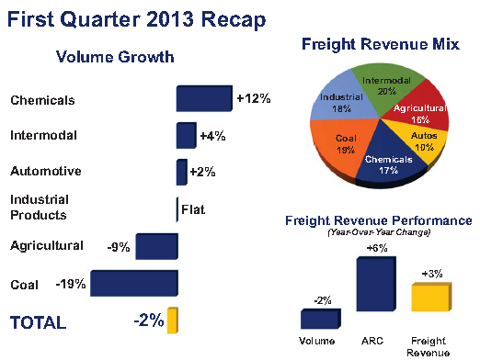 Click to enlarge
The biggest growth area for UNP was Chemicals. This was largely driven by new oil shipments by rail. According to an AAR report, rail traffic from petroleum products saw +46% growth in Q1 2013. EIA reports that US crude oil production exceeded 7 million bpd in Q1 2013; and EIA suggested US production may go up to 10 million bpd from 2020 to 2040. Pipelines will provide some of the transportation for these increases, but there is evidence that rail traffic will still play a substantial role. For instance, Bakken producers can sell their oil in California at Brent prices.
The Nymex July 2013 futures price for Brent closed at $103.04/barrel on June 5, 2013 versus the Nymex July 2013 futures price for Light Crude of $93.74/barrel (a $9.30/barrel difference). If they used a pipeline to send it to Texas for say $5/barrel, they would get only the Light Crude price of $93.74 (or about $89/barrel after shipping costs). If they spent about $12/barrel to ship it by train to California, they could get approximately $91/barrel after shipping costs. I think you can see why many Bakken producers might prefer to ship their oil by train to California. Even the prospect of a Texas to California pipeline project (about $5/barrel from Texas to California) does not seem to alter their logic.
To put rail oil transport in perspective, over 200,000 rail cars of oil were shipped in the US last year. Each car can hold more than 700 barrels of oil. The volume of shipments is expected to rise in 2013. You can see from the above chart that UNP's Chemicals volumes were up +12% in Q1 2013. They are sure to rise more by the end of 2013.
The two problem areas for UNP in Q1 2013 were coal and agricultural products. Coal volumes were down -19% and agricultural volumes were down -9% in Q1 2013. First, this is not as bad as it seems. Due to higher prices, coal revenues were only down -6% and agricultural revenues were only down -9%. Second, both coal and agricultural products are likely to rebound substantially in 2H 2013.
Coal accounts for over 40% of railroad tonnage (all railroads). According to the EIA, coal production hit a low of 9.9 million short tones (MMst) in Q1 2013. This was a steep decline from 22.7 MMst in Q1 2012. Coal shipments by rail declined 8% in the US market. However, natural gas prices have risen lately. We may see some utilities convert back to coal this year due to the relative prices. The domestic coal market is expected to grow +7% year over year in 2013. It is expected to grow further from 948 MMst in 2013 to 957 MMst in 2014. Since Q2 2012 contained the nadir of natural gas prices, one would expect significant year over year increases in coal rail transport in 2H 2013 and 1H 2014. This should provide a significant boost to profits for UNP and other railroads during that time period.
The US grain crops are expected to be better in 2013. However, the WASDE report estimates that corn demand will go down by -11.1% in 2013. Further, corn exports will hit a low of 48.2% from last year. These factors are expected to negatively impact overall agricultural shipments. Still, this is a smaller segment of UNP's business. Agricultural volumes are only 16% of UNP's volumes versus coal's 19% of UNP's volumes, and there are many other grains that should see improved numbers in 2013. With UNP's coal volumes set to improve, UNP should present healthy growth in 2H 2013 and 1H 2014.
Even with the negatives of coal and agriculture in Q1 2013, UNP grew revenues by +3% to $5.3B versus $5.1B in Q1 2012 due to price increases. Volumes decreased -2% year over year. Diluted earnings increased +13% to $2.03 per share year over year. Operating income was up +8% year over year to $1.6B. There is nothing wrong with this company and a lot is right with it. UNP virtually has monopoly pricing power. It has a huge advantage in cost (see table above) for cases of large tonnage shipments. Plus, it has a great track network in the US (see map below).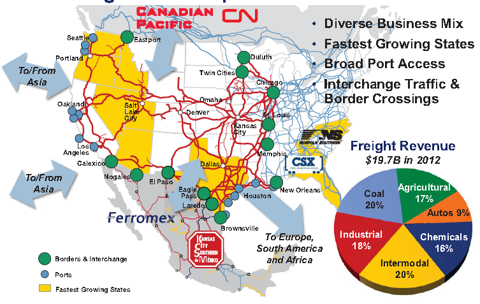 Click to enlarge
The two year chart of UNP provides some technical direction for a trade.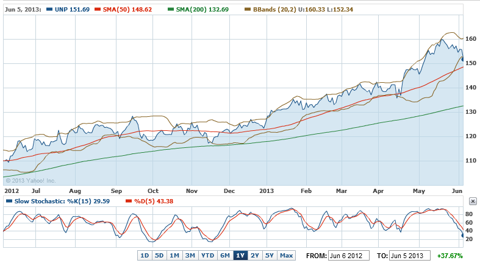 Click to enlarge
The slow stochastic sub chart shows that UNP is near oversold levels. The main chart shows that UNP is in a strong uptrend. The 50-day SMA is far above the 200-day SMA. As the overall market has pulled back UNP's stock price has pulled back toward its 50-day SMA. However, it has still not reached it. This is a sign of strength. UNP is a buy on its fundamental outlook. It is a buy on its technical outlook. The average analysts' recommendation is 2.0 (a buy). The P/E of 17.81 and the FPE of 13.93 are both reasonable in light of UNP's next five years EPS growth estimate per annum of 14.25%. Some might even consider UNP a growth stock. Further, UNP pays a significant dividend of 1.82%. Not only will it likely go straight up over time, but it will pay you like a 10 year Treasury Note. It is hard to argue with what is sure to be continued success, and it is hard to argue with an incredibly strong chart that does straight up (and is fundamentally sound).
Investors may want to start dipping their toes in now on UNP. It may regain its price losses of the last week or so quickly. However, investors should also be aware that the overall market has been trending downward lately. Often it is a good idea to wait for a bottom in the overall market before buying convincingly. Conservative investors will want to average in. Some may want to average in over the course of 2013 and 2014. In that way, they will get a good average price even if there is a US double dip recession, which is still a strong possibility.
NOTE: Some of the above fundamental financial information is from Yahoo Finance.
Good Luck Trading.
Disclosure: I have no positions in any stocks mentioned, but may initiate a long position in UNP over the next 72 hours. I wrote this article myself, and it expresses my own opinions. I am not receiving compensation for it (other than from Seeking Alpha). I have no business relationship with any company whose stock is mentioned in this article.