We have been looking to China to provide that extra bit of growth to really grease the wheels and jump start the entire world economy but unfortunately that has not yet happened. After the Smithfield Foods purchase we are left to wonder if it will ever be the case as it is quite possible that we have seen the major infrastructure build out and now must watch slower growth there as the country and its citizens instead shift their focus to improving quality of life via lifestyle changes, most likely through food consumption. That could be an even bigger boost to America, especially if they are concerned about the quality and safety of their food supply chain and what they are importing.
Chart of the Day:
US lawmakers are apparently getting upset with China and their "currency manipulation" but to be fair their currency has been rising against the US$. Also good news for commodity investors is the fact that the US Dollar Index appears to have topped out and not continued onto fresh highs. Take the small victories where you can we always say.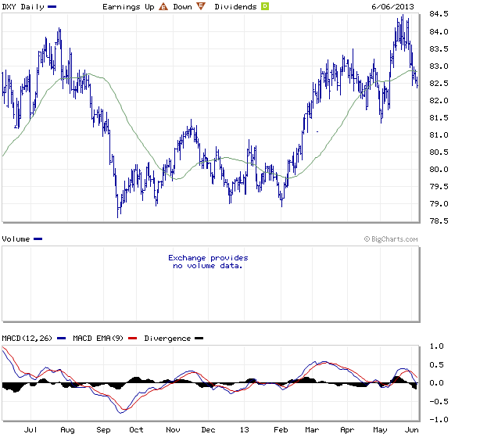 Click to enlarge
Chart courtesy of Yahoo Finance.
Commodity prices this morning are as follows:
Gold: $1404.60/ounce, up by $6.10/ounce
Silver: $22.62/ounce, up by $0.148/ounce
Oil: $94.23/barrel, up by $0.49/barrel
RBOB Gas: $2.8201/gallon, down by $0.009/gallon
Natural Gas: $3.999/MMbtu, down by $0.002/MMbtu
Why do we think China's appetite is changing this morning? Well for one they are beginning to think with their stomach and no longer their heads as the deal for Smithfield Foods (NYSE:SFD) shows. The move appears to us to indicate that the country is moving away from an infrastructure build out story and towards a consumer demand story. Remember it is quite important for a regime such as the one party system in China to keep citizens happy so that all can interact harmoniously.
We are told that shelter is no longer a problem in China as there are entire cities which are quite literally empty. This is not first hand experience but rather from sources we trust who do a fair amount of traveling around the mainland and have seen these ghost towns. If shelter or business space is no longer an issue across the country then that would most certain bode ill for a name such as Freeport-McMoRan (NYSE:FCX) or Vale (NYSE:VALE), two of the names we have had in our China trade for a few months now. Based on the stories we have heard we are tempted to believe that a rebound in China may not be as strong as we were counting on and could in fact leave the world economy trudging along at these lower growth rates for longer than anyone has predicted.
It seems the market beat us to it, but our thinking still holds. Freeport has been buoyed by artificially propped up copper prices and the oil acquisitions did not hurt, in our opinion.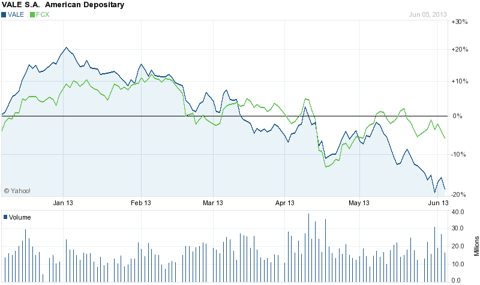 Click to enlarge
Chart courtesy of Yahoo Finance.
So if it is not iron ore or copper that shall be the commodity to play then what? Based on the evidence that the Chinese are concerned about food supply at this time we are forced to believe that food commodities are the way to play the recovery, although we would focus on potash as the play here. Potash Corporation of Saskatchewan (NYSE:POT) is the obvious choice here if one is looking for China to be a big buyer of the physical commodity and build up their farming industry, but then again that seems far too simple. China has trillions of hard currency to deploy and it appears that they are focused on pure plays and buying the whole entity upon which their gaze falls.
If China's farmers need to increase yield, they will increase their potash purchases...but that is yet to be seen.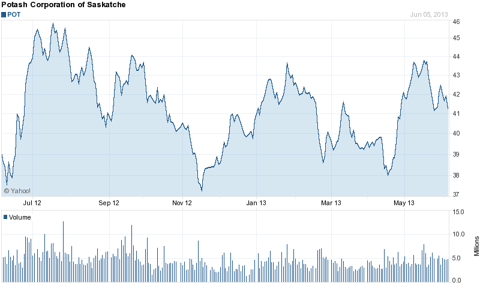 Click to enlarge
Chart courtesy of Yahoo Finance.
So Potash Corp is a play on a rebound in the economy and China demanding more potash, but Mosaic (NYSE:MOS) is the way to play a Chinese acquisition in the industry. It seems most likely because Canada is not going to allow Potash Corp to get taken out, as has been the case in the past with far friendlier acquirers, and the Russians certainly will not let their potash players be acquired by the Chinese. That leaves Mosaic as the last pure play player of any significance and would put a decent dent in those foreign currency reserves China has as the company has a market capitalization today of $25+ billion.
Mosaic seems the most likely candidate for a Chinese takeover in the industry as it is a pure-play and not protected by a country.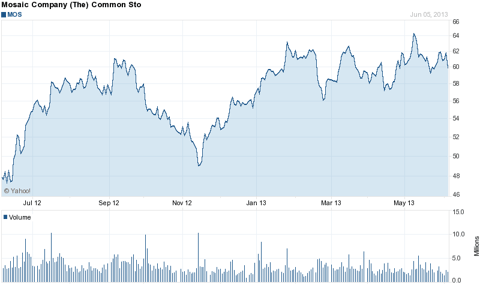 Click to enlarge
Chart courtesy of Yahoo Finance.
Disclosure: I have no positions in any stocks mentioned, and no plans to initiate any positions within the next 72 hours. I wrote this article myself, and it expresses my own opinions. I am not receiving compensation for it (other than from Seeking Alpha). I have no business relationship with any company whose stock is mentioned in this article.