Over the past few months, many have criticized large index funds of having a hand in manipulating and controlling crude oil prices. The largest oil ETF has been cited as an example, but the fund's provider has spoken out against this notion.
The chart below, included in a filing with the Securities and Exchange Commission (SEC), depicts the price of NYMEX front month light sweet crude oil contract to the actual size of United States Oil (USO)'s crude oil futures contract holdings.
click to enlarge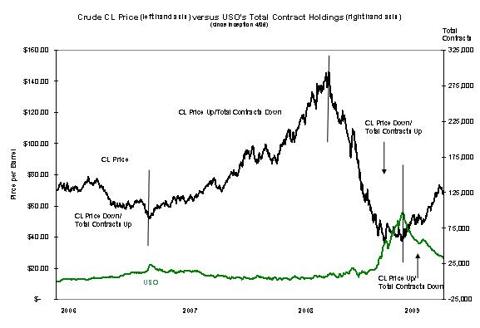 To illustrate how the USO fund works and why it holds the number of futures contracts it does, the USO management team has filed in 8-K with the SEC to provide the needed transparency. In fact, when analyzing the chart above, it seems that those that are saying that commodity index funds are the cause of the price volatility in crude are actually wrong. USO was actually a seller of contracts in last year's and this year's run-up, and a buyer when the prices were falling. This contradicts what seems to be the common thinking.
United States Oil Fund (USO): down 2.2% year-to-date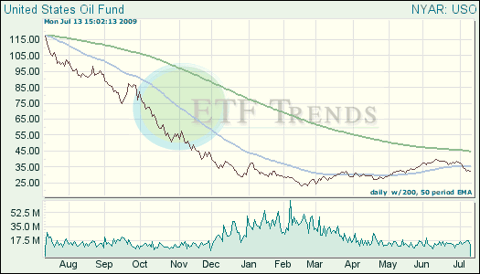 Meanwhile, creations of new shares for the natural gas ETF (UNG) were put on hold last week, pending approval from the SEC. Matthew Hougan for Index Universe reports that the indicative NAV of the fund was $12.13/share, while the fund itself was trading at $12.35/share, placing it at a 1.81% premium to NAV. In early trading today, UNG was again trading at a premium.
The regulatory process for approval of the commodity funds created the premium at which the funds are trading. For UNG to create more shares, a fee is paid and then the paper chase begins for regulatory approval.
There's a lot of money flowing into commodities right now. The SEC and Commodity Futures Trading Commission (CFTC) want to make sure that things continue to check out as assets continue to move into these funds.
Total assets invested in UNG rose from approximately $700 million on April 1 to more than $4.3 billion now. This move, which occurred despite falling energy prices, exhausted the number of shares available for creations. The recent interest in this commodity ETF has led to a premium and until more shares are created, the premium should continue to be there.
United States Natural Gas (UNG): down 46.9% year-to-date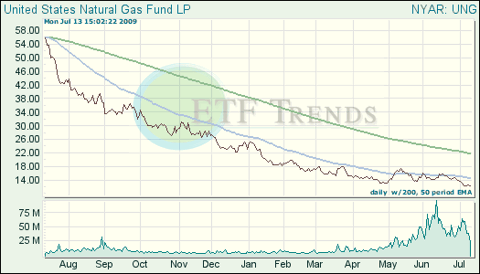 Kevin Grewal contributed to this article.