With an attractive current yield and the ability to grow revenues and dividends, Philip Morris International (NYSE:PM) provides two major incentives for investors in this low interest rate environment. While the 10-year treasury yield still hovers close to 2%, Philip Morris International carries a significantly higher yield of 3.6%. Further, since Philip Morris International's business is focused on consumers outside the U.S. where tobacco use remains steady, the company should experience continued growth potential with the ability to raise dividends as inflation increases.
The fear of possible inflation and rising interest rates just over the horizon is causing difficulties for many investors searching for income opportunities. Long-term bonds will lose value if interest rates rise, and many dividend-paying stocks may fall out of favor with a rise in inflation. Companies dealing in commodities with a history of growing dividends in sectors that are less economically sensitive may provide the greatest income opportunities, and Philip Morris International meets that criteria.
Tobacco Trends and the Effect on PM
As tobacco use in the U.S. has steadily declined, it has actually increased in some emerging countries and other developed nations. Tobacco use in U.S. adults has dropped dramatically since 1965 when 42% of adults were cigarette smokers. By 2011, only 18.9% of the adult population in the U.S. smoked cigarettes. Cigarette use in high school students tapered off as well with statistics dating back to 1991 showing that 27.5% of high school students were smokers compared with only 18.1% in 2011.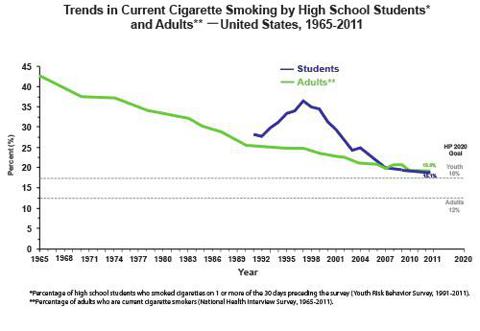 Source: Centers for Disease Control and Prevention.
A closer look at sources of revenue for Philip Morris International however, shows that the trends of other countries are adding to increased revenues and increased profits. Philip Morris International is a major beneficiary of foreign tobacco use trends. Even though only 18.9% of U.S. adults are tobacco smokers today, The World Health Organization statistics estimate that number to be as high as 51% in the Western Pacific Region. These numbers are indicative of Philip Morris International's ability to continue growing profits and dividends as the company continues its focus on foreign markets.
To understand the effects of these trends on the Philip Morris International operations, it is important to view each market segment. While some of the revenue generating regions declined in cigarette sales volumes, other regions more than offset that decline, providing an overall net increase in sales volumes for Philip Morris International. Looking at the company's 10-K filed for 2012, European Union and Latin America/Canada cigarette sales volumes decreased by 24,998 and 6,630 respectively from 2010 through 2012. However, sales in Asia, Eastern Europe, the Middle East, and Africa increased by 58,808, further verifying the global increase in cigarette use illustrated through numerous research studies. The 2012 Annual Report shows the changes in cigarette sales volumes across all segments led to a 14.5% increase in net revenues in 2012 for Philip Morris International.
A Closer Look at the Opportunity
Philip Morris International's stock price has increased 125% since early 2009 when the markets were at lows off the 2007 peak, yet it was and is still trading at a relatively fair value considering the company financials. Currently trading at 17.4 times trailing twelve months earnings, this is in line with the average S&P 500 P/E of 17.9x and lower than the sector average of 18.9x. While that alone certainly isn't an indication of a good company, it is not noticeably overvalued based on its history.
With steadily growing revenues, no debt, and strong profit margins of 11.7% based on 2012 results, Philip Morris International should have no problem continuing to increase its dividend as it has a history of doing. Since the company was spun off from Altria (NYSE:MO) in 2008, it has been increasing annual dividends significantly with 10%, 15%, and 14.8% dividend increases over the last three years. At 2013 earnings estimates and the current stock price, the company is trading at a forward P/E of 14.7. Further, with interest rates and treasury yields hovering near all-time lows, the 3.6% dividend yield looks even more attractive.
Bucking the Federal Reserve Policy Trends
As Federal Reserve policies continue to hold interest rates near historic lows, investors continue to struggle in finding income opportunities. And with the massive influx of capital into the U.S. economy through the many series of quantitative easing, it seems that inflation may be unavoidable at some point in the near future. To address these issues, U.S. investors should focus on quality companies paying good dividends, with the ability to raise those dividends by growing revenues. Philip Morris International is a well-run and profitable company with potential for further revenue growth and dividend increases. As the downward trend in smoking continues in the U.S. and other developed nations, it will be offset by the increasing tobacco use in developing nations where Philip Morris International derives its income.
Challenges
The biggest challenge to Philip Morris International's continued revenue growth is government regulation. As the effects of cigarettes on health become more widely known, many governments have implemented measures to decrease tobacco use. These measures have been successful in the U.S. and other developed nations but have yet to take hold in many of the countries where Philip Morris International currently generates the majority of revenues. Continued government pressure and regulation on tobacco companies could adversely affect earnings. Further, since Philip Morris International generates revenue from foreign countries, it is subject to currency exchange rate risks and political risks that other companies may not be affected by.
The Bottom Line
Tobacco companies have historically provided strong dividend paying opportunities with less sensitivity to economic conditions. With interest rates having nowhere to go but up in the long run, and a lack of current income opportunities, Philip Morris International looks increasingly attractive. With its focus on regions where tobacco use remains steady and other regions where use is increasing, the company is also in a unique position over other tobacco companies that derive their major revenues from U.S. consumers. For investors in search of opportunities with current and future growth potential, Philip Morris International provides a great investment.
Disclosure: I have no positions in any stocks mentioned, and no plans to initiate any positions within the next 72 hours. I wrote this article myself, and it expresses my own opinions. I am not receiving compensation for it (other than from Seeking Alpha). I have no business relationship with any company whose stock is mentioned in this article.