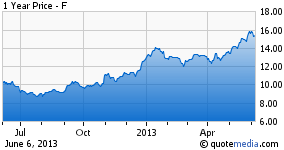 Last week I wrote a detailed article about the pullback that would likely occur in Ford (NYSE:F) once it had reached the $16 level. Shares had clearly run too far, too fast and needed to come back in a bit. It was also clear that the market had already priced in a strong sales number in May, which it was.
After the sales report, Ford struggled to break above $16 and finally appeared exhausted, collapsing lower on Wednesday's sour market action. Beforehand, I suggested selling June $16 covered calls against a long position to take advantage of some more potential gains, while allowing you to collect premium in the event that Ford did pullback. On Wednesday, I was able to exit the position.
By using specific techniques and having a sense of the security you're investing in, it allows you to mitigate risk and enhance gains. This can be done on all sorts of time frames and portfolios. But is Ford still a risk that needs to be mitigated or is time to enhance your portfolio?
Recent Sales Report
The most recent auto sales reading for the month of May was very, very positive for the automakers. In particular, Ford posted some of the best results. Here are the highlights:
Ford auto sales were up 14%
General Motors (NYSE:GM) auto sales were up 3.1%
Chrysler auto sales were up 11.03%
Toyota (NYSE:TM) auto sales were up 2.5%
Honda (NYSE:HMC) auto sales were up 4.5%
While Ford crushed its biggest competition (aside from Nissan, which had the largest gain of 24.7%) in total sales with a ravishing 14% increase, it wasn't the true highlight of the numbers. You may recall the report from May 2nd that announced Ford would be adding a third shift to keep pace with the increased demand in its F-Series pickup.
Well, the increased production in America's best-selling vehicle for 31 straight years didn't disappoint investors, as Ford sold 71,604 units. That's up over 30% year-over-year for the month and pushed the total year-to-date sales up to almost 300,000 units, which is a jump of almost 22% when compared to last year.
So Ford's most profitable vehicle is firing on all cylinders -- no pun intended. But Ford's not the only one seeing increased truck sales, they're just the ones that are benefiting the most. General Motors plans to have more trucks on the lots and with a 25.3% jump in year-over-year sales for its Chevy Silverado, it's easy to see why. The GMC Sierra (another General Motors brand) also saw an increase of 21.7%.
When you think about it, it's easy to determine what's causing all the buying: A rebounding housing market. When housing started to come back, more contractors picked up work. As they gained momentum, they looked to upgrade and/or expand their practices.
So as housing continues to power ahead, expect truck sales to remain strong. Ed Peeper, Vice President of Fleet and Commercial sales with General Motors summed it up best:
"We're seeing service businesses, landscape companies and contractors. These are the folks coming in right now to buy one to four new trucks."
Where do we go from here?
Well, it's obvious that domestic sales are going strong. But don't forget, Ford still lost over $460 million last quarter in Europe. The continent continues to be a stingy anchor holding the stock back from really making a nice run. But the sentiment seems to be shifting regarding Europe. Investors feel better about it.
I'm not sure that I really feel much different about the economic situation there. I do have confidence in CEO Alan Mulally, but I don't like how the stock seemingly just decided it was essentially "all clear." In time, it will certainly improve, but until then, it will be the one thing that holds this stock back.
With that being said, domestic auto sales have been nothing short of stellar and the most recent report brought the annualized total vehicle sales up to 15.3 million units, a fantastic number. Ford's F-Series is selling like hotcakes and the only elephant in the room remains to be Europe.
With that being said, I am still waiting to see if Ford can work its way below $15. It looks like it could catch some support after declining 4.6% from the $16 ceiling that it struggled with for multiple days, but I don't see many compelling reasons to add/start a position right ahead of the non-farm payrolls report on Friday.
I think the stock will be a good buy at $14.60 and an outstanding buy below $14. For what it's worth, the 50-day simple moving average is currently below $14 and if a significant market decline is in the cards for the S&P 500, then Ford may get there. I will be looking to add near those price points pending the current outlook.
Disclosure: I am long F. I wrote this article myself, and it expresses my own opinions. I am not receiving compensation for it (other than from Seeking Alpha). I have no business relationship with any company whose stock is mentioned in this article.
Additional disclosure: I currently have a short position in SPY.