The consumer electronics and appliance retail industry is a highly competitive one. Companies in this industry sell consumer electronics, information technology products, mobile phone products, appliances and related products. Major players in the industry are Best Buy (NYSE:BBY), Amazon.com (NASDAQ:AMZN), Apple (NASDAQ:AAPL) and Wal-Mart stores (NYSE:WMT). Today we will be analyzing one of the major players of the industry: Best Buy.
Since last year, Best Buy has been struggling with liquidity problems. They suffered losses in 2012, forcing them to discontinue some of their operations abroad and locally.
Best Buy is unable to cope with its competitors because today customers prefer to search prices online first, then decide whether or not to buy the product. According to Best Buy CEO Hubert Joly, the company's e-commerce offerings and search tools are not efficient enough to help customers conveniently find and compare prices online.
Liquidity Concerns
The graph below indicates the trend in liquidity ratios in the last five years.
click to enlarge images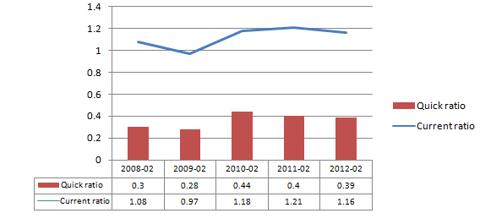 Source: Annual Report 2012
For BBY serious liquidity concerns could spell something more. In the past five years their current ratio has remained in a range from 1-1.2, which suggests that their current assets merely cover their current liabilities. Their quick ratio in the last five years lies in the range of 0.3 to 0.45, which suggests that their current liquid assets are unable to meet their current liabilities. The difference reflected in both measures is due to the large amount of inventory being piled up.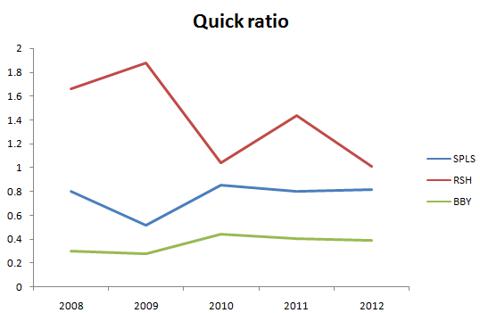 Source: MorningStar.com
As the figure above depicts, Best Buy's competitors are having no liquidity problems, as Staples (NASDAQ:SPLS) and RadioShack (NYSE:RSH) are in a comfortable zone with their quick ratios. They have sufficient current liquid assets to meet their current liabilities. It seems that a low quick ratio is only being experienced by Best Buy; this is not a problem with the rest of the players in the industry.
As inventory is not a liquid asset, currently Best Buy is facing cutthroat competition from online retailers and discount stores. It seems unlikely in the near future for them to lower their stock levels. With such a large inventory piled up, the company has also had to bear the cost of idle capital that is locked in their storerooms instead of using that money more effectively for other purposes.
Dividend payout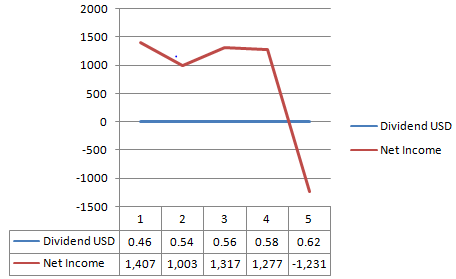 Source: Financial Reports
In the last five years it can be observed that Best Buy's dividend payout has been continuously increasing. When we observe the net income of the company in the first four years, it was stable, but in 2012 the company reported losses. Despite these losses being reported, the company has paid out dividends financed through debt. This is because the company wants investors to believe that BBY will recover and that they care for their investors, but we believe it's a tactic used by BBY to make investors hold their investment in a sinking ship.
Discontinued Operations
Best Buy has shut down their large-format stores in China, Turkey and the United Kingdom. A phone house retail store has also been shut down in Belgium. In the domestic segment, closure of two retail outlets has also been observed.
Losses were reported from their discontinued operations in 2012 because shutting down some large-format stores had some costs attached to it, like inventory write-downs, property and equipment impairments, facility closure costs, employee termination benefits and other costs primarily related to the closure had to be borne.
Discontinuing operations on such a large scale gives a negative signal to investors that the company's management has failed to manage their operations effectively. If they are unable to manage existing operations reasonably well, then the company will surely be heading towards bankruptcy.
Leverage position
To analyze the financial leverage position of the company, their debt/equity ratio and financial leverage average are used.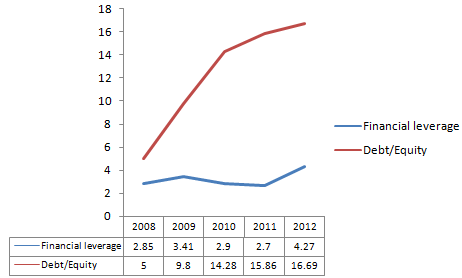 Source: MorningStar.com
Both the measures depict that in the last year the debt position of BBY has grown immensely; in previous years it was not in a comfortable zone, but it was within manageable limits. Such a huge growth in the company's debt could be credited to their buying back of common stock from the market and paying out dividends when losses were being reported. It's been felt that such an immense dependency on debt financing could be really harmful for the company as their interest expense column is swelling up and the cutthroat competition currently being faced in the industry could lead them towards bankruptcy. Taking into account the day-to-day competitiveness of the industry, if BBY fails to gain a respectable market share it would lead towards non-payment of interest expenses, and bankruptcy would be inevitable.
Cash Flow Position

Source: MorningStar.com
Although net cash flow from operating activities grew massively in 2012, this won't be sustainable in the long run because a major chunk comes from asset impairment and depreciation. In previous years a major portion was coming from net income and depreciation. For the next year their cash flow position doesn't look very good, as profits are not expected due to the intense competition in the industry.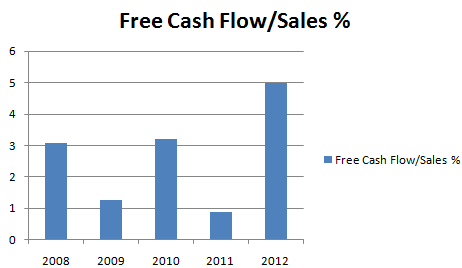 In the last five years free cash flow/sales percentage has not followed a continuous trend - it has seen some ups and downs. It hit its lowest points in the years 2009 and 2011. Lots of improvement could be observed in 2012 because of asset impairment and depreciation. These improvements cannot be sustained in the long run as a major portion of their free cash flows are coming from asset impairment and depreciation. Hence, satisfactory free cash flows/sales percentage cannot be predicted in the future.
Conclusion
Best Buy is using short-term measures, like paying out dividends through debt financing when losses are being reported, to seek investors' attention. These kinds of measures are not sustainable in the long term, as increased debt financing would swell up the interest expense column and it would be harmful for the company. BBY is currently facing serious liquidity issues and profits cannot be forecasted in the near future. Their cash flow position cannot be predicted satisfactorily, as much dependency can be witnessed from depreciation and asset impairment. Hence, it can be concluded that Best Buy Co. is a sinking ship, and we would recommend you sell this stock.
Disclosure: I have no positions in any stocks mentioned, and no plans to initiate any positions within the next 72 hours. I wrote this article myself, and it expresses my own opinions. I am not receiving compensation for it (other than from Seeking Alpha). I have no business relationship with any company whose stock is mentioned in this article.