The global pharma and biotech industry continues to experience pressure as many top branded products will lose their patents in coming years. This will open up opportunities for low cost generic products.
The same thing is happening across biotech companies as well while targeting biosimilars. Biosimilars are large and complex molecules, mostly proteins, produced by living organisms. These are novel products which can be used for multiple therapies with minimal side effect and better efficacy. Many companies focus on biosimilars development these days due to higher growth opportunity compared to normal medicines.
Amgen Inc. (NASDAQ:AMGN), a biotechnology company, aims at developing novel products based on recombinant DNA technology and molecular biology. The company is a global leader by sales in the biotech industry. It develops biologics/biosimilars for multiple therapies including cancer, kidney disease, rheumatoid arthritis, bone disease and other serious illnesses. However, a few products are expected to experience generic threats in coming years as three of its successful biologics, Aranesp, Epogen, and Neupogen are going off patent shortly. With this article, we would like to highlight Amgen's competitive position and plans for upcoming threats.
Biosimilars:
Biologics/biosimilars are protein based drugs, having a complex structure compared to normal generic medicines. It requires more time and investment to understand their functionality on the human body. Typically, biosimilars development will take seven to eight years of time and need large number of patients for clinical studies and also require high costs of $100-$ 250 million for development. It becomes a challenging task for players to develop a generic version of biosimilars in limited time.
Top three products:
Amgen's Neupogen is a filgrastim preparation used for the treatment of cancer patients receiving chemotherapy, bone marrow transplant and blood cancer. This product will expire in December 2013 and its other version 'Neulasta' in 2015. Amgen will lose Neupogen sales if two well accepted generic products, Sandoz's Zarzio and Haspira's (NYSE:HSP) Nivestim, will qualify for their biosimilars trial tests. Merck (NYSE:MRK) and Teva (NYSE:TEVA) will follow.
Table1:
Biosimilar Filgrastim

Products

Company

Status

Zarzio

Sandoz

Phase III

Nivestim

Haspira

Phase III

MK-4214

Merck

Phase III

Neukine

Intas

Phase III

Nufil

Celgene

Phase III

Tevagrastim

Teva

Phase III
On the other end, Epogen (epoetin alfa) and Aranesp (darbepoetin alfa) are two erythropoietin stimulating agents. They stimulate the stem cells to produce more red blood cells and are generally used for the treatment of anemia (blood loss) resulting from chronic kidney disease and cancer. Epogen is going off patent by 2013 and Aranesp is going off patent in Europe by 2014 and in the US by 2024. These products are likely to compete with biosimilars versions of Retacrit (Hospira) and Binocrit (Sandoz), two generics that are already available in the market.
Table2:
ESA

Products

Company

Status

Retacrit

Haspira

Phase III

Binocrit

Sandoz

Phase III
In addition, these three products including Neupogen, Aranesp and Epogen reported a decline in sales for last four quarters due to lower units and variation in average sales prices. They also showed dismal performance in first quarter of 2013. Global Neupogen revenue declined by 2% due to lower units sold in international markets; and Aranesp reported sales of $468 million, down by 10% compared to the same period last year. The decline is primarily due to lower units sold in the US and decrease in average sales price in the international market.
Furthermore, Epogen reported sales of $435 million, down by 2% year over year due to lower average sales price. The overall loss was partly offset by increased sales of Enbrel, Xgeva and Prolia. Therefore, total revenues during first quarter of 2013 was $4.2 billion, up by 5% year over year, the upward movement was driven by 6% year over year growth in product sales.
Figure1: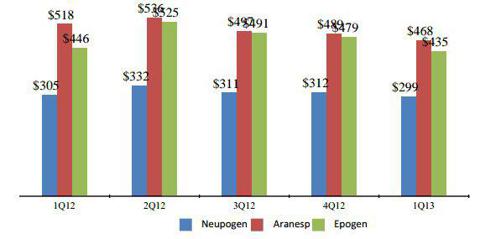 Even though generic threats hurt Amgen's leading product sales, the bottom line represents a significant growth in first quarter of 2013 with an adjusted EPS of $1.96 per share, up by 22% compared to same period last year. The upward trend was due to tax benefits and fewer shares outstanding during the quarter. During the same period, adjusted net income increased by 16% to $1.5 billion and free cash flow for the first quarter was $0.9 billion.
Figure2: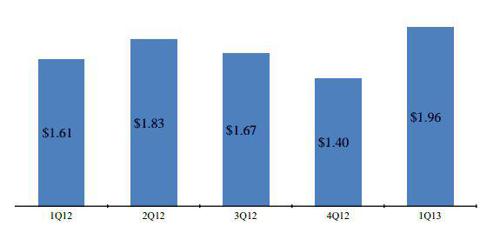 Overall, Amgen retained its position as a strong biotechnology company in the field of biologics. Furthermore, the company's strong portfolio and potential pipeline in novel treatment will provide a competitive advantage against its peers. We believe that the company will sustain upward growth trend in biologics preparation in coming years despite upcoming generic threats.
Disclosure: I have no positions in any stocks mentioned, and no plans to initiate any positions within the next 72 hours. I wrote this article myself, and it expresses my own opinions. I am not receiving compensation for it (other than from Seeking Alpha). I have no business relationship with any company whose stock is mentioned in this article.