SodaStream International Ltd. (NASDAQ:SODA) engages in the development, manufacture, and sale of home beverage carbonation systems. It is an Israeli company that operates virtually all over the world. A few hours ago Reuters reported that PepsiCo (NYSE:PEP) was in talks to buy SODA for $2B. SODA currently has a market cap of $1.4B, so such a buyout would be a large premium to the current stock price. Estimates are that PEP might pay as much as $95 per share for SODA, which closed on June 5, 2013 at $69.35. In fact PEP has already made an offer through Goldman Sachs (NYSE:GS) to buy SODA, according to the Israeli financial newspaper Calcalist (see Reuters report, above). The details of this offer were not immediately available. SODA says it will check its options for a deal with Coca-Cola (NYSE:KO) before entering any serious talks with PEP. In other words, it sounds like a buyout deal for SODA is imminent. However, this morning PEP is denying the so-called rumors that it has made an offer to buy SODA. For my money this buyout makes too much sense for the rumors not to have some meat.
Investors can always take a risk that a deal will definitely go through at a much higher price than the current stock price. However, a prudent investor will want to ensure that SODA is a worthy investment, even without a buyout, before buying the stock.
On the surface this appears to be the case. SODA trades at a PE of 31.81 and an FPE of 21.54. These multiples might seem high at first glance. However, when you look at the next five years earnings per share growth estimate per annum of 24.60%, they no longer seem high at all. In fact SODA seems like a relative bargain. It has an average analysts' recommendation of 1.9 (a buy). Further it has short interest of 43.60% of the float. This stock could skyrocket from its current level with that kind of short interest and an apparent firm buyout offer.
A few highlights on SODA are:
It has approximately 60,000 stores.
It is in approximately 6.5 million households (about 1.3 million in the US).
It has 6 co-branded partnerships to date.
Its revenue is projected to surpass $550 million in 2013.
Its revenue is expected to surpass $1B by 2016.
Its estimated retail market size is over $260B.
A chart of SODA's historical revenue growth rate is below.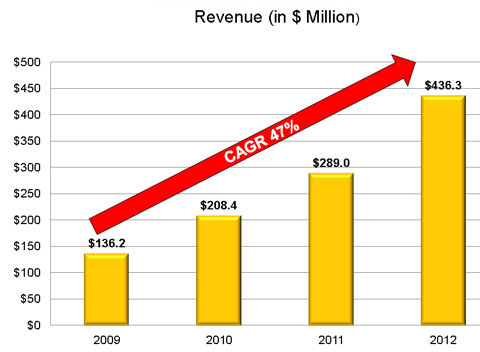 Click to enlarge
The 47% CAGR is impressive. The chart below of SODA's adjusted net income CAGR of 71% is equally impressive.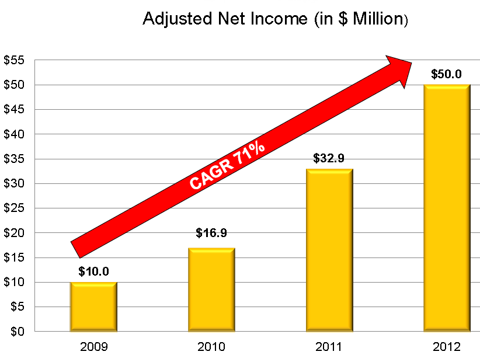 Click to enlarge
SODA's Refill Unit Sales chart (below) tells one that SODA can survive well even after a huge growth spurt to start.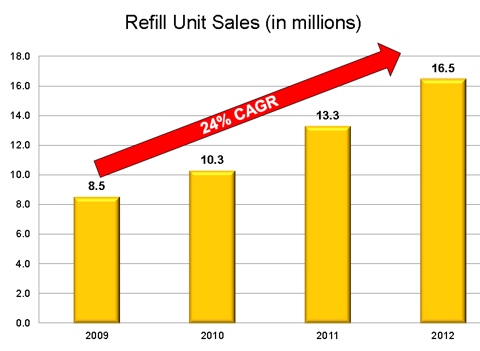 Click to enlarge
The 24% CAGR for refills is perhaps more impressive to me than the other growth figures. It shows a large number of people are continuing to use the product after the initial buy. It shows a large degree of customer satisfaction.
SODA also has gained some credibility in my eyes by leveraging other manufacturers' products. For instance, it carbonates CountryTime Lemonade, Crystal Light flavors, and even Kool-Aid flavors. I am not a big fan of Kool-Aid, but I recognize the name recognition appeal among kids.
Looking at the marketing penetration chart below, it is easy to see the huge growth opportunities. US customers usually like that same things that the Northern Europeans like. If there is high penetration in Sweden and Finland, there will be much higher penetration in the US soon. SODA has a goal of 10% penetration per country. This seems a very reasonable goal, especially since many "green" advocates may get on board. Currently the US has only 1% penetration. I find more than 10% easily believable. What's more the Asia-Pacific region is not even listed on the chart. That area of more than 2B people in China and India alone should provide huge growth even without huge market penetration.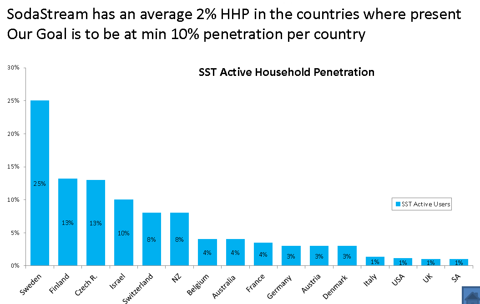 Click to enlarge
Q1 2013 results were good (a slight beat). Q1 revenue increased 34% to $117.6 million from $87.9 million in Q1 2012. Net income increased 20% to $12.1 million. Diluted EPS increased 19% to $0.57 per share. Adjusted diluted EPS increased 24% to $0.68 per share. EBITDA increase 22.7% to $16.4 million from $13.4 million in Q1 2012. Essentially SODA seems to be firing on all cylinders fundamentally.
The two year chart of SODA provides some technical direction for the trade.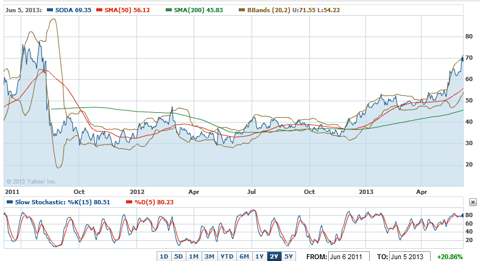 Click to enlarge
The slow stochastic sub chart indicates that SODA is overbought. The main chart also indicates an overbought condition. The 50-day SMA is far above the 200-day SMA. The price line is far above the 50-day SMA. The price line is also near the upper Bollinger Band. All these things tell one the stock is overbought. However, they do not tell one whether the stock will continue to be overbought. In fact it is surging on the "rumor" news today. However, the denial of a firm offer by PEP has put a damper on this.
In my mind, the stock is still reasonably valued. It can and likely will continue to grow quickly in the absence of a buyout deal by PEP or KO. If an investor is willing to hold SODA for 2-3 years, it is probably an excellent buy at this point. Then you can get in now; and you will get to participate in any buyout stock price bid up. You could make a quick 40% to 50% on your money. Still SODA may double or triple or more on its own in three years. I don't see a huge downside in an investment in SODA as long as you are open to the possibility of holding it longer term. If you buy now you may get in at a near term top in a no buyout scenario, but the stock will eventually head higher in any case. Eventually you will be more than profitable. SODA is a buy. Further a buyout by PEP or KO makes so much sense, it is almost impossible to believe one will not happen. There is likely a lot of fire behind the smoke in this case.
Note: Some of the fundamental financial data above is from Yahoo Finance.
Disclosure: I have no positions in any stocks mentioned, but may initiate a long position in SODA over the next 72 hours. I wrote this article myself, and it expresses my own opinions. I am not receiving compensation for it (other than from Seeking Alpha). I have no business relationship with any company whose stock is mentioned in this article.