The U.S. airline industry is extremely unpredictable, as players in the industry have had to deal with problems like acts of terrorism, natural disasters and poor weather conditions. Additionally, in recent years the industry has been particularly negatively affected by an uncertain economy and high, volatile fuel prices. These factors have contributed to unpredictable demand for air travel and increased pricing challenges for the firms. Leading companies in the regional airline industry are Southwest Airlines (NYSE:LUV), Delta Airlines (NYSE:DAL) and Jet Blue Airway Corporation (NASDAQ:JBLU).
Introduction
Southwest Airlines doesn't operate on the conventional airline operating model of a hub and spokes. It brought in an operating model of point-to-point services and the company has been pretty successful with it. That model has helped the company to utilize its assets and employees more efficiently. It also enables the company to operate with low fares as compared to other regional airlines.
Utilization of Assets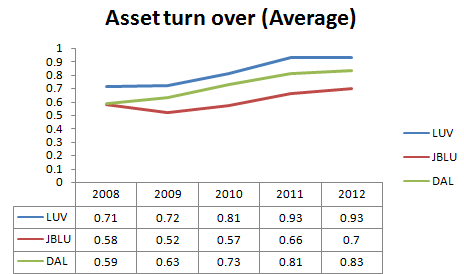 As the above figure depicts, Southwest Airlines' management has better utilized company assets as compared to its competitors. It could be credited, as earlier mentioned, that Southwest Airlines uses a point-to-point service system rather than a hub-and-spoke system, which enables it to better utilize its assets. The company doesn't have to follow the same protocols a full-service airline has to. As soon as a jet lands at the airport LUV refuels it, cleans it up, and the jet is ready to fly again.
Common Stock Position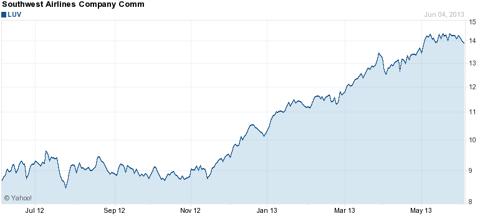 Source: Yahoo.com
The chart above shows the common stock position of Southwest. From November 2012 an increasing trend could be observed in its stock price.

This increase could be credited to a dividend payout ratio in the last 12 months, as it would have helped investors to regain their confidence in LUV. Investors will be hoping for improved returns from Southwest Airlines in the next quarter.
DuPont Analysis

In the last five years it could be observed that the trend in ROE for Southwest Airlines has fluctuated significantly. In all the years, one thing that is consistent is that a major portion of ROE has been coming from financial leverage, which is not a good thing as an increase in debt for the company will swell up its interest expense column.
I have also performed the DuPont analysis of one of the major competitors of Southwest Airlines, Jet Blue Airways Corporation.

I find out that its net margins are also very low, and a major portion of its ROE is coming from continuously increasing leverage. Low net margins in both companies could be credited to the frequent increase in oil prices, as companies are unable to shift that major portion of the burden towards the consumer. Also, the industry is highly competitive. An increase in fares would make both companies uncompetitive. Overall both companies are not generating enough return for its shareholders.
Tax Risk
On May 26, 2013, the Obama administration proposed a tax of $14 on every passenger flying. This tax may not seem large in amount, and it won't greatly affect passengers of intercontinental flights. However, a huge impact could be forecasted for the customer base of Southwest Airlines. Southwest's target market is middle-income individuals who opt to travel with the company because of low fares. When this tax is levied, people may be forced to consider alternative traveling options like road and rail. Hence, with this tax levied upon customers, Southwest is expected to lose its consumer base as it's not a full-service airline - upper-middle-class and rich people don't usually like to travel with LUV.
Valuation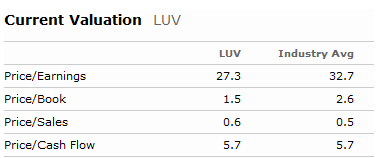 Source: MorningStar.com
Southwest's price/earnings ratio is 27.3, as compared to the industrial average of 32.7, which means that its stock is undervalued. When I see the price/book ratio for Southwest Airlines compared to the industrial average, it's also lower, as the industry average is 2.6 and LUV's ratio is 1.5, which also means that the stock is undervalued. The price/sales ratio is slightly higher than that of the industry average. The price/cash flow ratio of the industry and LUV is the same.
Conclusion
In the last five years Southwest's return on equity has been quite low, and its financial leverage is continuously increasing. The latest tax provision announced by the Obama administration would badly hit Southwest's target market, as most of its passengers belong to the middle-income group and they may consider alternative options for travel. Despite its stock being undervalued, I would recommend for you to sell Southwest stock.
Disclosure: I have no positions in any stocks mentioned, and no plans to initiate any positions within the next 72 hours. I wrote this article myself, and it expresses my own opinions. I am not receiving compensation for it (other than from Seeking Alpha). I have no business relationship with any company whose stock is mentioned in this article.