Samsung Electronics (OTC:SSNLF) is a global leader in manufacturing technological consumer and industrial products such as semiconductors, personal computers, peripherals, monitors, televisions and a wide range of home appliances. Samsung Electronics is under the South Korean flagship multinational conglomerate, Samsung Group. For a company to stand out in a global scene, it has to have a very competitive growth rate, price momentum and a unique business model. This article will talk about the facts that made SSNLF.PK what it is today and the factors that will carve its future. I will closely look and analyze the financials and the business strategies of the most valued company in South Korea to see how it will move in the future.
Value-led Economic Growth

source: Samsung's Facts and Figures
Fueled by investor confidence that led to share price appreciation, the chart above represents the performance of Samsung's stock for the past 5 years. Since FY2009, the company has almost doubled its value with a 95% increase in its price per share. It has consistently increased over time as it delivers and manufactures more products to the global market. You can still expect the price to continue going up now that Samsung has taken the responsibility to take on the larger global demand for smartphones. The trend in the past five years suggests that the company's stock will more likely continue the upward trend as the volume indicator proportionately supports the momentum. This supports the aforementioned notion that the stock price of Samsung might still grow with a great upside potential in the years to come.
Price Movement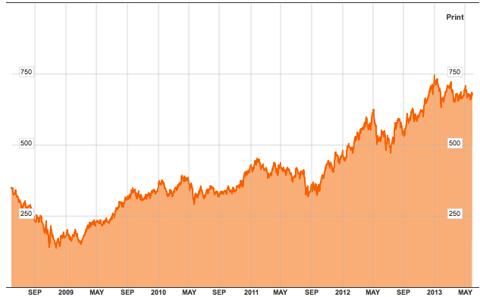 source: Bloomberg
Business Segments and Growth Strategy
Samsung's business is divided into two different streams of revenue. The company is managing a diverse business portfolio, which consists of Digital Media and Mobile Communication that hedges in the business units that manufacture and sell digital TVs, monitors, computers, mobile phones, communication systems, air conditioners, refrigerators and other appliances; and Device solutions which include the sales of semiconductor memories, system LSI, LED and other products. Moreover, the largest form of its business operations and the one that presents the highest recognition is its market share leadership in the smartphone industry.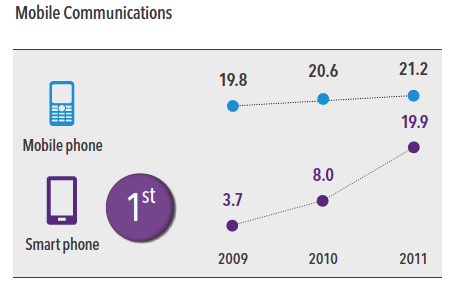 Source: Samsung's report
We can see that for FY2011, the Mobile Communication division of Samsung is number one in the smartphone industry with a market share of 19.9%. During the last term of 2012, the company reached a sales target of 63 million units for its Samsung Galaxy, which translates into 500 devices per minute being sold. Its sales and profits increase year-on-year while surpassing the mobile sales of Apple (NASDAQ:AAPL). To give a better picture, Samsung has sold 230 million smartphones for the entire fiscal year of 2012.
Source: Samsung's Consolidated Financial Statements FY2012
It showed its strength as a company when it managed to target Apple (AAPL) as a rival and actually managed to profit from the smartphone battle. The company's revenue grew from 165 billion KRW to 201 billion KRW at the end of FY2012. An impressive 21% increase year-on-year in terms of revenue and a 5% increase in gross profit margin. The outstanding 73% increase in net income at the end of FY2012 can be attributed to the smartphone business of the company. This growth is more likely to continue considering the direction of management and the increasing global demand for its technological products. Thus, this makes Samsung a very attractive stock for investors as it posted a 72% increase in its earnings-per-share. Putting this company in one's portfolio gives the investor a strong chance of maximizing value and wealth year-on-year.
Conclusion
With strong support from its affiliate companies, a strongly made business model and a bullish forecast for its sales, Samsung is a sustainable and a progressive leader in today's business landscape. As the company targets to reach $400 billion sales in 2020, I urge investors to start accumulating Samsung stock.
Disclosure: I have no positions in any stocks mentioned, and no plans to initiate any positions within the next 72 hours. I wrote this article myself, and it expresses my own opinions. I am not receiving compensation for it (other than from Seeking Alpha). I have no business relationship with any company whose stock is mentioned in this article.