Initial jobless claims declined by 11K in the latest week, falling from 357K down to 346K. With economists expecting a level of 345K, this morning's reading was technically worse than expected, but just barely.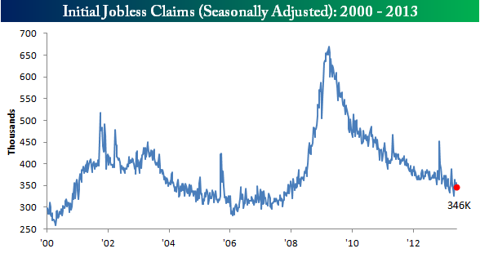 Although claims fell this week, because we dropped a low number week from the count, the four-week moving average actually increased from 348K up to 352.5K, representing the highest level since mid-April. While this week dropped a low number week from the count, though, next week we drop the highest week of the current four-week count. Therefore, barring a number above 363K, we can expect to see this reading fall again next week. With respect to the post-recession low from early May, though, it will be a number of weeks (at the earliest) before that reading comes into play.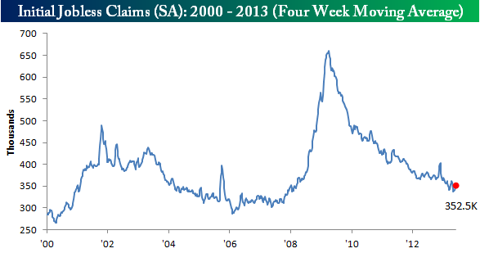 On a non-seasonally adjusted basis, jobless claims actually fell by 27K to 293K. This represents the lowest reading since September 2007. For several weeks now, we have been highlighting the fact that jobless claims have been one of the few bright spots in the recent stretch of weaker-than-expected economic data.