EM Currencies Tank in Unison
The WSJ writes that a small "panic" broke out in emerging market currencies on Wednesday, with the South African Rand once again leading the way, after gaining a tad on Tuesday. Once again the mythical "Fed tapering" is cited as the reason behind the action. We think it's just a sign of "risk off." No reason is needed - intermarket correlations being what they are, any sell-off in risk assets in one market will infect all other markets as well.
"The South African rand led a broad-based slide among emerging-market currencies Wednesday as investors grew increasingly jittery ahead of a critical U.S. jobs report.

Investors are gearing up for the prospect of Federal Reserve tapering its bond-buying stimulus program. Expansive Fed monetary policy has been associated with a weaker U.S. dollar and excess market liquidity that has driven investors to seek higher yields in emerging markets. A strong non-farm payrolls report on Friday would likely affirm expectations of the Fed unwinding such stimulus some time this year, which would remove a pillar of support for emerging-market currencies.

These fears were particularly evident in Wednesday's price action, with the South African rand diving about 2% and the Mexican peso sliding 1% against the U.S. currency. "The market is in panic mode into non-farm payrolls at the end of the week," said Guillaume Salomon, emerging market strategist at Societe Generale in London.

The flood of financial market liquidity in the past several years has resulted in heavy market positioning in emerging-market assets, and that's forcing many unnerved investors to rapidly unwind those riskier holdings in anticipation of Fed tapering, analysts say. Any payrolls-inspired rush to leave emerging markets could cause very choppy trading and sharp moves in prices if liquidity dries up.

"The thing to remember is the exit door, whatever emerging market you're talking about, is always relatively narrow," Mr. Salomon added."
(emphasis added)
Well, that point about the "narrow exit door" is undoubtedly correct. Below is a chart of the Rand since mid May (in this form of notation "higher" means a weaker Rand - it measures how many Rand are needed to buy $1).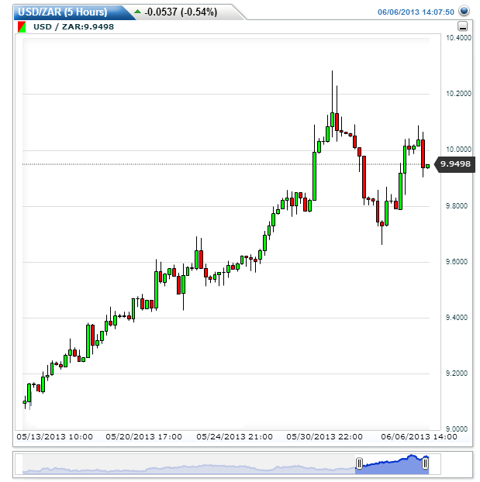 The South African Rand since mid May - this has been quite a move. The recent increase in volatility actually suggests to us that it could soon retrace some of that move - unless the "risk off" situation becomes more pronounced - via Investing.com.
The central bank of Brazil intervened to stem the slide of the real. Traders in the Rand have it easier, as the South African central bank is of the opinion that currency intervention makes no sense. Indeed, South Africa's central bank is traditionally one of the world's more conservative and less meddlesome ones. This tradition has been continued under the ANC government. As a result, the Rand is also one of the more liquid EM currencies.