Introduction:
During 2012, oil and gas production growth outpaced demand growth in the U.S. causing prices to become more volatile which resulted in a declining trend. North American gas prices have remained erratic and have generally remained lower as compared to the figures in 2009. The decline in North American gas prices is primarily a result of growing gas supplies associated with discoveries of shale gas, combined with the warmer than normal recent weather, which has resulted in gas storage levels being at historically high levels, and minimal economic demand growth in the U.S. Oil prices continue to be primarily driven by world supply and demand fundamentals; however, recent increases in US oil and gas production volumes from the Permian Basin, Eagle Ford, Bakken and Marcellus areas have been met with lower demand, higher storage levels and pipeline, gas plant and NGL fractionation infrastructure capacity limitations, which has led to a reduction in United States oil and gas prices compared to international prices for similar commodities, including Brent oil prices.
Market Growth:
According to the International Energy Agency forecast, the United States will surpass Saudi Arabia as the world's largest oil producer by 2020. The US has already overtaken Russia as the world's leading natural gas producer.
Company Profile:
Pioneer Natural Resources Company (NYSE:PXD) is an independent oil and gas exploration and production company in the United States. The company produces and sells oil, natural gas liquids (NGL), and gas. Its reserves are primarily located in the Spraberry/Wolfcamp field (the largest US oil field) in the Permian Basin area, and Eagle Ford Shale Play in South Texas. It is also one of the largest natural gas operators in the Rockies and Mid-Continenal regions, with assets in the Raton Basin as well as in the Hugoton and Texas Panhandle gas fields. As of March 31, 2013, the company has an enterprise value of approximately $22 billion. Its proven reserves are around 1.1 billion barrels of oil equivalent (BOE), with a daily production of around 156,000 BOE/day.
Fundamental Analysis:

Source: Ycharts
This chart shows Pioneer Natural Resources' stock price performance with respect to its competitors and the sector index. As you can see, the company has outperformed its competitors with a price appreciation of around 60 percent over the period of one year, despite the rise in oil and gas prices in 2012. That showed the investors' confidence in the company's business model and its financial strengths.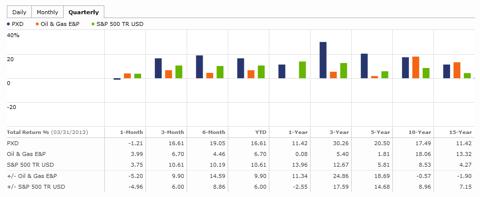 Source: Morningstar
This chart shows the company's historic total returns compared to its sector and the S&P 500, respectively. The important point to note here is that the company's total return not only outperformed its sector and the S&P 500 in the short run, but also surpassed them in the long run as well.
Drilling Success ratio:

The company is increasing its oil and gas reserves, production and cash flow through productive drilling and by conducting other production enhancement activities, such as well recompletions. Over the three-year period ending on December 31, 2012, the company drilled 1,822 gross (1,633 net) development wells, 99 percent of which were successfully completed as productive wells, at a total drilling cost of $4.0 billion. The success ratio of the company is quite impressive, which helps it to control its operating costs.
Increase in Average daily production:
According to the company's 2012 annual report, the company is focusing its efforts towards maximizing its average daily production of oil, NGLs and gas through development drilling, production enhancement activities and acquisitions of producing properties, while minimizing the controllable costs associated with production activities. For the year ending December 31, 2012, the company's production from continuing operations increased by 20 percent to 56.9 MMBOE, excluding field fuel usage, compared to 2011.
Pioneer Natural Resources deal with Sinochem:
The company recently closed a $1.7 billion deal with Sinochem Petroleum USA LLC, a US subsidiary of the Sinochem Group, by selling 40 percent of Pioneer's interest in 207,000 net acres leased by the company in the horizontal Wolfcamp Shale Play in the southern portion of the Spraberry field. Sinochem paid $631 million in cash to Pioneer, of which $522 million was the up-front portion of the sale price. The remaining $1.2 billion will be paid in the form of future drilling and facilities costs. The company will keep its 60 percent stake in Wolfcamp and will continue to serve as the operator and perform all leasing, drilling, completion, operations and marketing activities in the joint interest area.
The deal will help the company struggling with low natural gas prices to expand its production of crude oil (or shale gas), which is more profitable than natural gas. Moreover, the deal will strengthen its financial position as well.
Conclusion:
Pioneer Natural Resources is a financially stable company with a consistent growth in revenues. Despite the tough oil and gas prices in previous years, the company has managed to perform well compared to its competitors and the sector. With its impressive drilling success ratio, the company has also managed to reduce its operating costs. The global demand for energy continues to grow, especially in developing countries such as China and India. On the basis of this analysis, I conclude that investors should take a long position on this stock.
Disclosure: I have no positions in any stocks mentioned, and no plans to initiate any positions within the next 72 hours. I wrote this article myself, and it expresses my own opinions. I am not receiving compensation for it (other than from Seeking Alpha). I have no business relationship with any company whose stock is mentioned in this article.