In the last two decades specialty eateries have developed a name in the services sector of the American economy with approximately 50,000 establishments. Today the industry is generating revenues of $25 billion. Major companies in the industry include Krispy Kreme Doughnuts (KKD), Starbucks (NASDAQ:SBUX) and Panera Bread (NASDAQ:PNRA). The industry is an unbalanced one, as the leading 50 companies generate about 45% of the industry revenue. Panera Bread, one of the major players in the industry, was established in 1981 with the goal of providing delicious fresh bread across America, as they believed that great bread makes a great meal. As reported by The Wall Street Journal, Panera Bread scored the highest level of customer loyalty among quick-casual restaurants. Panera Bread was also named to Business Week's 2010 list of top 25 "Customer Service Champs," to FORTUNE Magazine's 2010 list of 100 Fastest-Growing Companies, and recently Panera Bread was also named Casual Dining Brand of the Year in the 2012 Harris Poll.
In the last decade the financial health of Panera Bread Company has improved immensely.
The figure below depicts Panera's revenue throughout the past decade.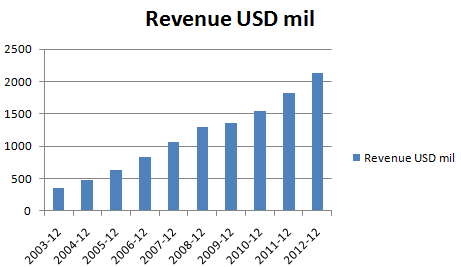 A continuous increase in revenue can be readily observed. Its growth could be credited to its trained bakers' craftsmanship and dedication to baking each loaf fresh using only the best ingredients, ensuring supreme quality of each bread loaf. PNRA has spread to over 44 states with 1,652 outlets, which makes the company extremely approachable for the customer. In the past, the customer had to be informed about the product, however visibility is what's really important to the customer now, and PNRA has reached out to the customer, resulting in increasing revenues. PNRA is expanding operations with every passing year by reviewing trends, and judging by the average, we can expect at least 85 additional outlets to open in fiscal year 2013.

With the trend being followed in last few years, out of all the outlets being opened, 54% are franchised and 46% are company operated. It means that in fiscal year 2013 we can expect 46 franchises and 39 company-operated outlets.

Source: Annual report 2012
In fiscal year 2012 every company-operated outlet contributed approximately $2,323,000. According to my expectations, if 39 company-operated outlets open, an increase of $ 90,597,000 could be expected in bakery sales revenue. With 46 franchises being opened, I can expect a franchise fee of $73,367,125 for fiscal year 2013.
The figure below depicts Panera's operating margin percentage throughout the past decade.
+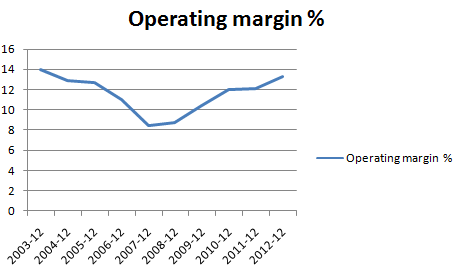 From year 2003 onwards, continuous falling operating profit margins could be seen until 2008. It occurred because of uncontrollable selling and administration expenses. After 2008, the operating profit margins again started to rise, and I witnessed an increasing trend, which was credited to better managing selling and administration expenses as it grew at a very slow pace as compared to the more impressive growth witnessed in revenues.
DuPont Analysis

With the help of a DuPont analysis, it can be seen that financial leverage of the company measured by its equity multiplier is not much higher during this period. It's within manageable limits, as it is not relying too heavily on debt as a source of financing, and as a result interest expenses are also not too high. Its asset turnover is almost the same during the five-year period being analyzed, which means the company is generating reasonable revenue from its assets, and assets are being effectively utilized. Its profit margin has also been continuously increasing during the last five years because of increasing revenues and better control over operating expenses. It means that management of the company is effectively working on improving the company's operational efficiency.
Among all three factors analyzed, it is suggested that the major share of return on equity in the last five years is coming from profit margins. It means PNRA is making good money against shareholder's capital, which makes it an attractive option for investment, as investors can observe good money being made by the firm from the stockholders' capital in the last five years. It also helps in building more investor confidence towards PNRA.
Risks for PNRA
On Friday, May 31st, 2013 analysts lowered ratings for PNRA, as they are expecting the company won't be able to make earnings according to Wall Street expectations, seeing as the industry is highly competitive and first quarter earnings were lower than expected. Analysts are not expecting it to top the Wall Street expectations in the 2nd quarter. PNRA should work hard to meet the expectations of Wall Street in the 2nd quarter, as it would help boost investor confidence. PNRA is operating in a highly competitive industry, and it cannot afford disruptions in the supply chain. With disruptions being faced, production might slow, and it might be unable to deliver supplies to outlets in a timely manner. At the end of the day, it would result in the company baring the cost of idle labor and a potential lost sale when food items are unavailable in the outlet. Hence, PNRA should pay close attention to the expected risks to ensure it doesn't disrupt the current trend of growth.
Price Analysis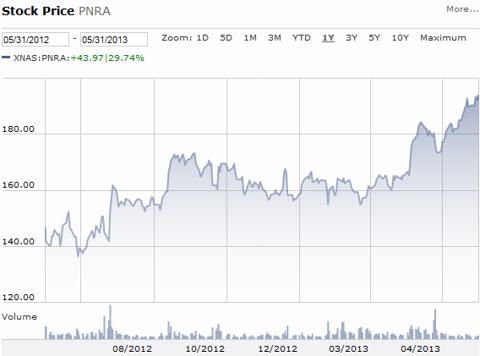 Source: morningstar.com
Despite the cutthroat competition prevailing in the specialty eateries industry, Panera Bread Company has put on an impressive show. Its stock has seen some ups and downs during the year, but overall a positive growing trend can be seen. From the $140 mark year ago, it's currently being traded around $191, which is appreciable for a company dealing in an industry with competitors like Krispy Kreme Doughnuts and Starbucks.
Conclusion
PNRA is a firm that is continuously involved in product innovation as it continually changes product with changing consumer taste. It's well spread out - 1,652 outlets in 44 states. While seeing its financial aspects of liquidity and profitability in the last decade, it is clear that PNRA is becoming financially stronger with every passing day. Investors are likely to be confident while investing in PNRA as its earnings per share in the last five years have been witnessing an increasing trend. It is expected to continue with expansion, and if it meets expectations, reasonable increases in its bakery sale revenue and franchise fee are expected, resulting in more earnings. I will recommend PNRA as a long-term buy.
Disclosure: I have no positions in any stocks mentioned, and no plans to initiate any positions within the next 72 hours. I wrote this article myself, and it expresses my own opinions. I am not receiving compensation for it (other than from Seeking Alpha). I have no business relationship with any company whose stock is mentioned in this article.