As is usually the case around this time of the month, financial markets are quickly moving into a "wait-and-see" mode leading up to Friday's important U.S. labor report.
For broad equity markets, there are new questions about the "any news is good news" response (formerly "bad news is good news") that has characterized stock price moves over the last six months.
Negative developments in financial markets stemming from Japan's money printing effort are now spilling over to the rest of the world, the U.S. in particular, as investors seem to be increasingly confused about the relationship between central bank largess and asset prices.
It looks like the U.S. stock market will end in the red again today as more and more investment pros contemplate whether the nearly five percent decline in the major indexes will turn into something more.
As such, it seems clear that if the labor report comes in better than expected, this will be a case of "good news is bad news" for equities since fear of the Federal Reserve dialing back on its $85 billion per month money printing effort has been a key factor in the recent stock market decline.
But, what about precious metals?
In what has been an unusual development in recent months, the gold price (NYSEARCA:GLD) is now regularly moving counter to the broad stock market as detailed here the other the day.
More importantly, what has been learned over just the last few weeks is that this works in both directions. This is clear to see in the BigCharts graphic below where the two parted ways last December when many U.S. investors gave up on the yellow metal in favor of stocks.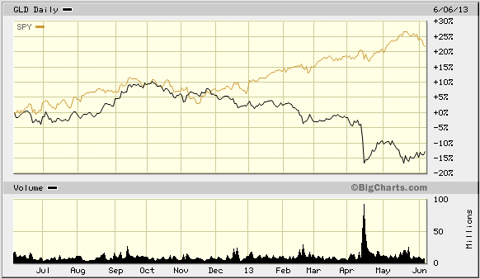 Click to enlarge
(Click to enlarge)
There is much ground to be made up for gold, but if the trends of the last few weeks accelerate, the gap will narrow quickly.
U.S. money managers surely were not expecting to see the record setting surge in physical demand for precious metals all around the world after prices tumbled over the last two months and some of them are surely rethinking their recent GLD sales.
Holdings at the world's most popular gold ETF have yet to make durable bottom, but the outflows have slowed in dramatic fashion as equity markets have cooled off and the gold price rebounded.
Any negative news for stocks in tomorrow's labor report would likely be good for gold.
But, what else about tomorrow's data might affect precious metals? Conventional wisdom is that a weak jobs report will make it more likely the Federal Reserve will continue its money printing effort at current levels longer or, if the labor market worsens, increase their bond buying.
It used to be that the prospect of more stimulus from the central bank drove precious metals prices higher due to the fear of inflation. But, after years of super-low interest rates and trillions of dollars in money printing, prices are falling, not rising.
For the time being at least, fear of inflation is a non-factor in gold and silver markets, however, a weak jobs report tomorrow could send gold and silver prices higher.
Why? The return of the "fear trade".
With the ISM manufacturing index slipping back into contraction on Monday and as economies around the world struggle to generate growth, there is a growing fear that central banks have "run out of bullets".
Sure, they can print trillions of dollars and shift investor preferences to assets such as stocks and real estate, but they don't seem able to spur a lasting economic recovery.
A poor reading on the U.S. labor market tomorrow would be another step toward investors realizing that the policies adopted by the brightest economists at the most powerful central banks in the world have failed, casting new doubt on the sustainability of the financial system and monetary system as we know them.
We could see the "fear trade" return in a big way if Friday's data disappoints in a big way.
Probably the worst case scenario for precious metals markets would be for non-farm payrolls to come in about where analysts expect, near last month's 165,000 increase, with the jobless rate unchanged from 7.5 percent.
This would lead many investors to conclude that the U.S. economy is continuing to just plod along with no boom or bust on the horizon and little threat of the Fed changing course.
In short, my take is that any jobs data that comes in well above or below consensus estimates will likely see the precious metals market rebound continue, but more of the same middling data on employment could see gold and silver prices reverse course.
Disclosure: I am long GLD. I wrote this article myself, and it expresses my own opinions. I am not receiving compensation for it (other than from Seeking Alpha). I have no business relationship with any company whose stock is mentioned in this article. I also own gold coins.