I recently read a very well-written article on Microsoft (NASDAQ:MSFT) by fellow Seeking Alpha contributor Investometrica. I really liked the arguments that he presented; in fact, I agree with all of them, and I would like to present three additional reasons. These three arguments by themselves, let alone if coupled with the excellent reasons to buy presented by the above writer, make me rate Microsoft as a very strong long-term buy.
Reason number one: Microsoft is still a B2B company
Microsoft is still very strong in the business-to-business (B2B) segment and its sales, let alone profits, are strongly dependent on this part of its operations. Microsoft's business-to-business products are usually not as visible and talked about as some of the consumer products, like the Xbox console, yet these B2B products and services generate the lion's share of MSFT's revenues and even a very high share of its profits.
Let's have a look at Microsoft's segments and products in terms of their share on revenue. Geographical breakdown is included as a bonus, just to add more color to the picture.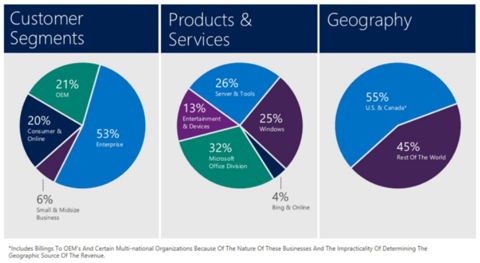 source: Microsoft's financial statements and corporate website
If we break down Microsoft's sales for the 12 months ending FY2013 Q3 to consumer segments, 53%, or more than half of total revenue, was driven by the Enterprise business segment (essentially Fortune 500 or S&P 500 big corporations). An additional 21% was added through OEM partners, and a further 6% via the Small & Medium businesses segment. Only 20% of sales were driven by the Consumer & Online segment.
So, in terms of sales channels, approximately 80% of Microsoft's revenue is still generated by the business-to-business segments, and only 20% by the consumer segment and online channel.
Product segments revenue chart (9 months ending March 31, 2013)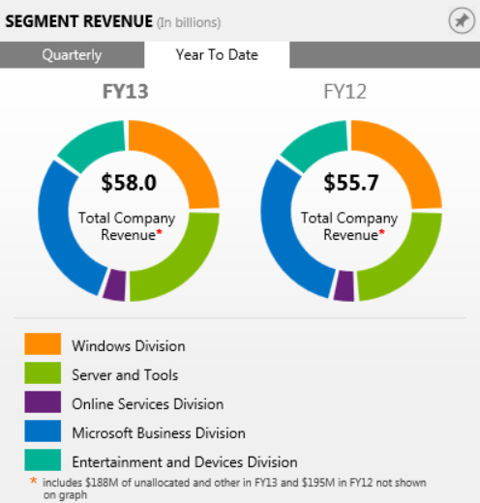 The product segmentation picture looks similarly driven by products and services that generate most of their revenue from business customers. For the nine months of the financial year 2013 ending on March 31, the categories of products grouped under the Microsoft Business Division and Server & Tools represents 55% of revenue - and that doesn't even include the Windows division, which also partly serves business customers and adds 25% to the revenue.
Product segments income chart
(9 months ending March 31, 2013)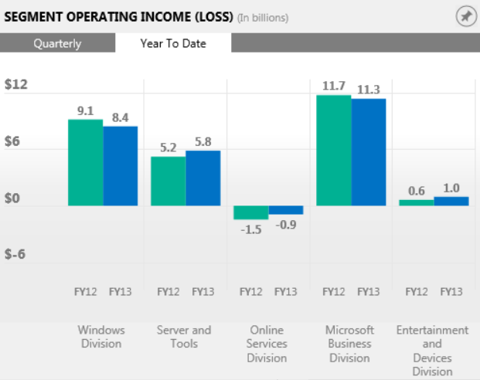 Once we switch from revenues to earnings perspective, the picture is similarly tilted toward the B2B customer segment, and even more so. The Microsoft Business Division and Server & Tools represents 67% of the division-level operating income (total income was adjusted for the $4.9B unallocated company-level charge), and the Windows division adds another 33% to operating income. These three divisions generate 100% of Microsoft's operating income.
Although the consumer-oriented divisions of Entertainment & Devices and Online Services represent 20% of revenue, they add zero operating income to the company's bottom line.
From this revenue and earnings analysis, the following conclusion can be drawn:
Business segments drive most of Microsoft's revenues and an even higher share of income. Business segments also have much higher profit margins than consumer segments.
Complete earnings numbers by product divisions for the nine months ending March 31, 2013, can be found in the following table.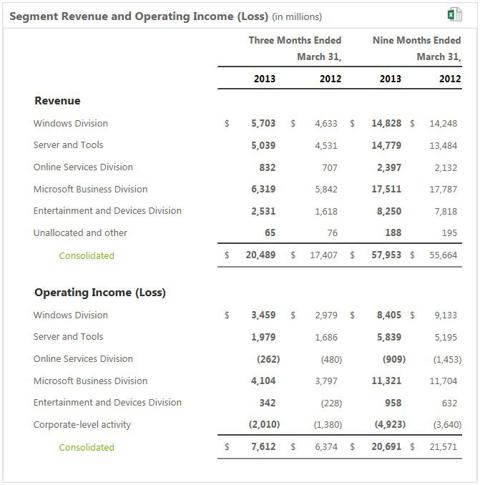 The reason Microsoft's ongoing status as predominantly B2B is bullish for the company is that from my corporate business and marketing experience, the B2B segment has numerous advantages over the consumer segment. First of all, the customer loyalty is much higher. It is also - from a technical, financial and even human resources factor - much harder to switch once-installed systems and solutions to those of a competitor. In consumer segments it is much easier to just dump the device and switch to another provider. In addition, profit margins in the B2B segment are mostly higher than in the consumer segment. Lastly, but very importantly, in B2C, consumer tastes are extremely fickle, driven by fashion and the coolness factor. B2C customer loyalty is usually much lower.
However, this doesn't mean that Microsoft wants to stay a business-to-business company forever. On the contrary, Microsoft just wants to stay afloat. My argument is simply that Microsoft still generates - and will generate for a long time - most of its revenues and profits in the B2B segment. It is quite evident that Microsoft intends to become stronger in the B2C segments, and strives to integrate and create synergies not only within these two separate ecosystems, but also by integrating and unifying the user ecosystem of B2B and B2C products and segments into one seamless experience.
Reason number two: Microsoft creates synergies from a very strong and diversified portfolio of products and services in all business and consumer segments.
When it comes to Microsoft, one keyword is definitely synergy. The company has many products and it utilizes cross-promotion and product bundling well, although it could still improve further. An example of a good way in which one product or service helps drive adoption and sales of the others is the current merging of the Messenger service and contacts with Skype, where Microsoft is offering a 1-month free trial of Skype calling and then automatically converts customers to a monthly subscription payment model. Or, take its cloud Office 365 Home Premium service, which comes with 60 minutes of free Skype calling anywhere, including international calls. As another of many examples, Microsoft also announced that it completed the integration of Lync B2B services to Skype, now offering one unified communications platform for Windows and Mac.
Reason number three: Changing innovation will cause Microsoft to still miss many future trends, but it will always catch up
Lastly, Microsoft will remain strong in the future because it will be able to catch up with most of the trends it misses. One can even argue that such a large and naturally less flexible corporation should not even try to innovate. It should simply strive to take the best existing products and services out there and integrate them into its ever-larger portfolio of product and service offerings for its vast and growing client base to leverage its size, reach and product synergies.
Why will Microsoft always be able to catch up? Due to numerous reasons that complement each other. First of all, because of its strong customer loyalty and benefits of the B2B segments mentioned above. Secondly, because innovation loses its value since it can be copied easier and faster than ever before - at least, most of the innovative activities that companies pursue can be easily mimicked by the competitors.
As an example, Microsoft totally missed the mobile devices and social media mega trends. However, even such a dinosaur was able to catch up without going bankrupt or losing too much of its strength, market share and earnings generation power, thanks to its huge financial strength and corporate size, reach, corporate strength and its enormous numbers of business and consumer customers.
The takeaway
In conclusion, I am convinced that Microsoft is one of the strongest and most resilient technology companies currently out there, mainly thanks to the following three reasons: benefiting from strong B2B sales and profits, creating synergies within its strong diversified product portfolio, and being able to catch up with most future trends it misses.
As a result, I am very bullish on Microsoft in the long run, not only due to the three arguments described in this post, but also for many other reasons not listed here, but described well by many others elsewhere.
Disclosure: I am long MSFT. I wrote this article myself, and it expresses my own opinions. I am not receiving compensation for it (other than from Seeking Alpha). I have no business relationship with any company whose stock is mentioned in this article.