Console Gaming Industry Overview
One of the most dramatically cyclical industries in the modern market is the console gaming branch of the consumer discretionary sector. Roughly every 5-7 years a new generation of gaming is born following the realization of more (or rather Moore) powerful hardware feeding the development of increasingly demanding software.
The cyclical nature of this $67B industry is largely a function of the multi-faceted, highly interdependent and risky conglomerate of tech companies that must collaborate to launch a new web of products in a very short window of time.
Even at retail prices of $400-500, consoles cost far more to manufacture despite extensive specialized outsourcing. To cover the negative gross margin, hardware companies rely on strong software sales to tip the scale back in their favor, as I will show later in this article.
Game designing companies are not without a great deal of risk as well since the majority of their assets are human capital and this can be very difficult to appraise.
I believe the strongest risk-to-reward profile is generated by the highly specialized, low cost and mass producing console component companies. Historically, these companies profit from sales far before the consoles have even been released, as I will show in the following section, and before the final product is susceptible to consumer sentiment.
The following quantitative analysis of Advanced Micro Devices (NYSE:AMD) aims to estimate the future performance of share price from earnings and sales strength. I have generated these estimates using a historical comparison to component producer Nvidia (NASDAQ:NVDA) from a previous generation of gaming consoles.
It should be noted the industry has grown substantially from the last generation, seeing an increase in sales from $6.9B in 2005 to $16.6B in 2011. Furthermore, since China, the world's most populated country with 1.3B people or just under 20% of the world's population, recently toyed with the idea of lifting its ban on video games, these figures could increase dramatically, though some may argue against it.
...But it does rhyme
I will begin by taking us back to May 2005. This marks the 5th year after the S&P 500 (.INX) priced in at its peak of the "2000 dotcom bubble" and the 2nd year after the beginning of the recovery. In fact, it is not so different from today's chronological position with respect to the 2008 housing bubble and subsequently the market trough of 2009.
2005 was a year of hardware innovation when massive leaps in graphic and computational performance were not only realized but brought to the price level of the household consumer. The main channel through which this was achieved was the console gaming industry.
In May 2005, the Xbox 360, the second generation installation of Microsoft's (NASDAQ:MSFT) Xbox series, and the PlayStation 3, the third generation of Sony's (NYSE:SNE) PlayStation series, were announced around the time of the E3 gaming conference.
The focus of the following analysis is directed to the price performance of the graphic processing unit manufacturer Nvidia with respect to its role in producing the PlayStation 3's GPU. Over the following 3 fiscal years, Nvidia achieved explosive increases in sales, brought itself supreme brand recognition and pulled massive cash flow for future R&D. This targeted research and development landed it a leading role in the manufacturing of smartphone chips later on.
The following is a graph, taken from Google Finance, of the price performance of Nvidia from 2003 to 2008 centered about the announcement of the PlayStation 3 in May 2005.

As we can quickly see, in the period immediately following the E3 conference, the price investors were willing to pay for shares broke out across the $8-9 mark and proceeded to go on a 2-year tear of more than 400% gains (leading up to the 2008 crash).
The following is a table showing the key analytics of Nvidia before and after the announcements of the new console.
| | | | | | | | |
| --- | --- | --- | --- | --- | --- | --- | --- |
| NVIDIA (year ending) | Jan 2003 | Jan 2004 | Jan 2005 | Jan 2006 | Jan 2007 | Jan 2008 | Jan 2009 |
| Revenue (USD) | 1.91B | 1.82B | 2.01B | 2.38B | 3.07B | 4.10B | 3.43B |
| Net Income | 50.90M | 48.63M | 88.62M | 301.18M | 448.83M | 797.65M | (70.70M) |
| Market Cap (USD at end of fiscal year) | 2.53B | 4.32B | 4.53B | 8.40B | 13.84B | 18.50B | 5.37B |
| P/E | 49.7 | 88.83 | 51.11 | 27.89 | 30.84 | 23.19 | n/a |
| Index P/E | 31.43 | 22.73 | 19.98 | 18.05 | 17.36 | 21.46 | 70.89 |
| P/S | 1.32 | 2.37 | 2.25 | 3.53 | 4.51 | 4.51 | 1.57 |
| Index P/S | 1.30 | 1.56 | 1.54 | 1.43 | 1.49 | 1.43 | 0.87 |
| Profit Margin | 2.66% | 2.67% | 4.44% | 12.65% | 14.62% | 19.45% | 2.06% |
In its first year of production of the PlayStation 3's "550 MHz NVIDIA/SCEI RSX 'Reality Synthesizer,'" Nvidia increased its revenue by $370M with roughly $240M contributing directly to earnings. In relative terms, this represents a ~20% increase in revenue for a ~340% increase in income. One could deduce that such a profit margin jump from 4% up to almost 20% could only be due to the mass production of highly specialized devices for a very select few high-volume products.
So how can we use this information to make some money now?
I will now introduce a reputable name in processor production sitting in a very similar position to Nvidia back in 2005: This company is Advanced Micro Devices. With recent news that PlayStation 4 will be using AMD's "semi-custom 8-core AMD x86-64 CPU" and "semi-custom AMD Radeon GPU" AND Xbox One will be using "AMD 8 core APU" and "AMD Radeon variant (inside of APU)," AMD has 4 revenue sources, each of which is of the same magnitude of Nvidia's Single GPU for PlayStation 3 back in 2005.
To be technically accurate, both the GPU and CPU for each system are combined on a single unit called the APU. This unit has been customized and is under production for both companies.
The following is a comparison table of the two companies with their respective indices at the time:
| | | | | |
| --- | --- | --- | --- | --- |
| | MKT Cap / Price of Index | Ratio to Index at the time (in Million) | Revenue at beginning of year | Earnings at beginning of year |
| AMD (Present) | 2.89B | 1.75 | 5422M | (1183M) |
| S&P (Present) | 1649 | unitary | | |
| Nvidia (May 2005) | 5.21B | 4.04 | 2010M | 88.62M |
| S&P (May 2005) | 1291 | unitary | | |
The first thing to note is how cheaply AMD shares are trading with respect to the company's sales. It is quite apparent that significantly poor earnings figures have onset pessimism among investors. I have included the index and the ratio-to-index as a rough attempt to relate share prices from two different time periods.
AMD's disastrous 2012, a primer for opportunity:
Taken from the 2012 AMD Annual Report:
"Net revenue for 2012 was $5.4B, a decrease of 17% compared to 2011 net revenue of $6.6B. Gross margin, as a percentage of net revenue for 2012 was 23% compared to 45% in 2011. Gross margin in 2012 included the following charges, which resulted in a negative impact of 22% in 2012: a $273M Lower Cost or Market [...] charge, a $703M charge related to a limited waiver of exclusivity from GF and a $5M charge related to a legal settlement."
These devastating hits to the bottom line caused massive investor panic sending the stock to its 30-year low of $1.81. It is important to note that these charges corresponded to poor anticipation of sales in the "Computing Solutions" and "Other" divisions of the business. AMD had to cut a contracted order of silicon wafers, on the scale of $1B, from GLOBALFOUNDRIES by over two thirds resulting in massive penalties.
However, if one looks carefully through the earnings report: The graphics and computer components division had a very successful year with consistent sales and double the profits. This trend largely mimics Nvidia's growing margin the year before the console release as an era of specialization in graphics began.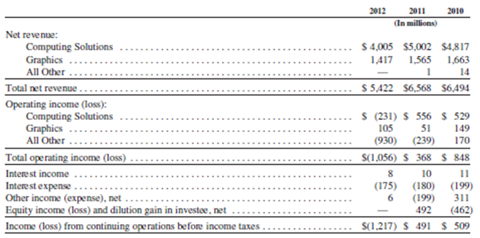 In 2012, residual pessimism and fear of recurring expenses had led to severe undervaluation of a company that will return to being a strong competitor in the chip industry in as little as 6 months.
The Play: Convincing Investors With a Successful Launch:
Current rumors state that 16 million PlayStation 4 units will be manufactured in 2013. There is still debate whether or not these will be shipped, but this is irrelevant to component manufacturers for the following reasons:
-Target release dates for the two consoles are both scheduled for autumn 2013, the usual attempt to land the product under some Christmas trees. This will intensify the already expected huge first quarter earnings after the launch.
-News shock from strong December consumer discretionary sales generally leads to very strong equity buying and would show sudden positive "buy" input for momentum and Internet scraping sentiment algorithms.
Unfortunately, I have found no solid predictions for the number of units Xbox wishes to ship by the end of the year. I will therefore continue my analysis on the basis that Microsoft shares Sony's goal of shipping 16 million units in 2013.
Considering that we cannot measure the total impact of the positive marketing and reputation-building these consoles offer for the processor component's company, income in the next few years has the potential to explode. In fact, we don't even need them to post big numbers later on since I plan on closing this position a week or so before the second earnings call (which would be Q1 2014) after the release of these two gaming giants' consoles. This is to gain the highest perception of demand from the optimism over sales surprise in Q4 without risking a first quarter miss on later high expectations in March 2014. And the best part about this play is it is significantly less exposed to future consumer sentiment because these particular sentiments tend to only affect the decisions of demanding customers who would have waited to purchase the consoles after Christmas anyways. These effects trickle into the following quarter.
The Numbers:
To get an idea of revenue I looked up the old PS3 component pricing. Nvidia was rewarded a whopping $129 per GPU and IBM got $89 for the CPU produced for the console at the time (with an additional $27 for the synthesizer module connecting the two).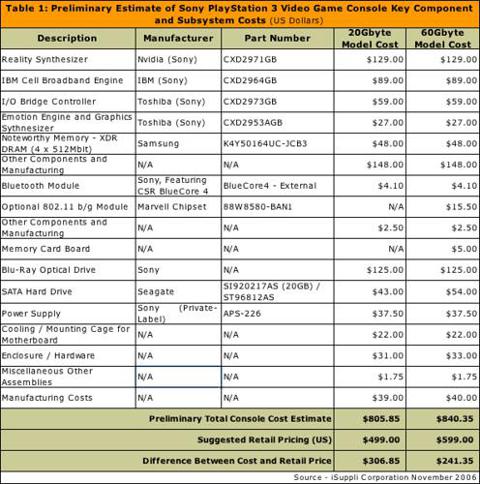 Now to get a lower bound, AMD just released a new quad core APU (GPU+CPU) processor for $99 a unit for orders of a minimum of 1k. The processor is among AMD's system-on-a-chip series along with the Jaguar used in the new consoles. This is a very useful comparison tool because we know that our eight core version of this will sell in bulk for significantly more than $99 but likely less than the $220 calculated above.
With those comparisons I will use a range of $150-$200 in revenue per unit.
With its historical gross margin lying roughly between 22-44% and considering its current non-operational costs, it is not a big stretch to assume that AMD will achieve profit margins similar to those of Nvidia back in 2005-2008: an average of 12.7%. This is a safe assumption because the industry average profit margin lies slightly higher at roughly 14% (taken from Schwab database). Since the production facilities will be largely standardized and the components mass-produced we could see margins get even better, like those of Nvidia after the release of the PS3 of up to 19%.
The Long Haul
Microsoft management expects that the next generation of consoles will collectively sell over 400 million units. This conclusion follows the "30% increase in sales rule" which speculates that each new generation of gaming consoles tend to sell 30% more over the past generation. Using this notion paired with the sales records of the previous generation one can estimate that these companies will sell:
-77 million Xbox 360 consoles, and
-77 million PS3 consoles
AMD is poised to sell over 200 million APUs over the next seven to ten years. In just under a decade this results in $30-40B in revenue and $3.81B-$5.08B in earnings.
Best Case Scenario Outlook:
My optimistic fair price for this stock will assume the Xbox One and PS4 sales goals are achieved:
-Microsoft and Sony both successfully convince investors by the end of the year that they will achieve their goal of 100 million units each as experts currently predict (30%+ for each generation is the expert consensus). This will be done with a breakout first quarter after the successful shipment of the 16 million units Sony is currently planning on shipping (with Microsoft following suit) and with very high rates of consumer satisfaction
-AMD maintains a gross efficiency of 44%
-AMD incurs no further management mishaps
-AMD will receive $200 revenue and 12.7% profit margin for each composite part
Beginning with the classic earnings approach, this guarantees the aforementioned profits of $5.08B over the ten-year lifetime of the consoles. Following an industry average of roughly 16 P/E factored into $508M a year in earnings, the market cap of AMD could be priced at $8.128B versus the current market cap of $2.89B. This translates to a price of $11.4 per share.
Using the lower bound of $150 per unit, the valuations work out to $8.44 per share.
I have also analyzed it from a top line perspective since I have heard sound arguments that the chip industry valuation is largely market-share and sales-driven rather than profit-driven. By using the chip-producing industry average ratio of 2.08 P/S, AMD could be priced at as high as $10.56B. This translates to a price of $14.6 per share (or $10.96 per share for a $150 dollar chip).
Negative Future Outlook:
My most pessimistic fair price for this stock given these educated assumptions would be for the company to return to its long-term price of around $5.7 per share. This assumption is based on a very poor Japanese market outlook (which is a growing possibility), disappointing corporate sentiment on components or the inability to erase the baseline loss of $1.18B this past year. The latter could only really be achieved if management continues to seriously misjudge its material needs, which should be avoided by the consistent contract relationship they will have with Microsoft and Sony. In other words negative demand surprises should theoretically only affect the company in later quarters.
In the late months of 2013 and perhaps even early on in 2014, the price will still rise because the initial shipments are uncorrelated to user opinion and Christmas 2013 will dominate the end of year income sheet.
Conclusion:
What I really wanted quantitative value investors like myself to take from this article is, given the public information available, $4 for a share of AMD seems unjustly under-priced by 2012's supply-side mistakes.
In the scope of the new risk-management paradigm of investing I believe this type of play is ideal. There is very low downside risk as the massive loss in the 2012 fiscal year is not the recurring type, especially now when sales contracts are pretty well guaranteed with two large companies.
Production of the consoles are going to begin in August and outsourcing companies have already indicated that Sony and Microsoft have begun importing components.
AMD is poised to take a significant percentage of the market share going into 2014. This will give the company some authority in the smartphone market, a side of the industry it has just recently dipped its toes into. With Apple (NASDAQ:AAPL) and Google (NASDAQ:GOOG) both claiming that they have certain "game-changing" products in the works, AMD's low-energy and high output system-on-a-chip APUs might be ideal for the next tech product cycle which is due to be primed by the end of the year with Xbox One, PS4 and Google Glass on the docket.
But most importantly, it seems that AMD is finally finding its identity. And although it can't be quantified, a specialty is one of the most essential qualities in a highly competitive marketplace such as chip production.
Disclosure: I am long AMD. I wrote this article myself, and it expresses my own opinions. I am not receiving compensation for it (other than from Seeking Alpha). I have no business relationship with any company whose stock is mentioned in this article.