The tick up in bond yields may have you worried housing's winning ways will derail as home buyers run away from rising mortgage rates. But you may want to consider using short term weakness tied to these worries to establish positions in both banks - such as Bank of America (NYSE:BAC) and Citigroup (NYSE:C) - and housing - such as Lennar (NYSE:LEN), Toll Brothers (NYSE:TOL) and D R Horton (NYSE:DHI).
The banking industry has been riding a wave of fee revenue tied to record low interest rates.
The mortgage fee money spigot may shrink to a trickle from a flood this summer as home buyers ratchet down mortgage demand hoping for rates to fall again.
However, if mortgage demand drops and bank fee revenue falls, bankers will fill the gap by easing underwriting standards to take advantage of wider spreads between the Fed funds rate and mortgages.
Those easing standards may open the home buying market up to the middle class again, significantly improving housing demand.
We've already seen banks widening the availability of credit.
In the Senior Loan Officer Opinion Survey, the net percentage of bankers tightening standards has dropped to -7.8%. For comparison, 1.9% bankers were still tightening standards a year ago. That's a stark contrast to the 74% who were tightening during the recession.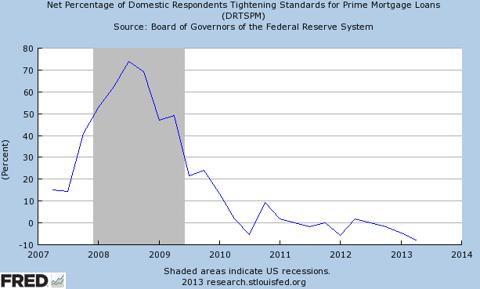 And while tempting to assume a tick-up in rates will create a standstill in housing that lasts beyond one or two months, it's important to consider how affordable housing has become versus renting.
The amount households are forking over to banks for mortgage payments and consumer debt has fallen considerably as a percentage of their disposable income. Exiting 2012, the average household was spending just 10.38% of income on such payments. For comparison, the measure has been a median 11.86% since 1980. Looking at the homeowner mortgage financial obligations ratio to income, the measure stands at 8.67%. The last time we were at that level was 2000.
It's also interesting to consider how this measure behaved following the Savings and Loan crisis of the early 1990s. If housing follows a similar pattern this time you can assume there will be plenty of demand for homes, boosting bank revenue and supporting homebuilder margins.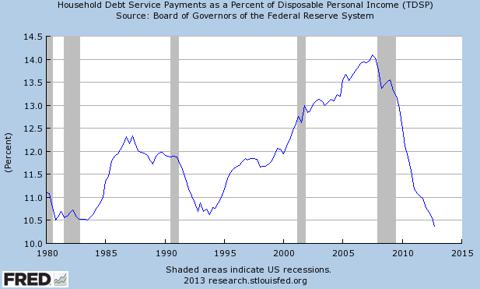 Higher rates don't necessarily mean lower bank profits.
In order to see whether bank profits are set to shrink once the Fed finally starts bumping rates higher, I looked at data compiled by the St. Louis Federal Reserve.
One measure of bank profits is the net interest margin, which reflects the spread between the rates banks charge borrowers and their cost of funds.
You might think higher rates mean smaller spreads. But, since 1990 the correlation between quarterly bank net interest margins and the quarterly Fed funds rate is a solid 0.46, putting it just shy of the 0.50 level typically associated with a strong correlation.
The reason for this is tied to the Fed's mission of controlling demand during inflationary periods. Inflation reflects excess demand, which in turn means higher banking demand.
So, even if rates are rising banks tend to enjoy a degree of pricing power when it comes to spreads. That pricing power tends to remain until rates reach the "magic" level that causes demand to finally rollover.
Arguably, given where rates are today, we're nowhere near that magic point.
While correlation doesn't allow you to take the leap and determine causation, it does question whether you should worry over rising rates. Instead of curling up in a ball, it's more likely banks will innovate to maximize return regardless of rate direction - at least until demand turns negative.
And, higher rates don't necessarily mean fewer home sales.
Home buyers who shelve plans hoping rates will move lower again may end up chasing rates higher instead. If the fixed income bonanza has indeed turned sustainably higher, locking in a historically low rate may trump the regret of not locking in the lowest rate.
If so, a stall in home sales this summer may prove short lived.
Consider the correlation between housing completions and the Fed funds rate going back to 1970.
Completions don't fall when rates are heading higher. Instead, much like net interest margins, they tend to climb. The correlation between the two is just 0.31. However, it shows home completions aren't negatively correlated to rates.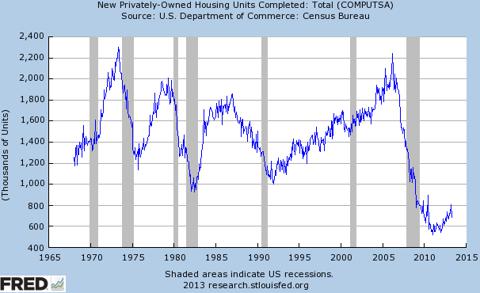 Consider the period of 1977-1980.
In the first quarter of 1977 the housing industry completed 1,742,000 homes. In the first quarter of 1980, the industry completed 1,766,000 homes. At the same time, Fed Chairman Paul Volcker was breaking the back of inflation, ratcheting rates up from 5.82% in 1977 to 15.05% in 1980.
It wasn't until we hit those extreme Fed funds rate levels that completions finally did roll over.
A similar trend played out following the savings and loan crisis in the early 1990s, with completions rising even as rates rose from 1993 through 1995.
This suggests a sluggish sales season could be followed by a re-acceleration as buyers realize rates aren't likely to go back to those multi decade lows. Even if the Fed isn't able to increase rates in response to demand growth, both banking and housing should continue to enjoy stable - even if anemic - growth.
Both banks and homebuilders may have additional room to run.
A good way to value both banks and home builders is price-to-book. The ratio divides the current market value of a company by the breakup value of the company. If the ratio is high, it suggests shares are overvalued. If it's low, it suggests it is undervalued.
At Bank of America, the price to book ratio is just 0.64. That's a far cry from the 1.27 ratio in 2008. Citigroup is similar with a price to book ratio of 0.80. Clearly, as long as these companies remain in business, you should at least feel comfortable you're not overpaying for them.
Housing stocks are trading a bit richer.
Lennar's price to book value is 2.07, down from a recent peak of 2.47. Toll Brothers and D R Horton are a bit more reasonable at 1.77 and 1.97, respectively. Historically, investors have shied away from the group when price to book gets above 2.50 and have pretty much abandoned them when they've gone above 3.
Some argue the current price to book is already too high.
However, an argument has been made book values are understated because of recessionary write-downs. You'll need to make some assumptions here, which is always a bit risky. But, if we assume consolidation in price tied to a short-term flattening in demand would allow book values to catch up, you may be getting a good buy opportunity.
For example, Lennar's book value was $2.7 billion in November 2011. It was $2.44 billion in November 2009. Today, its book value is $3.49 billion. A 10% move from its current share price would give you a price to book of 2.29. That's not unreasonably bubble-ish.
Or, consider Toll Brothers' book value was $2.59 billion exiting 2011 and just $2.44 billion in early 2010. Today the measure is $3.13 billion. Again, a 10% move would still give you a price to book ratio below 2, without the advantage of book value continuing to climb.
Finally, D R Horton had a book value of just $2.26 billion in 2009. Today, its book value is $3.74 billion. That's a 65% move higher in book value from the recession's end.
Given this backdrop, if you're playing the banks and home builders you should consider sell-offs tied to fear of rising rates a buy opportunity. Since both baskets tend to face summer headwinds, there's no reason to rush into positions. Instead, you should build your watch list with your targets and leg into positions.
Disclosure: I have no positions in any stocks mentioned, but may initiate a long position in BAC over the next 72 hours. I wrote this article myself, and it expresses my own opinions. I am not receiving compensation for it (other than from Seeking Alpha). I have no business relationship with any company whose stock is mentioned in this article.