There isn't much doubt, from my perspective, that Garmin (NASDAQ:GRMN) is an undervalued stock. It is trading at only 7x its earnings, which is near the company's historic lows. This alone says nothing, but combined with no debt, a 28% ROE, $11 book value, an astounding 43% insider ownership, only 23% institutional ownership, $4.6 in cash per share, and a current ratio of 6, this stock looks considerably cheap.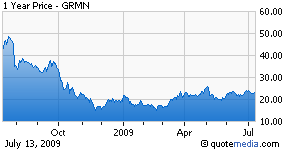 Now whether or not this stock is a long-term opportunity is speculative as to whether they can hold off the rest of its competitors in all of Garmin's end markets. With a ROE of almost 30%, the returns that Garmin currently generates will probably be eaten away by an increase in competition in the GPS/Personal Navigation industry. The GPS industry looks like it will soon undergo a change from a specialty product to a near commodity with it becoming more common, and this change might take many years, but as far as I'm concerned that's where I'm looking if I am going to value Garmin as a business. I see Garmin as the best placed company to grab a hold of the reins in this Industry looking to the future for many reasons, most of which are outlined below.
Reasons for Garmin's outperformance:
Only GPS/Personal Navigation company that leads the market in almost all the sectors it participates in (hiking, fishing, marine, aviation, personal, etc.). Brand recognition combined with continuous quality driven innovation could easily keep Garmin on top.
Most Garmin competitors specialize in only one or two of Garmin's end markets whereas Garmin is present in almost all of its competitors' markets and then some (Navico = fishing, hiking, hunting; TomTom = Personal and Automotive GPS).
Management has almost a 50% stake in the company (they want to see Garmin do well probably more than I do)

.
Expansion outside the traditional GPS market (The Nuvi Phone could provide another extremely profitable end market for Garmin, but they need to iron out the kinks and release it before it becomes the "much talked about but never released" cross industry expansion that Garmin could use to solidify its position on top)

.
Large amount of cash and no debt will allow Garmin to plow tons of money into R&D for future products, a task most other GPS/Personal Navigation companies cannot do because they do not have the cash hoard that Garmin does.
The large cash hoard also allows management to buy back stock at the currently depressed price of the company (approximately $300,000 worth, most of which is still to come). With a 50% stake in the company already, buying back the company's shares increases managements stake in the company as well as everyone else's. This will align them more in the same mindset as the investors who buy their securities, which is consistently increased value.
In a difficult economic landscape Garmin is systematically reducing its inventory to help cost cut by relying more on existing inventory rather than manufacturing more finished inventory. This allows the company to employ the cash elsewhere, such as buying back common stock.
Bottom Line:
Garmin as of right now looks cheap in accordance with its current valuation, which I believe should be closer to $45 or $50. This is mainly because the stock took a severe hit, like a lot of companies did, with this current economic turmoil. The risk with this stock below 45 or 50 dollars looks to be very minimal in my eyes, but beyond that lies strictly with how well Garmin can defend its market leader position in GPS/Personal Navigation as well as extend beyond that as they are currently trying to.
The main roadblocks to Garmin being seen as a severely undervalued stock are the problems and lawsuits that surround the patents they use and the patents used by their competitors. There seems to always be some disagreement between companies in this industry as to whose patent stands for certain products. Since patents in GPS devices are mainly on the software and features of the products, there is a large possibility of one feature being similar enough to another that a lawsuit ensues, many of which never materialize and end up in a relative stalemate (at least on Garmin's part). Most of the lawsuits seem to not have a major effect on how well the company can run the business, besides making them pay for litigation, so the current rundown from their peak price in the last quarter of 2007 seems to me to be illogical and not an accurate representation of the value of the business.
The current risk is minimal at $23 dollars a share for the market leader in a changing industry, and the opportunity for even greater than expected return is evident, but not guaranteed (as nothing is guaranteed in the stock market, especially not tech stocks due to the obsolescence factor). If Garmin takes the reins as it should, the market will eventually recognize its industry prowess and price the stock accordingly, which could be well into the 100's within the many years to come, but all else aside this stock should be currently valued at closer to $50.

Disclosure: I do not currently own any Garmin stock, but within the next month or two I will most likely be a Garmin shareholder.