By the looks of early sales, reception by the consumer and lack of major title releases, Nintendo (OTCPK:NTDOY) has scored an average grade on its newest platform the Wii U, released in November 2012. It does not look like it will become the outstanding success of its last platform launch of the Wii in 2006.
Alas, hope is NOT lost on the company and its ability to ring in profits with an average product cycle. The market has correctly punished Nintendo's two consecutive years of losses and an average product cycle. The stock's ADR is currently trading at $11.75 per share.
In my first article about Nintendo, I wrote a balanced article, bullish on long-term business economics but weary of short-term performance and new disruptor, Apple (NASDAQ:AAPL). Read here: "Nintendo's Hidden Competitive Advantage."

Competition
The competitive landscape does not bode well for the traditional gaming market. The emergence of the smartphone and tablet market has disrupted the traditional gaming industry. Apple's iPad/iPhone/iTouch gaming competes with Nintendo, Xbox (NASDAQ:MSFT), and PlayStation (NYSE:SNE) products and has been eating away gaming market share at an alarming rate.
The reception of the new Xbox and PlayStation was lukewarm at best. This actually helps Nintendo because it is now one step ahead of both companies. Consumers now know all gaming console options and will most likely open their wallets to the console with the better games available. If Nintendo releases some great games and a console price reduction during the Christmas holiday, it will be in the best position to win consumer dollars.
| | |
| --- | --- |
| Apple | Microsoft Xbox One |
| | |
| Nintendo Wii U | Sony PlayStation 4 |
| | |
Company Performance with Modest Success
The chart below illustrates two major product cycles by Nintendo. Gamecube did not meet expectations and underperformed the gaming market. Yet Nintendo was still able to make profits and earn a respectable ROE. The Wii product cycle astounds consumers and innovates the industry, making it the bestselling Nintendo platform of all time. The Wii-U launch makes small incremental improvements to the Wii. Whether this will be enough to engage the consumer, time will only tell. The launching of the popular gaming titles, Mario/Zelda/Metroid/Pokemon, will be the catalyst.
| | | |
| --- | --- | --- |
| | GameCube Product Cycle 2002-2006 | Wii Product Cycle 2007-2012 |
| Avg EPS | $ .73 | $ 1.59 |
| Price Range (yearly avg) | $ 10.66 - $ 20.59 | $21.38 - $ 58.59 |
| Avg P/E | 22 | 12 |
| Avg ROE | 8.5% | 13.6% |
Nintendo's sales forecast seems modest and corresponds closely to the performance of the GameCube product cycle (2002-2006). FY Mar 2014 EPS is forecast at $0.53-$0.60 (USD, ADR).
Last, the appreciation of USD against the yen will be a tailwind for earnings. The USD has already appreciated 10%+ versus the company's forecast exchange rate of Y90.
Buy at Book Value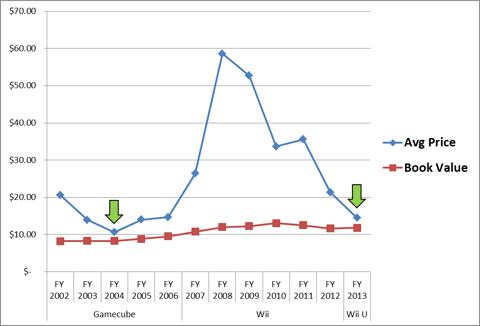 The market is giving investors the opportunity to buy Nintendo at tangible book value for the second time in 10 years. This is a great opportunity for long-term investors to buy if they believe in Nintendo's competitive advantages, niche market, and great company fundamentals.
Short-term State of Mind
With a volatile Japanese market, I think you could see Nintendo's ADR trade in a $10 - $15 range for 2013. The Bank of Japan is doing everything in its regulatory power to juice the Japanese economy.
Yale University Professor Koichi Hamada, special advisor to Japan's Prime Minister Shinzo Abe, told Dow Jones that "random stock movements of between 10% and 20% are nothing to be surprised about," according to Barron's Weekly 6/3/2013, review section.
Disclosure: I am long OTCPK:NTDOY, AAPL. I wrote this article myself, and it expresses my own opinions. I am not receiving compensation for it (other than from Seeking Alpha). I have no business relationship with any company whose stock is mentioned in this article.