Wal-Mart (NYSE:WMT) is one of the blue-chip companies in the United States which has been giving steady returns over the past few years. In this article, I will discuss why this company is still a 'buy' even after the recent run-up in the price of this stock.
Company Analysis
Global Presence and Unrivaled Distribution Channels
Unlike other companies, Wal-Mart remains to be at the soft spot of the investing public and analysts alike, because of its sheer brand value and good management. The management of the company has been excellent, which made the company's brand value to go higher. Sam Walton reinvented the higher-volume sales and lower profit margin business model into a whole new level. His retail empire expanded to 8,500 discount stores in 15 countries listed under 55 different names with more employees than seven times the population of Iceland. Wal-Mart is one of the companies in the world with the most strategic network of physical branches. 90% of Americans live within 15 minutes of a Wal-Mart store and it is said that almost everyone in the world will make an average of 1.1 purchases at a Wal-Mart store. With these credentials, it is safe to say that Wal-Mart will most likely retain its driving force in the economy and capitalism as it is. I believe that Wal-Mart is one of the safest blue-chip companies listed on the NYSE.
Financial Analysis

Click to enlarge
Price Movement
Wal-Mart has been moving in tandem with the DJIA and the stock is up by 13.31% (Year to date). The PE multiple of the company stands at 15.24x and is expected to remain steady in the next few quarters. It has a high earnings-per-share of '5.07' and is still expected to grow at a stable rate thus deflating the PE ratio in the future. The company's growth in price is supported by the increase in its margins and bottom line figures. Furthermore, Wal-Mart's price-to-cash flow multiple of 14.9x supports that the valuation of the company is quite accurate. The price/book value is close to the industry average which is at 3.6x.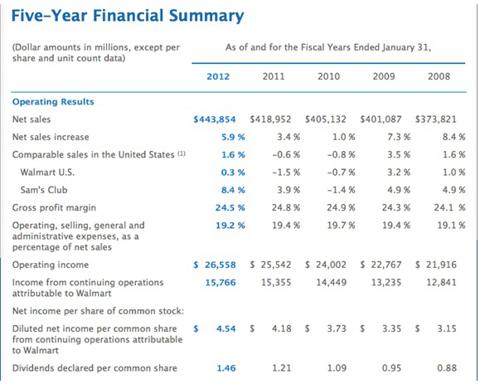 Click to enlarge
Growth Over Prior Year
Wal-Mart generated around $443 billion revenue in the last financial year, 2012. It generates cash very efficiently and takes materials into a higher level of production. Net sales displayed a CAGR of 4.4% while EBIT has also posted correlated growth rate with a 4.9% CAGR. In FY2013, though not yet restated, the company announced $469 billion of revenues, which is 5.86% higher than last fiscal year. The bottom line of the company grew to $17 billion from $15.7 billion. As an investor, it is very important to look at the maturity of the company's management in terms of prioritizing the internal growth of the company consistently. Wal-Mart has showed that they can still grow at a constant pace given their already extreme size. It is definitely a crucial factor in picking a blue-chip stock to invest in.
Profitability
Its profitability is represented by the strength in its ROE, which stands at 23.62%. This company is capable of generating cash internally for growth. With the company's size, the ROA of 8.72% is pretty impressive. Wal-Mart sees that each asset is generating enough income to support the entire growth of the company. Moreover, the management showed their cost-controlling expertise by keeping the gross profit margin afloat at an average of 24.52% through out the 5-year period.
Maximizing Shareholders' Value
Wal-Mart is generous in giving dividends back to the shareholders. With shares outstanding of 3.3 billion, the company is still offering $1.46 per share with a 2.24% Dividend Yield as of FY2012. This kind of growth in dividends is very attractive for a growth equity investor. Moreover, the company's stock price moved by around 21 percent in the last financial year.
Conclusion
Overall, the company has still potential for growth, an expert management team, and a generous dividend payout. Based on the analysis above, the company is neither overvalued nor undervalued. The market priced the company with near accuracy at valuation levels thus making it attractive for long term retail and institutional market players. In conclusion, Wal-Mart is definitely a 'BUY' for growth and long-term investors relative to its price just like their famous slogan "Low prices, always".
Disclosure: I have no positions in any stocks mentioned, and no plans to initiate any positions within the next 72 hours. I wrote this article myself, and it expresses my own opinions. I am not receiving compensation for it (other than from Seeking Alpha). I have no business relationship with any company whose stock is mentioned in this article.