There have been a few notable trends in the computing world the last couple of years:
The decline of the PC
The spectacular assent of smartphones, tablets, and hybrids
These trends have, at least until now, been to the detriment of Intel (NASDAQ:INTC) and Microsoft (NASDAQ:MSFT), and have been a boon to the likes of Apple (NASDAQ:AAPL), Samsung (OTC:SSNLF), and ARM Holdings (NASDAQ:ARMH). The interesting story is whether Intel and Microsoft can make anything of a comeback.
Decline of the PC
We argued some time ago (here, here and here) that this was really a trend and despite running into some heated comments at the end of these articles, up until now we feel rather vindicated. Our thesis was really based on the Asus Transformer, a tablet/hybrid with a keyboard that doubles as a second battery. This platform offered a host of advantages:
Extraordinary screen quality (compared to the laptops back then)
14+ hours battery life
Tablet and laptop in one
Instant-on
Portability, extremely thin and light
Yes, we were aware that it runs Android, with the limitations attached to that (no legacy Windows software, no heavy-duty computing), but we felt that for many users, the advantages would far outweigh the disadvantages and that over time, more apps would become available and the ARM based processors would improve enough to make the disadvantages gradually decrease in significance (although not, perhaps, for the business segment running Windows software).
Well, PC sales are actually declining, here is a interesting little graph from Dell: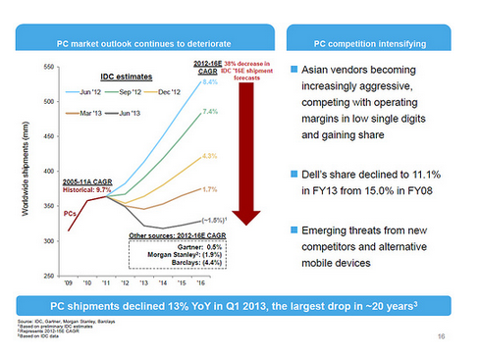 You might want to take that bottom part in:
PC shipments declined 13% YoY in Q1 2013, the largest drop in ~20 years
Indeed.
Wintel fightback
Of course, Intel and Microsoft are not rolling over. Microsoft came out with Windows 8 to unify the tablet/hybrid/pc world and Intel came with the new Haswell processors that provide a quantum leap (about 50%) in energy efficiency. We already wrote about Microsoft's prospects and our main conclusions were:
Better chips from Intel would be a necessary, but not sufficient requirement
Android and iOS have a first mover advantage that's difficult to overcome
Windows 8 needs to be improved and way more apps need to be available
Despite these better Intel chips now arriving, we were not too optimistic, but the jury is still out. However, many people are jubilant about the prospects for Intel. Many articles were published on Seeking Alpha and elsewhere already doing victory laps for Intel. There is no doubt that the Haswell processors are a significant leap forward, but we're not convinced here either.
An important plank under the Intel revival thesis is that these Haswell processors now enable Windows 8 laptops, ultrabooks, and tablets to share some of the advantages of the Asus Transformer set out in the beginning of the article, that is, instant on devices with sleek form factors, much better screens, providing all-day battery life.
We're not so sure that this is complete though, and neither is Jared Newman writing for Techland, who wrote an article a couple of days ago titled "Still waiting for the perfect Windows 8 hybrid." While it isn't a hybrid but an ultraportable (or ultrabook), apart from a foldable or detachable screen, the new Sony VAIO Pro 11 comes pretty close to the criteria that Newman mentioned (regarding size, battery life, screen, etc.).
And indeed, previous incarnations of this wonderful little machine (like the Sony Z) gathered a fanatical following (us very much included), and the Pro 11 is powered by one of the new Haswell processors and has an 11 inch full HD (1920x1080) IPS screen, something unheard of in laptopland until tablets showed the way. It also starts at a little over half the price ($1150) its previous incarnation commanded ($2000+).
Wonderful, one is inclined to think. Until you meet the new Asus Transformer, armed with the new (ARM based) Tegra 4 processor. This has a detachable 10 inch IPS screen with a 2560x1600 resolution, way sharper than the Sony Pro 11. It's also smaller still, and has twice the battery life of the Sony. (7 versus 14 hours) and doubles as a tablet with its detachable screen.
It's even capable of 4K output (although the Haswell processors can do that as well). But the point is, the Transformer still beats the Sony in form factor, battery life, screen, and a device able to run 4K screens can't be called a toy anymore (as some here were calling these tablets and hybrids). It has a USB 3.0 port, Bluetooth 3.0, HDMI and an SD slot.
Yes, it runs on Android, not Windows 8, but we repeat, this isn't a toy anymore. This new Transformer is also almost certainly considerably cheaper than the Sony Pro 11, and much of the price differential is caused by the more expensive processor (Intel) and software (Microsoft).
That is a rather big disadvantage, we'd say that unless you really need legacy Windows software (for which there is no Android equivalent), you'd be better off with an Android/ARM based device like the new Transformer. Better and cheaper.
For all the song and dance people are making about Intel coming domination, one might want to look into the near future of the Tegra chip powering the new Transformer to keep a check on your enthusiasm.
NVIDIA's (NASDAQ:NVDA) fourth generation of its Tegra chip is the one that's powering the new Transformer. This chip has 72 GPU cores and a separate LTE modem chip, matching current offers from Qualcomm (NASDAQ:QCOM) Snapdragon 800.
By the fourth quarter, the Tegra 4i will be just half the size of that, with significant progress following next year with the arrival of 64-bit Tegra's. And the likes of Qualcomm and Samsung are not sitting still either, nor is ARM itself.
In the meantime, you might wonder how much thicker the screen of the Sony Pro 11 has to be if it could serve as a detachable tablet as well, as the Haswell chip still needs a fan. And even with the latest Intel chip, the Sony has some limitations:
Might want to spring for more RAM to help multitasking on the Pro's 1080p screen run smoother. [Business Insider]
Conclusion
It's a little early to cry victory for Intel. No doubt, the new Haswell processors go a long way in mitigating the disadvantages Intel powered hybrids and tablets running Windows 8 have compared to ARM based hybrids and tablets running Android, although they're not quite there yet. Perhaps the new Atom based processor (Silvermont) could make the final leap.
But, as we've tried to demonstrate comparing the new Sony Pro 11 with the new Asus Transformer, the gap hasn't been closed yet, and disadvantages of price and the head-start of Android (and iOS) remain.
Unless you really need legacy Windows software (like many business customers), there isn't a compelling reason not to go for the ARM/Android based devices. As you can see, the likes of the new Asus Transformer are really nifty little machines.
We believe that chips don't matter all that much, processors from both camps will soon be good enough to enable everything (computing power, form factor, although there will always be demand for more battery life).
Which will make the choice of device one that will be based on design, available software, and price. Intel will likely eat into the hybrid/tablet world (due to the advantage of enabling legacy Windows software), but given the head-start of ARM/Android and iOC, we would be surprised if they take the market by storm.
Disclosure: I have no positions in any stocks mentioned, and no plans to initiate any positions within the next 72 hours. I wrote this article myself, and it expresses my own opinions. I am not receiving compensation for it (other than from Seeking Alpha). I have no business relationship with any company whose stock is mentioned in this article.