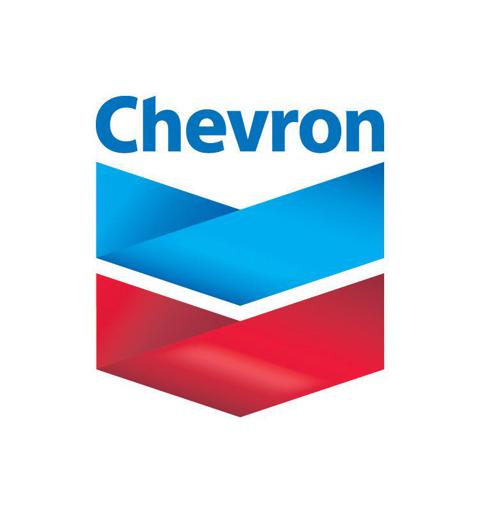 Yesterday I read an interesting article by fellow Seeking Alpha contributor "The Oxen Group": (Chevron Lacks Near Term Catalyst, Needs A 15% Correction). The article left me quite confused. The Oxen Group appeared quite positive about Chevron (NYSE:CVX), yet said the stock needed to correct 15%. I too am very positive about CVX, but I think the chances of the stock going up 15% are far greater than seeing a 15% correction.
In refuting the Oxen article, I feel the need to start with the title. Now I hate to sound like Bill Clinton, but much here depends on what your definition of "near term" is. In an industry like the international oil & gas business, where it is common for large projects to be multi-billion dollar investments and require years of engineering and construction before becoming operational, "near term", at least in my mind, means 6 months to a year (at a minimum). With that in mind, I think you will agree that Chevron has many "near term catalysts". Just to name a few:
Low cost domestic natural gas and NGL feedstock providing a huge tailwind for arguably the best Chemical company in the world: CPChem.
Three big growth projects in deepwater Gulf of Mexico are all on schedule for startup in 2014. These projects have a total production capacity of 296,000+ boe/day.
CVX's profit ber barrel continues to be #1 in the industry, and by a long shot. CVX's net income per barrel is $24. The next closest peer is Exxon Mobil (NYSE:XOM) at $19.8. This is "near term" financial performance as in "today" and "every barrel and everyday".
The company recently increased its quarterly dividend to $1/share. As of today's close CVX yields 3.3%.
Upstream Vice Chairman George Kirkland had these comments to say about the company he runs (quoted from the CVX 2013 Annual Meeting press release):
Kirkland noted that Chevron Upstream had industry-leading performance in both safety and financial performance in 2012. Earnings per barrel have averaged almost seven dollars per barrel higher than the average of the company's peer group over the past three years. Cash margins also have been the highest of its peers for three years and ROCE for the last two years. Chevron is on track to deliver on its commitment to produce 3.3 million barrels of oil-equivalent per day by 2017, more than 98 percent of which will come from fields that are online today or from projects under construction or in detailed design. Over the next five years, 50 projects with a Chevron investment of more than $250 million each are scheduled to start production, 16 of which have a net Chevron investment exceeding $1 billion. Construction on the Gorgon liquefied natural gas (NYSEMKT:LNG) project in Western Australia is over 60 percent complete, with startup expected in late 2014. Start up of the Wheatstone LNG project, also in Western Australia, is planned for 2016.
This doesn't sound like a company that "needs a 15% correction". This sounds like a company that is ready for a 15% gain.
Do As I Say, Not As I Say (Huh?)
So now let's focus on The Oxen Group's seemingly self-contradictory assessment of CVX. Some quotes from the Oxen Group article include:
Chevron scores very well on our value assessment.

CVX shows great value as well, though, in its debt-to-equity ratio and price-to-operating cash flow ratios - both score at our highest level at a 10.

Profitability is Chevron's most appealing indicator for investors at this time.

The positive for CVX, though, is that the company has strong inventory turnover, cash conversion cycle, and operating cash flow.

Finally, we do see strong operating cash flow for CVX.

Chevron ranks at the top of oil/gas companies when it comes to financial health in our research...
Then Oxen goes on explain why there really isn't value in the shares. Is this self-contradictory or do I just need to upgrade my reading comprehension skills?
Farther along in the article, and despite the title of the article itself, Oxen says:
We judge catalyst on a scale of 1 - 10, and for Chevron, we believe that the company has some definite positive catalysts moving forward that we noted in our Growth section, but we have some worries about the potential of new developments.
So let me get this straight, Chevron has some "definite positive catalysts" or don't they? I guess it gets back to the definition of what "near term" or "moving forward" is.
On Chevron's prospects in the Gulf of Mexico, Oxen says:
The other growth area for the company is the Gulf of Mexico where CVX recently struck oil in the Gulf. The discovery, though, is 6 miles below the surface of the water.
And then Oxen completely ignores the 296,000+ boe/day of production that Chevron led projects have coming online in 2014. All these barrels are coming from deepwater. For a detailed discussion of those projects, please see my article Chevron In The Gulf Of Mexico: Full Steam Ahead. Perhaps 2014 isn't "near term" enough. Or maybe over a quarter million boe/day isn't a catalyst. I dunno.
Conclusion & Summary
My head still hurts from reading the Oxen article. Perhaps I am just dense - I have been told this before. However, it seemed to me that The Oxen Group had oodles of great things to say about Chevron, then goes out of their way to (seemingly) contradict all the good things they just said. Is it happy hour yet?
For CVX to suffer a 15% correction, the stock would need to fall to around $100/share, giving it a trailing 12 month PE of 7.6 and a yield of 4%. Good luck with that. The only way I see CVX falling to $100 is if the entire stock market takes a dive. I suppose it is possible. These days (anything seems possible these days). But likely? I don't think so. One thing I promise you, if CVX does fall to $100, the Fitzman will be grabbing shares with both hands.
And oh, by the way, shareholders will be paid that tasty $1 quarterly dividend on June 10th. That might not be a "near term catalyst" for some, but next week I'll be happy about it.
Meanwhile, just look at the stock chart below. Doesn't that look like a stock ready to breakout to the upside after making higher highs and lower lows?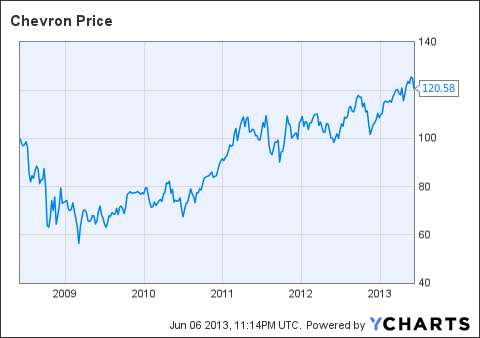 CVX = $120.58
Mkt Cap = $233.8 billion
EPS (ttm) = $13.23
P/E (ttm) = 9.1
Div (Yield) = $4.00 (3.32%)
NOTE: Data courtesy of Yahoo Finance.
Bottom line is this: Chevron Is The Best Integrated Oil Company In The World. It has substantially outperformed its peers over the past 5 years and I see no reason to believe it will not do the same over the next 5 years. Chevron is a STRONG BUY anytime it dips below $120/share. By the end of this year, it may well be under $100....but only because the Board Of Directors decided to split the shares 2:1.
Disclosure: I am long CVX, XOM. I wrote this article myself, and it expresses my own opinions. I am not receiving compensation for it (other than from Seeking Alpha). I have no business relationship with any company whose stock is mentioned in this article.
Additional disclosure: I am an engineer, not a CFA. The information and data presented in this article was obtained from company documents and/or sources believed to be reliable, but has not been independently verified. Therefore, the author cannot guarantee its accuracy. Please do your own research and contact a qualified investment advisor. I am not responsible for investment decisions you make. Thanks for reading and good luck!