During this year's Computex in Taipei, techies around the world were given demonstrations of new hardware about to be unveiled.
As an electronic junkie, I have been very excited about getting some new gear. I have alerted my better half that she is getting ready to inherit my old MBP (MacBook Pro) so I have an excuse to test out some new hardware.
Intel (NASDAQ:INTC) has noticed the importance of mobile computing. Hence their foray into establishing a Tick-Tock type of cadence with their new mobile devices, the first of which we should see sometime around the end of the year by the code name of Bay-Trail. Advanced Micro Devices (NYSE:AMD) is also putting emphasis in this growing sector via their Jaguar based Temash and Kabini SoCs.
I feel tablet and smartphone SoCs are of value to investors since they represent growth in the midst of slumping PC sales. The IDC reports:
IDC now predicts tablet shipments will exceed those of portable PCs this year, as the slumping PC market is expected to see negative growth for the second consecutive year.
The following benchmarks all appear to be from various PR slides from their respective companies.
Image taken from TheVerge.com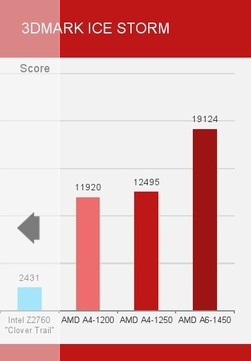 The following 2 images taken from HotHardware.com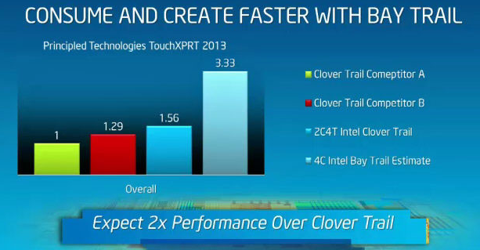 Now for a little math: In the 3DMark Ice Storm benchmark the previous generation Atom scores a 2431. Even if "Bay Trail Estimate" is 4.7x of the Clover Trail Atom, it achieves a score of 11426, falling short of AMD's weakest APU. AMD's A6-1450 handily destroys it. It appears that AMD could be stealing the performance crown for the tablet market, at least in regards to gaming.
Conclusion
Keep in mind this article is only in regards to tablets. From what I have seen, Intel is free from competition in the near term from AMD in smart phones, so there is potential for both companies.
Mobile computing is about establishing a balance of price, power, and longevity.
AMD is known for their low prices; that's the only way they've been able to compete against Intel. Intel's Core i series CPUs will most likely be more powerful than AMD offerings, while coming at a higher premium, so AMD appears to be the price/performance winner here.
AMD is known for losing to Intel in regards to raw computing power in the PC market, but this appears not to be the case in the tablet arena.
Intel is trying to coin a new measure of power, "SDP", which stands for "Scenario Design Power." SDP aims to measure power consumption during nominal workloads. AMD's A4-1200 has a TDP (the more conventional standard of measurement) of 3.9W. It will be hard to do an "apples to apples" comparison here, but keep this fact in mind if you see an advertised power consumption for Intel's Bay Trail. Intel's Bay Trail may offer better battery life; Intel has placed an emphasis on power savings with their newer architectures.
Consoles started AMD's most recent rally. A performance victory for AMD could be another huge win. This may sway consumers to forego seeing Intel offerings and commit to an AMD tablet, provided OEMs make them available. And this is of particular interest because it is yet one more way AMD is offsetting declining revenue in the falling PC market.
Disclosure: I am long INTC, AMD. I wrote this article myself, and it expresses my own opinions. I am not receiving compensation for it (other than from Seeking Alpha). I have no business relationship with any company whose stock is mentioned in this article. I may add to my INTC or AMD positions at any time.