By Joseph Tanious, CFA
Global Market Strategist J.P. Morgan Funds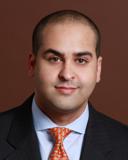 Today, 368 of the world's 500 largest companies are domiciled outside the U.S. (Fortune, July 2012) and the U.S. economy represents only 20% of global GDP. Despite these large and growing investment opportunities outside our borders, U.S. investors continue to demonstrate a home country bias, a disposition which some would say is justified.
On one hand, there have been bouts of negative headlines centered on international markets, but on the other, the most recent ones have been about Cyprus - a country of about 1.1 million people (Worldbank, 2011), roughly the same population as Rhode Island. Yes, there's risk of contagion, but when isn't there? After five years of crisis, volatility and chaos, investors have begun to look beyond the headlines.
Sideways markets . . .to date
Here in the U.S., the S&P 500 and Dow are at or near all time highs while European equities haven't recovered at anywhere near the same pace. As of March 31, MSCI EAFE still needed to increase by 47% to climb back to its pre-recessionary peak. Even after decent returns of late, there's a lot of ground to be made up. A similar story, albeit to a lesser degree, is true of emerging markets, but more on that at a later date. [Slide 39 of J.P. Morgan's Guide to the Markets]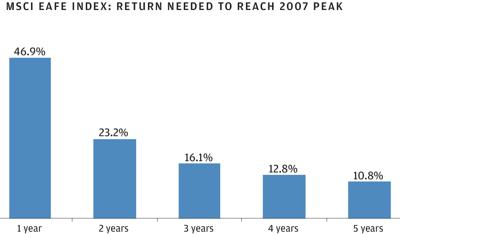 Source: Standard and Poor's, MSCI, IMF, FactSet, J.P. Morgan Asset Management. Analysis as of 3/31/13; implied average annualized total return. All return values are MSCI Gross Index (official) data. Definition of emerging markets is based on MSCI data. Data assume dividend yields as of 3/31/13 (MSCI EAFE: 3.3% and MSCI EM: 2.7%). Chart is for illustrative purposes only. Past performance is not indicative of future results.
"But prices are low for good reason aren't they?"
Not anymore. Granted, economic growth prospects for the Eurozone are muted at best, but there's a strong argument to be made that the Eurozone's increasing exposure to growth in the emerging markets offsets a lot of the stagnation at home. In increasingly interconnected global markets, what's important is not where a company is domiciled, but where it does business. On average, European companies now pull in about one third of their revenue from emerging markets, and for many firms, that proportion is much higher. Skilled active equity managers can identify European firms that successfully access these areas of global economic growth. But ultimately, equity investors don't buy macroeconomic growth prospects, we buy stocks.
European equity valuations appear well supported today. As a consequence of sideways markets and an improving outlook, forward P/Es are below their historic averages and below those of U.S. equities. Price-to-book and price-to-last 12 month's cash flow valuations both tell similar stories - valuations for European equities deserve attention. Slide 54 of the Guide to the Markets provides country-level and aggregate specifics through March 31. The valuation story hasn't changed markedly since then. Furthermore, if you and/or your clients think equities are a viable source of income, take a look at equity yields in France, UK and Switzerland - 3.8%, 3.6% and 2.9% respectively (FactSet, 3/31/13).
Restored faith in the Euro
It's become evident that the ECB is committed to the Euro. Investors could be forgiven for questioning that commitment over the past three years. Now it's obvious to all. Mario Draghi, head of the ECB, has promised to do '"whatever it takes'" to preserve the euro. The Securities Markets Programme (NYSE:SMP), Long-Term Refinancing Operation operations (LTRO), and Outright Monetary Transactions (OMT) have together helped to stabilize the banking system, lowered sovereign borrowing costs and reduced the intensity of the crisis.
Markets have found that it is hard to argue with the calming effect of the ECB's promise to buy unlimited quantities of bonds from a qualifying country. Slide 49 of J.P. Morgan's Guide to the Markets summarizes the resulting effect on sovereign bond yields nicely.
Austerity becomes flexibility
In the U.S., a rather embarrassing calculation error by two prominent and oft-quoted economists has dominated academic and political discussions of austerity. In Europe, they've taken a different approach to reaching the same conclusion - easing up on austerity might be the best way to navigate the narrow path between ballooning deficits and longer unemployment lines. The IMF now argues that the current pace of austerity in Europe needs to be a bit more flexible to ensure that it does not restrict growth. Even the UK Chancellor George Osborne promises 'flexibility' in his deficit reduction plans. If Angela Merkel is reelected this summer, a more pro-growth approach could follow.
More recently, we've seen continued monetary easing (another 25 bps on May 2) being offset by fiscal austerity. Contraction meets expansion with unsurprising results, but equity investors should consider what the end of austerity means for that equation.
Firm-level growth is what ultimately matters
U.S. profit margins have recovered to near peak levels, but margins for international firms remain below pre-crisis peaks and thus may have more room to recover. Labor costs in Europe have fallen overall. This is not just a result of high unemployment, but also because of structural reforms to pensions, unemployment benefits and welfare systems.
While all of these developments seem positive, there's often a big difference between broad macroeconomic statistics and the performance of individual stocks in a portfolio or fund, so the case for European stocks ultimately rests on what's happening at the firm-level.
Although economic growth in Europe has been stagnant overall, many individual companies have improved their financial positions. Since 2008, the percentage of European companies with net cash on their balance sheets has increased, helping net debt-to-equity ratios to decline. After aggressively deleveraging, firms can now choose to re-leverage by borrowing at historically low rates - funding future growth initiatives and potentially increasing the amount of cash returned to shareholders.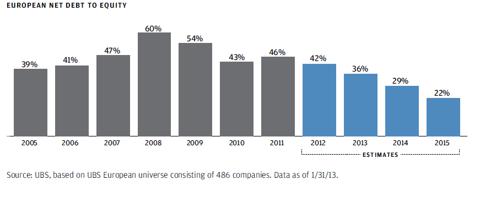 The end of pessimism?
Low stock prices, an improving monetary and fiscal framework and an activist central bank have created opportunities, especially for active managers with the wherewithal to make the most of the sometimes disparate conditions across regions and within sectors.
If fund flows are any indicator of sentiment, investors today aren't exactly glowing about the Eurozone, despite improving conditions. However, as Sir John Templeton once said, 'Bull markets are born on pessimism, grown on skepticism, mature on optimism and die on euphoria.' Over the next few months I think we'll see investor pessimism morph into skepticism, as the discrepancy between sentiment and opportunity dissipates further.
Disclaimer:
Opinions, estimates, forecasts, and statements of financial market trends that are based on current market conditions constitute our judgment and are subject to change without notice. We believe the information provided here is reliable. These views and strategies described may not be suitable for all investors. References to specific securities, asset classes and financial markets are for illustrative purposes only and are not intended to be, and should not be interpreted as, recommendations. Past performance is no guarantee of future results. Please note investments of any kind involve market risks that are influenced by the economic/political environment as well as prevailing market conditions.
International investing involves a greater degree of risk and increased volatility. Changes in currency exchange rates and differences in accounting and taxation policies outside the U.S. can raise or lower returns. Also, some overseas markets may not be as politically and economically stable as the United States and other nations.
JPMorgan Distribution Services, member FINRA/SIPC
J.P. Morgan Asset Management is the marketing name for the asset management businesses of JPMorgan Chase & Co. Those businesses include, but are not limited to, J.P. Morgan Investment Management Inc., Security Capital Research & Management incorporated and J.P. Morgan Alternative Asset Management, Inc.
2013 © JPMorgan Chase & Co.
Disclosure: I have no positions in any stocks mentioned, and no plans to initiate any positions within the next 72 hours.
Business relationship disclosure: This article was written by Joe Tanious, Global Market Strategist, J.P. Morgan Funds, and submitted on his behalf via the J.P. Morgan Funds' Seeking Alpha profile.