Introduction
Hours, days, and months can go by debating whether Apple (NASDAQ:AAPL) has any WOW factor remaining, and whether the passing of Steve Jobs was the beginning to the end of Apple innovation. Per numerous reports over the past months, and just by what I see people holding on the elevator ride up to my office every morning, it is now clear that the Samsung (OTC:SSNLF) Galaxy series is a real threat to Apple's dominance in the smartphone industry. Given all the negativity surrounding the company's growth prospects, whether you're an "Apple Fanboy" or not, Apple remains a very strong value buy based on fundamentals, specifically based on the P/E (Price to Earnings) ratio metric.
Below you will find a number of scenarios of the future of Apple's earnings, both positive and negative, and ultimately, a strong argument can be made that Apple is a value buy at current price levels in comparison to its peers in the tech space even if the company's earnings decrease by 50%.
To start off, the table below shows Apple's Trailing Twelve Month P/E compared to its peers and industry averages.

Keep these comparable companies and industry averages in mind as we continue on to our various scenarios analyses. Also, it is important to note that while Apple's growth has slowed down from its own previous standards, the company has significantly outperformed its peers, industry, and the S&P 500 in EPS growth. Additionally, Apple is currently trading well below Microsoft's (NASDAQ:MSFT) P/E, and even below Intel (NASDAQ:INTC) and Dell's (NASDAQ:DELL) P/E.
For the purpose of this exercise, I am using the P/E industry average of 16.8 of the Computer Hardware industry as the benchmark average to run the sensitivities since that is the lowest P/E amongst the industry level comparables.
[Note: If you'd like to create this exercise in Excel, the figures in blue are manual inputs while the other numbers are driven by basic formulas]
Scenario 1: AAPL Current Levels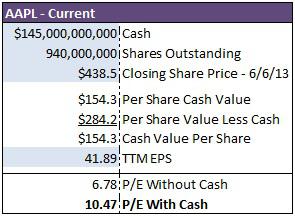 Per the company's closing share price as of June 6th, 2013 and TTM EPS of $41.89, the current P/E ratio is 10.47. If you take into account Apple's astronomical cash balance of $145 billion, the current P/E ratio is even lower at 6.78, and the cash balance alone is worth approximately $154 per share.
Keeping the P/E averages of peers and the industries shown in the opening table in mind, Apple at a 10.47 P/E ratio trades well below its industry comparables, and its P/E ratio without cash of 6.78 makes this stock extremely attractive at these current levels.
Scenario 2: 52-Week Low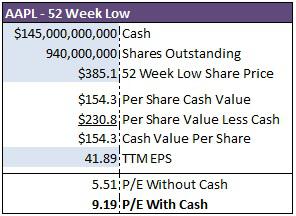 Apple's share price reached its 52-week intra-day low of $385.10 per share on April 19th, 2013. The shares have rallied approximately 14% since then. This scenario is worthwhile noting to get a sense of Apple's near-term bottom. The 52-week low brought the company's P/E ratio down to approximately 9.2 before investors scooped up shares, and set a bottom for the stock, both in stock price and P/E levels.
Scenario 3: Hypothetical Share Price To Reach Industry Average P/E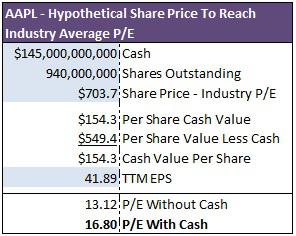 To reach the industry average P/E of 16.8, and assuming Apple's EPS stays the same at $41.89, Apple's share price would have to be approximately $704. This is an approximately 60% increase from the current share price as of June 6th, 2013 just to reach the industry average of 16.8 P/E ratio.
However, as noted above, and as mentioned all over the news in the past few months, there are strong and valid concerns of Apple's growth prospects. Therefore, it is worthwhile noting downside scenarios. For the purposes of this exercise, I am pricing in extreme downside of a 50% drop in Apple's earnings.
Scenario 4: Downside Scenario - 50% Lower EPS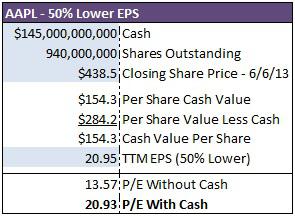 Considering the recent competition from Samsung [along with other large smartphone makers such as Nokia (NYSE:NOK), BlackBerry (NASDAQ:BBRY), etc.], and the apparent lack of innovation on Apple's end, negativity surrounding Apple is well vouched for. It is completely valid. However, from a share value perspective, there can be a strong argument made that Apple's share price has been beaten down more than it deserves. In fact, arguably, when comparing to industry peers, a 50% slowdown in growth is already priced in to the stock.
If the company's EPS falls 50% from $41.89 to $20.93, the stock would be trading at a 20.93 P/E with cash which is slightly higher than its industry comparables, and a 13.57 P/E without cash which is still below its industry comparables. It is true that stranger things have happened before, and a 50% drop in earnings is possible, but as a value investor looking at one of the most innovative companies of all time, I am willing to take that [calculated] risk. No risk, no reward. If Apple's earnings were to drop by 50%, chances are the market would be pricing in a higher level of growth since the company would be amidst rough waters with such a steep drop in earnings. Therefore, a P/E multiple of 21, above the industry comparable P/E of 16.8, is fathomable.
Scenario 5: Downside Scenario - 50% Lower EPS & 25% Share Price Drop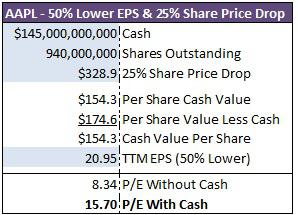 If Apple's earnings were to drop significantly by 50%, it is likely the share price would also drop significantly. In this scenario, I am assuming a 25% share price drop to $328.9 per share from its current level as of June 6th, 2013 of $438.5 per share. If the stock price drops to $328.9, the P/E ratio gets even lower to 15.7, which once again falls below the industry benchmark. The P/E ratio without cash would then fall to below 10. This scenario attempts to put an extreme bottom on the stock's share price, and a drop to $328.9 would be approximately 25% below the stock's current price level as of June 6th, 2013 of $438.5 per share.
Scenario 6: Upside Scenario - 10% EPS Growth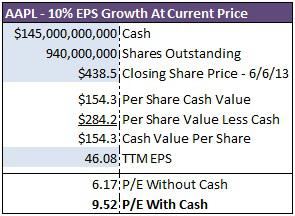 Currently, it does seem that negativity is all that surrounds Apple's growth prospects, but it is worth noting some upside in the company. After all, Apple has been the leading innovative company for this past decade and the CEO Tim Cook did recently emphasize that Apple "has several more game changers" in the pipeline. If Tim Cook does deliver on his words and Apple comes out with another game-changer, 10% earnings growth for this company would very likely happen, and happen very fast.
Assuming current price levels with a 10% EPS growth, Apple's P/E ratio would fall to around 9.5, which would be along the levels of the company's P/E ratio when shares of Apple hit their 52 week low at $385.10.
Scenario 7: Hypothetical Share Price To Reach Industry Average P/E with 10% EPS Growth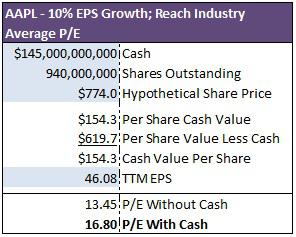 If the company does grow its EPS by 10%, a share price of $774 would bring the company to the industry benchmark P/E ratio. This 10% EPS growth may seem inconceivable to many given all the negativity surrounding Apple these days, but one "game-changer" product, or even a re-vamped current product (i.e. larger iPhone) and the earnings are likely to climb at least 10%.
Summary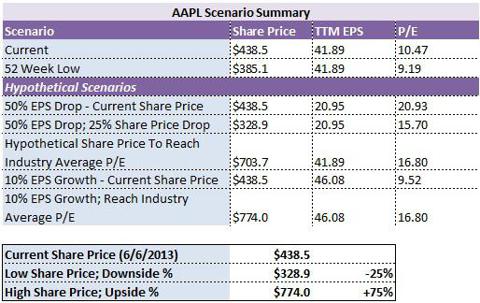 Click to enlarge
(Click to enlarge)
Based on fundamentals, specifically the P/E ratio metric, Apple remains undervalued at its current price levels. The company is trading well below industry and peers P/E averages. A compelling argument can be made that Apple, whether it misses on earnings expectations this coming quarter or not, is undervalued when compared to its peers. As the table above summarizes, the downside risk to Apple's shares on a fundamental value basis is much lower than its upside reward based on the company's current share price.
Disclosure: I have no positions in any stocks mentioned, but may initiate a long position in AAPL over the next 72 hours. I wrote this article myself, and it expresses my own opinions. I am not receiving compensation for it (other than from Seeking Alpha). I have no business relationship with any company whose stock is mentioned in this article.