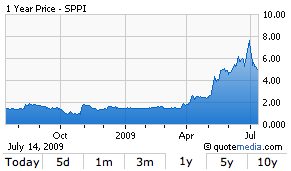 In Monday trading, Spectrum Pharmaceuticals (Nasdaq: SPPI) closed at $4.98 with a market cap of $193 million. Shares broke through and closed below their 50-day MA, $5.02. This suggests that shares of the drug maker are likely oversold.
Data Source: e-Signal.
PLENTY OF CASH ON HAND
Fundamentally, SPPI appears to be undervalued. With an estimated $110 million in cash, Spectrum is currently trading, below most of its competitors, at 1.75 X cash. Most drug makers trade around 8 X cash.
REVENUE GROWTH
It is becoming apparent that analysts and commentators are underestimating the potential of SPPI and its products.
(1) Analysts expect SPPI to generate about $48 million in revenue in 2009.
On May 11, 2009, SPPI reported revenue of $14.1 million and an EPS of $0.02 in Q1 2009. Even if sales flat line or remain the same, annual revenue will total $56.4 million in 2009. Upon approval for additional indications, sales of Zevalin and Fusilev should continue to grow throughout this year and next. Shares of SPPI will likely follow suit.
(2) In 2008, Zevalin sales totaled $11 million under a different company.
In Q1 2009, which ended on March 31, Zevalin sales were just shy of $3 million. SPPI, however, did not obtain the rights to Zevalin (via RIT Oncology, LLC) from Cell Therapeutics (Nasdaq:
CTIC
) until March 16, 2009. One could reasonably argue that SPPI has not been given sufficient time to implement their marketing plan. So investors should not be shocked to see an up-tick in Zevalin sales during Q2 2009.
Side Note: Regarding SPPI's plan for Zevalin, one writer, who I would characterize as a sell-side commentator, indicated that after his review, "he walked away impressed." On this one point, we agree.
LOOK TO LEADERSHIP
The key to success for both Zevalin and Fusilev lies with SPPI's leadership. George Uy, who serves as vice-president of marketing and sales at SPPI, will head up the team responsible for executing Zevalin's marketing plan.
George brings more than 20 years of hands on experience in both large and small pharmaceutical companies. His experience includes leadership roles in oncology marketing at Roche and Abraxis BioScience, in the U.S., Switzerland, China and the Philippines.

George is currently designing and implementing marketing strategies for drugs that are in regulatory review and in the late stages of development. In addition he will play an important role in identifying in-licensing and partnership opportunities with late stage drugs.

While at Abraxis, as Executive Director of Marketing, he oversaw the strategic and tactical launch of Abraxane in 2005 for the treatment of metastatic breast cancer. Abraxane attained over $130 million in sales in its 2005 launch year. Prior to Abraxis, George spent 23 years of increasing management experience at Roche, most recently serving as the U.S. Brand Director for Xeloda where he was responsible for the successful 2001 launch of Xeloda in colorectal cancer and advanced breast cancer. During his tenure at Roche, George was involved in the launch of several key Roche products not only in the U.S., but worldwide.
CONCLUSION
Some analysts and commentators have highlighted old numbers from the past as evidence for future sales. Some have completely ignored Fusilev and its potential. While these same folks acknowledge the company's plans are impressive, they place little to no value on the leadership behind that plan. WHAM! BAM! They quickly conclude, SPPI is overvalued! Queue up the shorts. Cut it down!
I see it differently. From my view, SPPI is oversold and undervalued at $4.98.
Disclosure: Long SPPI