This is a quick, concise, and actionable article directed towards those looking to invest in Sears (NASDAQ:SHLD). Do yourself a favor and spend a few minutes skimming through the numerous articles that can be found on Seeking Alpha presenting both bullish and bearish arguments concerning Sears. In the bullish camp, you have articles that focus on how the real estate and brands, such as Lands End and Kenmore, are worth substantially more than the market capitalization of the company would appear to give them credit for. On the other end of the spectrum, you have the bearish articles that focus on the deteriorating operation of the retail business, the declining cash flows, and even discussions around the bankruptcy risk for Sears. The bearish camp, in general, tends to drown out the bullish camp as far as the outlook for Sears. There is no arguing that if you look at Sears as purely a retailer, it deserves to have a depressed valuation. There is also no question that regardless of how compelling the argument may be, it is impossible to tell exactly how valuable the real estate and underlying brands might be. Do any of these arguments mean that Sears is a screaming buy or a screaming short? Probably not. However, that does not mean that an investment in Sears should be avoided entirely. In fact, it is just the fear and confusion surrounding the Sears investment outlook that offers the opportunity to generate a 20% return on a rather simple investment by January 2015.
The Sears End Game Will Not Play Out For Years
This really is not a complicated thesis or in reality, a very risky trade due to the time horizon involved and the known facts about Sears. Sears has seen a downwardly sloping revenue outlook for many years now as seen in the chart below: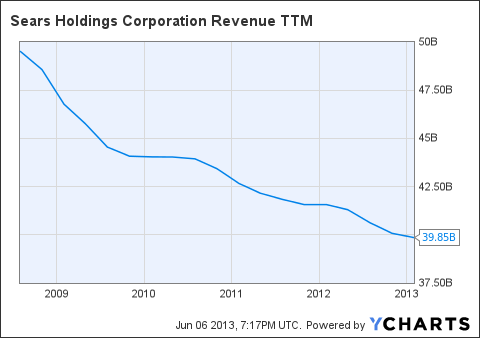 SHLD Revenue TTM data by YCharts
For any number of reasons including the emergence of e-commerce, lack of investment in its stores, selling stores and spinning off assets, revenue at Sears has been in a free fall. The chart above would hold true for any number of metrics that an investor typically would analyze, from gross margin %'s to EBIDTA. Yet Sears is still standing.
What is also widely known about Sears, is that the majority of its stock is owned by Eddie Lampert and other entities he controls, and to a lesser extent the Fairholme Fund run by value investor Bruce Berkowitz. Lampert is also now the CEO of Sears. The fact that these two men and their related entities control over 70% of Sears stock are important facts in the Sears investment story. Debating the merits of whether or not years from now this will turn out to be poor investments for Lampert and Berkowitz does not concern me. What does concern me, is that these men who control 70% of the equity of the company have inherent interests in ensuring that the equity side of the investment in Sears does not lose its value. With the stock trading at about $47 per share currently, Sears has a market capitalization of right about $5B. That puts the value of the shares owned/controlled by Lampert and Berkowitz at over $3.5B. Again, this in and of itself is not a reason to invest in Sears from either a long or short perspective. However, it does give me great confidence that the company will continue to monetize its assets in any number of possible ways, in order to support these majority shareholders.
There is also no debating that Sears has a significant amount of liabilities, both on the balance sheet and off-balance sheet in the form of operating leases commitments. At the same time, do these liabilities really present a short term concern about the solvency of Sears? I would argue the answer is a resounding no, which is why I am more concerned with the current liabilities for this particular investment strategy. The balance sheet as of the end of Q1 2013 is shown below: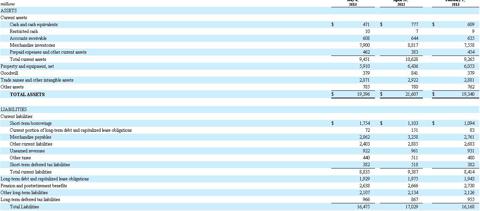 Click to enlarge
Current assets of $9.45B exceed current liabilities of $8.8B by a comfortable margin of over $700M. In addition, the company has $1.8B of borrowings available on a revolving credit facility. The importance of this is that the company can continue to operate its business in the short term, without having to reach into the bag of tricks and sell real estate or any of its valuable brands. Having the real estate and brand assets, and the potential to monetize them, will continue to the trump card in the near term that will put a floor in the price of the stock. If you take a 5 year time horizon, the concern over the long term liabilities would be different. If you are concerned whether the company will still be fighting by January 2015, these long term liabilities are not a pressing concern.
Investment Opportunity
This investment is for those who believe that the ultimate end game for Sears is a chapter in a book that will not be written for many years. Let me rephrase that. The end game in a negative way, in so much as the company becoming a going concern issue, will not play out for many years. There is the off chance that Lampert and Berkowitz are mad scientists preparing some leveraged buyout of the company or other shareholder friendly actions such as the conversion to a REIT. A positive turn of events in the short term is a possibility, but I rather would stick with my investment strategy and hit singles than try to hit a home run with an investment in Sears.
The retail landscape will continue to be challenging, but it is not as if a negative catalyst such as the invention of this great e-commerce site such as Amazon (NASDAQ:AMZN) is just waiting to pop up and put the nail in the coffin for Sears. More likely, the company will actually benefit from a marginally improving economy, and more so from a return to normalcy in the housing market with the large exposure that Sears has to this sector of retail.
Considering this, and with the safety net of Sears having ample liquidity through its line of credit and the ability to monetize assets if needed, my suggested trade is to sell a LEAPS put option. Specifically, I am targeting the January 2015 $45 contract, which currently could be sold for $10.50 per contract. If the price of Sears stock is above $45 a share when these options expire, the total return on the investment will be 23% before commissions and taxes over the next 20 months.
I prefer this trade over outright being short or long the common shares for a number of reasons. First, from the standpoint of the short sellers, what can you really assume as your price target for Sears? Is the stock going to go $0 by January 2015? The possibility of this happening is about as likely Bruce Willis being sent to outer space to destroy an earth killing asteroid headed this way. Could Sears go down somewhere between $45 and $0 over the next 20 months? Absolutely. I would argue that the stock, in a bearish scenario, is more likely to be range bound than it is to plummet from its current levels. If you short the stock, you also have the costs of borrowing shares to short and the potential for unlimited losses. Second, from the standpoint of being long the common stock, this is a troubled company. Could actions be undertaken to monetize the assets? Absolutely. Can anyone say with conviction when those actions might be taken or how much value could be unlocked? Probably not.
The uncertainty surrounding Sears and the credible arguments from both the bullish and bearish camp leads to the strong likelihood that the stock could be range bound for an extended period of time. The investment opportunity offered above, in the form of selling a LEAPS put option, presents investors with a strong risk/reward opportunity.
Disclosure: I have no positions in any stocks mentioned, and no plans to initiate any positions within the next 72 hours. I wrote this article myself, and it expresses my own opinions. I am not receiving compensation for it (other than from Seeking Alpha). I have no business relationship with any company whose stock is mentioned in this article.