After hitting lows of Sub $2, Nokia (NYSE:NOK) investors have been on a wild, albeit successful ride. The mobile phone division is in the middle of a rebirth - Symbian sales have vanished and old hat mobile phones are being replaced by the Asha series.
For most of us sitting in the comfort of the Western world, it is hard to fathom that Nokia has always been a major handset player. In 2007 for instance, the Nokia 1200 sold 150m units, the 1208 sold 100m units, the 5130 sold 65m units etc. Of course looking into the history books doesn't help us make a strong investment decision, but it is good to get to grips with all aspects of a company before projecting forward.
I previously wrote about Nokia as a SoTP which explicitly excluded a valuation of the Mobile & Devices segment because of the binary nature of potential success. The Q1s in April and the Lumia 925 launch have allowed me to gain a little clarity on the issue, which has in turn made it slightly easier to put a value on the mobile segment.
The big problem with pulling Nokia apart (besides the various complex business units) is the fact that they mix all their phones into ill-fitting segments bundling together costing structures, while refusing to give detailed outlooks for the full year. Prior to the Q1's, Lumia was bundled with Symbian and Asha with other mobiles. This style has remained the same but fortunately (or unfortunately for some) the quick death of Symbian means that the Smart Devices segment has become a pure-play on Lumia.
The announcement of the 925 was another piece of the puzzle as the company has finally made their attractive phone which is thin enough to be considered a quality piece of hardware. Don't take my advice on it; reviews and consumers alike have been praising the recent offerings and according to a fellow SA author, market share is building.
Furthermore, for those who are unsure of the rate of sales - please compare the Samsung (OTC:SSNLF) Galaxy and the Lumia on Google (NASDAQ:GOOG) Trends.
Period 1 indicates the inception of the unit and both trends are benchmarked against Samsung Galaxy peak searches. This means that in Period 3 (Lumia 8 and Samsung Galaxy 4) Lumia searches were four times as common as Samsung Galaxy. Fair enough. Samsung is winning the battle but Lumia's performance from inception is far from terrible! Of course I understand that Google interest doesn't equate to physical sales and indeed the first two quarters of the Samsung Galaxy franchise yielded 7m units, then 3m units (from 1Q11, Samsung hasn't disclosed Galaxy specific quarterly figures), which is 2.5x what Lumia managed.
Looking at the Mobile Segment
Because of the recent and ongoing restructuring, spending has been completely out of line with revenues.
*Figures in Local Currency
Comparing figures, Nokia tops the bunch in both years. SG&A is in-line with its fellow smartphone laggard but R&D is astronomically high as a percentage of revenue. Now the company has a clear direction regarding the Asha and Lumia range, we can expect this figure to drop and the company guides for a year end OpEx run rate of Eur 3,000m ($3,900m)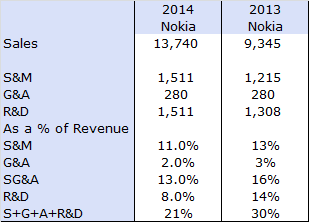 Taking away the 200m ($260m) from "Other" expenses, I will take management's word for 2013 guidance and assume a further normalization of R&D in 2014. If we expect Lumia sales to grow, normalization is a natural course of action as the mobile phone business is one that succeeds on scale. Despite Apple (NASDAQ:AAPL) appearing to spend little on R&D (only 2% of sales), they actually spend more ($3.3bn) than Nokia does ($3.17bn)
I intend to value the segment based on a 2014 EV/EBITDA multiple, explaining my assumptions behind a EUR13.7bn ($17.8bn) 2014 revenue using a bottom up approach.
As I stated earlier, Smart Devices will be made entirely Lumia from this year onwards (give or take 0.7m) and management guides for a QoQ unit growth larger than the prior QoQ which was 27%. Because of limited guidance for Q3 and Q4, I have assumed 7.5m units in the upcoming Q2 (35% growth), 10m units in the Christmas quarter (33% growth) and 6m in Q4. 2014 is even more difficult to estimate so I have used comparable growth rates to get 45m units. Throughout this, I have assumed a constant ASP of EUR 170 ($221) taking into account the ramp up of the cheaper Lumia 501
What I find incredible is that the bear analysts drop their ASPs for Lumia devices by 15% per year (despite all handset players showing increasing ASP cycle over cycle). I've seen analysts estimate ASP's dropping to the $180 level which I believe is a way to value Lumia as a failed case.
For the mobile segment, modeling volumes are even more difficult considering the intense mix of products and the volatile switchover from legacy products to Asha. I have been a little conservative by assuming eroding volumes because one of my worries is the new Chinese entrants coupled with Samsung's renewed assault on the budget segment.
Here I have assumed constant ASPs of $19.5 for the Asha 105 (ultra-budget) and $109 for the remainder of the Asha line up.
Because gross margins are another impossible prediction, I have decided to move the respective margins back in line with prior years and it is worth noting that I am looking at Nokia gross margins as supremely inferior to Apple (c.40%)
Operating expenses are difficult to distribute across the segments because the company constantly change how much marketing and research is spent on each segment. In the annual report, the company specifically states that these numbers aren't comparable. The only assumption you can safely make is that the smartphone segment will bear a higher percentage of these costs over time.
Despite difficulties in deriving a segmental EBIT, this really doesn't affect the business line EBIT
Taking all of these assumptions into consideration, my 2014 mobile EBIT comes to EUR407m ($530m) with a margin of 3% which is considerably lower than Samsung's 15%. What's obvious is that even with relatively optimistic Lumia assumptions, 2014 EBIT is still vastly inferior to rival companies.
D&A
1Q13 D&A was EUR282m ($367m) of which EUR126m was attributable to Nokia Siemens Networks. Annualizing the remainder, EUR624m ($811m) is attributable to Nokia. Looking at rival firm EV/EBITDA14's

Besides showcasing how cheap Apple currently is, it is safe to assume that Nokia will sit between Apple and BlackBerry (NASDAQ:BBRY). In my back-of-the-envelope calculation, I have assumed a ratio of 3x, which gives me an enterprise value per share of 0.83c ($1.08) for the mobile division (ex patents).
Putting this figure into my model yields a price target of $4.65 or a 35% upside to the current price. Taking away the Mobile division altogether still gives me only a 4% upside but you must take into account that this scenario will lead to a much larger erosion of cash (impaired present value of $2.52 per share) than I have currently modeled.
The message to take away is that despite a difficult valuation exercise, if you are firmly of the opinion that the Lumia will grab a little market share without eroding their prices, there is significant upside to the share price. With the Lumia 925 and today's leaked screenshots of the super camera Nokia 'EOS', I am inclined to agree.
For Nokia stakeholders, 2013 is the big year. Capacity constraints have been lifted to a degree and the product catalog has been filled. The OS has been optimized for a beautifully unique mobile experience while the group tries desperately to differentiate itself with arguably the best cameras in the business. Topping it all off, rumors have begun circulating via WPDANG that Instagram will appear on the Windows OS by the end of June.
Now all we can do is wait and hope that Nokia has captured consumer imagination.
The Elephant in The Future
If we assume that Nokia is completely successful in their endeavors and turn into the number three handset maker, the renegotiation of their Microsoft tie up in the future may be a cause for concern.
Currently Nokia pays Microsoft (NASDAQ:MSFT) an estimated $15 per unit in royalties despite companies such as ZTE (OTCPK:ZTCOF) paying $35 for the same phone. Furthermore, Nokia is in receipt of support payments totaling $250m per quarter.
If Microsoft decides to withdraw the support payments or normalize Nokia's royalty fee, we will see a hefty cut to profitability. Despite the potential for an amended contract, this will not occur in the near term and will only happen if Nokia is actually successful.
Disclosure: I am long NOK. I wrote this article myself, and it expresses my own opinions. I am not receiving compensation for it (other than from Seeking Alpha). I have no business relationship with any company whose stock is mentioned in this article.