Back in February (2013) I wrote an article on Digital Realty (NYSE:DLR) citing the dominant $8 billion (market cap) data storage REIT as the "big dog" of data storage. As one of the 20 largest publicly-traded U.S. REITs, I proclaimed that Digital "barks louder" than any of the smaller data storage peers with an impressive portfolio of properties and tenants, located in over 30 markets throughout North America, Europe, Asia, and Australia.
With 123 properties and over 23.1 million square feet (including 2.6 million square feet held for development), Digital has one of the highest quality data storage portfolios with approximately 2,000 leases with 600+ tenants. Digital, known for its dominating global footprint, is over three times the size of all three of Digital's peers in size:

Click to enlarge
Unmatched in size, Digital boasts an impressive high barrier to entry platform of providing solutions for U.S. and multinational enterprises in over 30 major markets.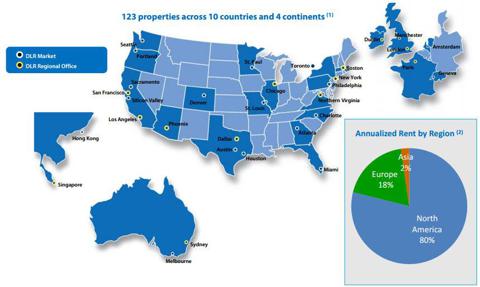 Click to enlarge
As a pioneer of data storage (started out as a private equity fund in 2001 and later became public in November 2004), Digital was effectively able to build a "wide moat" ahead of the competition and that enabled the company to scale and create a "fortress" brand. As I wrote back in February (2013):
Digital Realty has clearly become the "big dog" in the digitalized Data Storage sector and the company's "core of competence" has also been its primary value proposition. With a strategically-aimed objective of data storage expertise, Digital Realty has become a massive "railroad of this generation providing the infrastructure to support the global economy.
A Fortress Can Withstand a Jester's Attack
As mentioned above, I wrote an article in February recommending Digital Realty shares and my target price was $65.40. My bullish stance was based upon the company's fairly priced shares that were trading at a 12.8x P/FFO multiple. In addition, I was impressed by Digital's dividend policy of "increasing its dividends paid by over 17% from 2005 through 2012."
Digital's share price grew by over 12 percent after I wrote my article and I could see Mr. Market starting to appreciate Digital's "fortress" fundamentals. However, on May 8th, the circus shows up and the jester, Highfields Capital Management, makes an incredibly ridiculous play to short Digital shares (based upon the belief that shares are overpriced and the price will decline).
Highfield's CEO (Jonathon Jacobson) made the foolish argument that Digital had no moat and that the Data Fortress REIT was built on straw, not with bricks. I can hear the big bad wolf (Jacobson) now:
I will huff and I will puff until I blow your house down
Jacobson was blowing his hot air and Mr. Market has recognized that Digital has a house of brick surrounded by a wide moat. The more recent dividend sell-off (see my article here) was also a contributor to Digital's pullback, but now Mr. Market is beginning to see the winds dying down and now the jester is beginning to look like the class clown.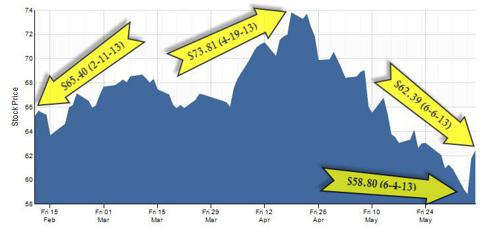 Click to enlarge
Digital Is a Fortress to Own
Today I attended an Investor Conference at REIT Week (sponsored by NAREIT). I listened to a 30-minute Q&A that was moderated by John Stewart with Green Street Advisors and the panel included Mike Foust, CEO with Digital and William Stein, Digital's CFO.
Stewart:
Does Digital Have a High Barrier to Entry Model?
Foust:
We are in areas that make it difficult to compete. Our customers are looking for a full turn-key experience. You need a lot of equity (to build data storage) and a lot of equity and having a strong balance sheet (is critical)…Customers are demanding high-quality service. You must have operational excellence and a proven track record.
Digital's CFO, William Stein added:
There is no construction financing for data centers today. You need $100 million in equity.
Stewart:
What about Google or Amazon? Do they cannibalize market share?
Foust:
We don't compete with Google or Amazon. There solutions are for a different segment.
Stewart:
What about pricing pressure?
Foust:
We have seen competition from private developers and more recent entrants. By and large it's still very fragmented and demand is out-striping supply. Lease rates have stabilized but even in Silicon Valley they have begun to stabilize. We are in 32 markets and all are different.
Stewart:
What about lease rates? Highfields argues that market rates have declined and we are seeing negative releasing spreads.
Foust:
We're very comfortable with the sustainability and attractive returns….we really pioneered the industry for creating turn-key solutions...our guidance has been consistent as we have maintained a high-level of consistency in the low 20's on a levered basis.
Stewart:
What about Cap-Ex, the crux of the Highfields issue that called financial accounting into question?
Foust:
It's ridiculous. It makes no sense. We're investing year and year on new revenue generating space..to build new data space…This year we expect to invest $150 million…we're being very conservative in how we invest to insure long-term growth…we maintain our property at a very high level…We have 22 million square feet and 5.2 million square feet (or the 22 million sf) is turnkey flex space (25%). Digital properties are slightly older than three years….We never change the way we calculated cap-ex…we been provided the footnotes and they have been totally consistent.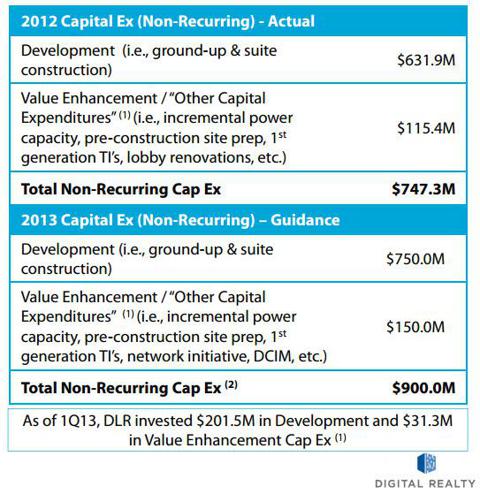 Click to enlarge
Stewart:
Is the dividend sustainable?
Foust:
Very sustainable and growing.
This is The First REIT in "Ben's Bargain" Portfolio
In my first edition of The Intelligent REIT Investor newsletter, I have a portfolio called Ben's Bargains. Obviously, this specific portfolio is for REITs that possess the necessary and incredibly powerful "margin of safety" concept that Benjamin Graham taught and wrote about. Up until recently, I was not planning to include one REIT in this portfolio as I was intending to wait patiently for the right opportunity. As Sir John Templeton would say:
To buy when others are despondently selling and sell when others are greedily buying requires the greatest fortitude and pays the greatest ultimate rewards.
As a REIT investor, I am primarily interested in the high and steady dividends that REITs distribute. More importantly, I am looking to minimize risk by investing in high-quality REITs that have very sustainable earnings and growth. By investing in a high-quality REIT, I can weather losses incurred during chaotic times such as the Highfields short or the more recent "overblown" dividend sell-off. It's what I call the "dividend cushion" that makes me "sleep well at night."
When a company is able to sustain a threat or attack (Highfields) the best indicator of durability is how the management team responds. For Digital, the result was best explained by John Stewart (Green Street Advisors):
It's fair that competition has increased (for Digital). The company had an incredible run that also invited competition and pressured rents. Some arguments (by Highfields) are fair points. You will not have a monopoly indefinitely…Highfields clearly questioned Digital's integrity and I have a high degree of confidence in Digital's integrity.
In addition, Digital has a well-supported dividend that increased to $3.12 per share or 6.8% over 2012. The company has produced 15.3% compounded annual dividend growth since 2005 and its dividend policy (pay out a minimum of 100% of taxable income and <90% payout ratio) is sound. The first quarter (Q1-13) payout ratio was 84.1%.

Click to enlarge
With over a decade of experience at providing data center solutions, Digital has proven itself. I have not backed off my recommendation made back in February. Digital's share price of $62.39 is a BARGAIN and with a P/FFO multiple of 13.0x I find Digital to be one the most attractive "blue chip" REITs today. In addition, the current dividend yield is 5% and I find that a very attractive yield, especially in a low interest environment. The FAST Graph chart below illustrates Digital's strong competitive position as well as the wide "economic moat" that makes the "big dog" a highly sustainable REIT that will preserve long-term pricing power and profitability. Maybe that's why Digital's fortress is a dog house that even the big bad wolf can't blow down.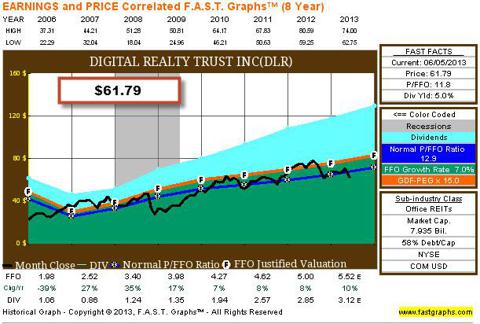 Click to enlarge
Source: Digital June Investor Presentation (2013), FAST Graphs, SNL Financial
REITs mentioned: (NYSE:COR), (NYSE:DFT), and (NASDAQ:CONE).
Disclosure: I have no positions in any stocks mentioned, and no plans to initiate any positions within the next 72 hours. I wrote this article myself, and it expresses my own opinions. I am not receiving compensation for it (other than from Seeking Alpha). I have no business relationship with any company whose stock is mentioned in this article.