Faced with an uncertain economy and mixed signals from the Federal Reserve, it would seem to me that dividend investing should be the calm in a turbulent sea. We can whine and complain about markets that seem NOT to make sense, but there is little doubt that dividend income puts cash in investors pockets.
The Team Alpha Retirement Portfolio (click here for the complete update) currently has a YOC of 4.98% and no matter how the market corrects, the income derived from that portfolio will remain virtually consistent, and income investors will continue generating cash to either reinvest, or place into reserves (or pay bills).
That being said, we are always on the lookout for some NEW stocks that might fit into the portfolio for balance and diversification, that offer a dividend with some upside potential. One stock I have been looking at for a few months is Ennis Inc. (NYSE:EBF). As of now the Team Alpha Portfolio does not own a small cap stock, maybe now is the time.
A Boring Small Cap With A Bg Dividend
EBF: Price: 17.04/share, Dividend Yield: 4.15%, ESS Rating: Bullish
The company itself is a plain vanilla company in the business forms and tagging business. Every company needs business forms, and all apparel has multiple tags in them. From size tags, to cleaning direction tags, to specialty tagging. Ennis makes them all, and they are the best (and biggest) of breed in this business.
The business sector has also been shrinking while EBF has grown, and the other main players; Cenveo (NYSE:CEO), Delta Apparel (NYSEMKT:DLA) and Standard Register (NYSE:SR) have smaller enterprise values, as well as declining yoy revenues from last quarter. They also do not pay a dividend.
EBF has net income of over $24 million which is double that of their closest competitor, DLA, and the other two lost money. EBF seems to have the game right as of now. On top of that, a 4.15% dividend yield is nothing to sneeze at, and even though the payout ratio is a little higher than I would like to see it (92%), the company has shown a proclivity of paying dividends regularly. The 4.15% yield does reflect a double-up of dividends in 2012, so that should be taken into account. I do believe that the last 2 quarters of 2013 will see the same rate however, so that 4.15% (or $.70/share) more than likely will be paid.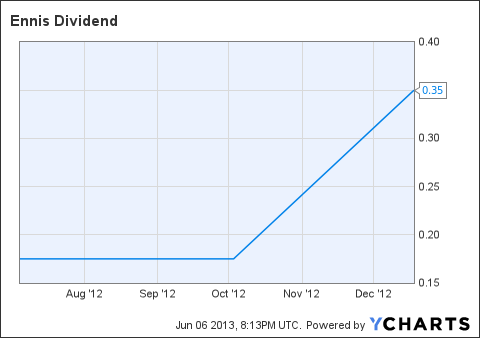 The company has paid a regular dividend for over 20 consecutive years as of now. Not too bad for a small cap stock. Actually, pretty damn good! Several other interesting facts is that insiders hold roughly 2% of all outstanding shares, and institutions hold over 81% of outstanding shares, so only 17% of all shares are "out there", and the shares do not trade very heavily, with a daily average of only 55,000 shares traded in the last 3 months or so.
What that tells me is that this stock could be a rather stable and reliable source of income for dividend seeking investors. Putting new money to work seems to make sense to me at this stage, especially when what we might like is a very boring company, that makes money and gives shareholder value.
While the dividend payout is high, the company has not missed in over 20 years. At a 4.15% yield, putting some new money to work in a rather solid company makes complete sense to me. Especially with money sitting on the sidelines, not earning anything.
Key fundamentals are quite impressive as well:
2% yoy revenue growth.
112% yoy earnings growth.
Operating cash flow of about $50 million.
A price to book of only 1.22, and Price to sales of just .83.
The trailing PE was over 17, but now the PE is just 10.21, and that is well below the average of all stocks.
The last quarter results indicating a better growth rate than the previous 3 quarters. As the economy gets better, there will be greater needs of Ennis products. The more apparel made, the more labels are needed. The more businesses grow or start, the more business forms are needed.
The company has been around for over 100 years, and as I said, in a confusing stock market environment, maybe we could all use a little boring small cap to add to our mix.
The Bottom Line
I am contemplating putting some money to work in EBF for our Team Alpha Portfolio. I like the fact that we can actually "park" some cash here, in a stock that pays us to own it, and is less volatile in the small cap world.
We would also diversify into small caps that historically have outperformed the markets in rough times. It seems to make sense to me.
What are your thoughts?
Disclosure: I have no positions in any stocks mentioned, but may initiate a long position in EBF over the next 72 hours. I wrote this article myself, and it expresses my own opinions. I am not receiving compensation for it (other than from Seeking Alpha). I have no business relationship with any company whose stock is mentioned in this article.