Utilities stocks as represented by the Utilities Select Sector SPDR ETF (NYSEARCA:XLU) have fallen out of favor lately since the share price peaked in late April. The sector ETF has dropped 5.5% in the past four weeks and 10% since its late April peak, making it the worst-performing sector year-to-date. The interest rate sensitive sector is pulling back hard as investors speculate that the Fed may begin to taper its QE3 stimulus program and long-term interest rates begins to rise. Valuation of the group as a whole had also gotten fairly expensive relative to the market and remains pricey at 18.7 times trailing earnings while the sector's earnings are expected to grow just 3% - 5% per year, which is far below the 11% expected earnings growth for the S&P 500 Index.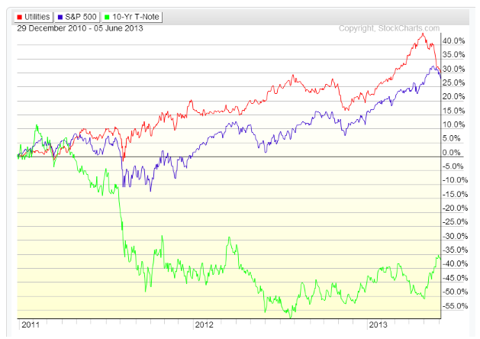 (Source: Stockcharts.com)
The economic data released by the government in the past few months are generally supporting the notion that the economy is recovering at a slow and steady pace with gains seen in job creation and housing activities. I expect the same pattern emerging in the next few months unless the Fed surprises us with a much earlier tightening time line. There will also be continuing talk about the premature end of the Fed's QE3 program, which will likely further pressure utilities stocks and XLU share price may have additional 5% downside until it reaches a stronger long-term trend line support at around the $35 - $36 level.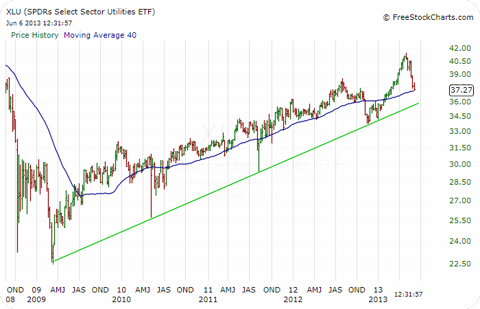 It's understandable that some investors may want to shun the utilities stocks altogether in an uncertain interest rate environment. Yet, according to performance data from State Street, XLU in the 10-year period ending April 2013, was the second-best performing sector with 11.5% annualized return, 33% less volatility than the S&P 500 Index, and very low beta to market of 0.49. This is very impressive risk-adjusted returns and easily beat the 7.8% annualized return generated by the S&P 500 SPDR. Although past return is no guarantee for future performance, I believe utilities stocks deserve to remain a core part of growth and income investors' long-term portfolio, especially since the 2.1% yield of the 10-year U.S. Treasuries is still no match for the 3.8% current yield of utilities stock with both subject to price risk should long-term interest rates rise substantially. In addition, while the coupon payment on a U.S. treasury bond is fixed, the dividend of utilities stocks has a history of being consistently raised and there is good likelihood that the trend will last in the future
Rather than totally avoiding this sector, I believe investors should tilt their utilities stock allocation to those names that have good fundamental characteristics and can benefit from a steadily improving economy. Based on data compiled from YCharts.com, the regulated electric utilities as a group has the best fundamental characteristics in the utilities sector, particularly in lowest debt-to-equity ratio, lowest interest rate on debt, highest cash flow from operations, positive free cash flow, and reasonable valuation at 16.3 times trailing earnings. The electric utilities was also the only group among the utilities sector to post year-over-year growth in the most recent quarterly revenue.

A survey of analysts' comments and Edison Electric Institute reports suggest that the fundamental outlook for electric utilities is encouraging in the near to intermediate term:
Reviving housing market activities will drive up residential demand
Steady and increasing manufacturing activities across U.S. regions will drive commercial demand for electricity
New rate increases in 2013 and 2014 will help electric utilities to recover increasing operating and maintenance expenses as well as additional cost mandated by new environmental regulations
The regulatory-awarded ROE has seen a small uptick from 9.92% in the second quarter of 2012 to 10.23% in the first quarter of 2013. The average regulatory lag for approving new rate increases is close to a multi-year low of 8.24 months. This will help speed up the utilities' recovery of cost and increase profit margins.
Fuel cost and purchased wholesale power cost are expected to be lower in 2013, partly offset by higher O&M costs
A potential threat to the current revenue model enjoyed by the electric utilities is that customers are slowly but increasingly inclined to generate their own electric power from alternative energy sources. This trend not only reduces revenue but forces the utilities to spread out their recovery of high fixed costs to a smaller customer base. This does not pose an immediate threat yet because the number of customers lost is a fairly small percentage. But if the trend persists and there is no change in the regulatory framework to allow the electric utilities to recover some of the power delivery cost, it will become a major issue in the long run.
Dividends are kept at current level or rising slowly with manageable payout ratios at around 50% - 60%
The defensive nature of electric utilities will make the group more appealing if the equity market suffers a more protracted correction.
With more than 40 electric utilities in the YCharts.com database, I further screen for companies with the following attributes to filter out companies in a weak financial condition that could be susceptible to rise in interest rate or change in operating leverage and the prospect of dividend cuts.
market cap > $1 billion
dividend yield > 3%
most recent quarter revenue YOY growth is positive
debt / equity ratio < 1.01
operating cash flow coverage on debt > 3
TTM PE ratio < 17
long-term technical trend is positive
The list was narrowed down to just five companies with solid fundamentals, stable dividend growth, and below market valuation multiples.


The charts of these five stocks are very similar to the XLU and prices are trading in the vicinity of the 200-day moving average. Since near-term sentiment for utilities stocks as a group is still poor and some additional downside on share prices is to be expected, investors can wait for the stock prices to reach the long-term trend line support area for optimal entry and use the pivot lows in late 2012 as stop loss points.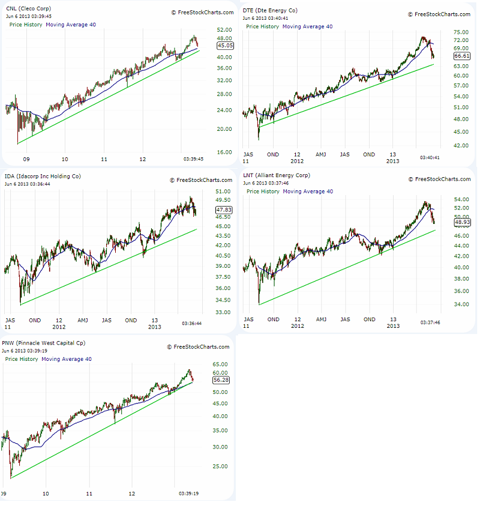 Disclosure: I have no positions in any stocks mentioned, and no plans to initiate any positions within the next 72 hours. I wrote this article myself, and it expresses my own opinions. I am not receiving compensation for it (other than from Seeking Alpha). I have no business relationship with any company whose stock is mentioned in this article.