Many value investors do an excellent job of analyzing companies, studying their financial statements, and determining an estimate of fair value. This legwork, which helps investors determine how to allocate capital, is an extremely important part of the investment process. However, I have always felt that deciding when to sell is just as important.
When I buy a stock for fundamental reasons in my weekly newsletter EPIC Insights, I am committed to exiting once fair value has been reached. Doing so forces me to focus on what is cheap and allows me to free up capital for future decisions.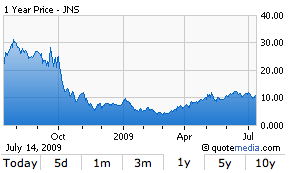 An added benefit of this approach is it also allows us to revisit prior ideas. In the seventh newsletter I wrote on December 7, 2008, I recommended buying shares of asset manager Janus (NYSE:JNS). With the stock trading near $8 and a fair value estimate of $12, I was able to buy a position near a 50% discount to fair value and then ride the market higher before exiting at my target price. The shares have since retreated, and now offer the opportunity to acquire the stock at a 20% discount to fair value.
I have always appreciated the business model of asset managers. If run well, an asset-manager attracts assets, manages portfolios and collects a set fee. Since it takes the same amount of research to buy one share of stock as it does to buy 100 shares, the business model is scalable. If markets appreciate in value, then so do portfolios so that revenue increases with market growth.
The negative to this simple business model is that when performance lags and asset values fall, asset-management firms cannot downsize their businesses quickly enough to offset the lost revenue. This leads to falling revenue, crimped profitability, and poor stock performance. The end result is predictable: collapsing stock prices.
Since the markets pay for predictability, asset managers often trade at price multiples that I am unwilling to pay. However, prices are now moving ahead of anticipated market moves.
Investors tend to flee asset managers when the overall market looks risky, and over the past year, JNS has fallen 57%. However, unlike other asset managers, JNS remains profitable and is forecast to see an increase in earnings over the next two years. At current levels, we can repeat a successful trade by buying an excellent company at a discount to fair value. Using a conservative earnings yield model, I derive fair value of $12. I recommend a long position in JNS as this week's fundamental trade.